Paul di Resta says Force India have made a stronger start than in previous years
Force India driver says consistent approach is working well
By Mike Wise at Sepang
Last Updated: 21/03/13 10:09am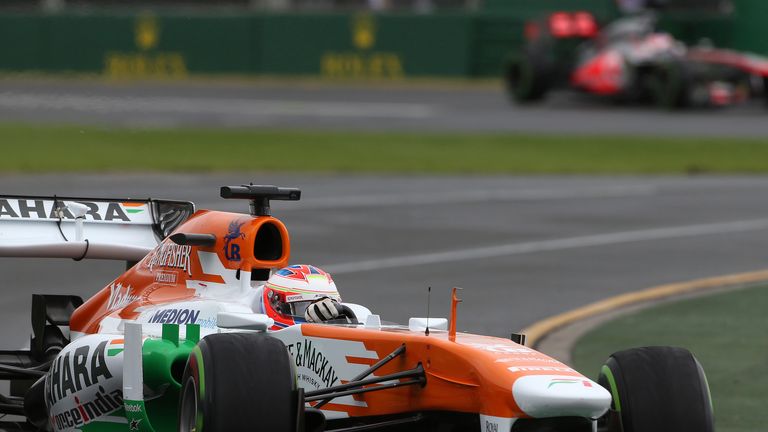 The Scot made a positive start to the season at the Australian Grand Prix, finishing in eighth place. With team-mate Adrian Sutil taking the chequered flag directly ahead of him, it was also a promising result for Force India.
Now, according to di Resta, the challenge for them is to produce more of the same before McLaren, who are currently struggling to understand their new car, find the wherewithal to improve its performance.
"I wouldn't say we were surprised we're the fifth team but given where McLaren are, the sooner the races come the better, because they're going to be fast again and they'll be the ones who push us out," he said.
"We've definitely come out stronger than we have in previous years."
Di Resta was speaking on Thursday ahead of this weekend's Malaysian GP. He had a strong race at Sepang last year, finishing seventh, and after such a positive start to the current season the 26-year-old has targeted a similar result on Sunday.
"Coming here, I think we can be quite positive. We've come away with some strong positions over the last few years and coming here after what we achieved in Melbourne with the two-stop strategy (Kimi) Raikkonen used to win the race, I think we're on the right path," he said.
Di Resta also shrugged off the suggestion that, with Sutil leading what was his comeback race last weekend, he felt frustrated that his team-mate had finished ahead of him.
"I got into Q3," he asserted. "I qualified two laps on a set of supersofts and I put myself in the position as much as I could. The target all winter was getting into Q3 and we achieved that.
"I would much rather have had that approach," added di Resta, referring to the decision to start Sutil on prime tyres which propelled him to first place for two different spells in the race.
Both Force Indias stopped twice but di Resta got stuck behind Mark Webber and Jenson Button after they all pitted early to change their supersoft tyres.
"In the race it was the compromise of being stuck in traffic from lap seven to lap 20. That affected my race more than anything," di Resta said.
"It was a bit frustrating but at the end of the day it all comes back very quickly. There were points in the race where (Sutil) was quite a bit further up the road but you saw how quickly the gap can close. Two laps to go, it was equal."
Di Resta added that Force India's approach during pre-season testing - of establishing a consistent baseline with the VJM06 rather than pushing for performance gains - has been key to their promising start.
"I think it was a good winter and a good approach. We sacrified a lot of low fuel runs for high fuel runs and we were very aware of what we wanted to achieve and where we wanted to improve the car and I think we've done that," he said.