Ross Brawn tells Sky F1 Chinese GP upgrades should keep Mercedes with leaders
Mercedes chief hopeful team's strong China record continues
By James Galloway
Last Updated: 09/04/13 3:38pm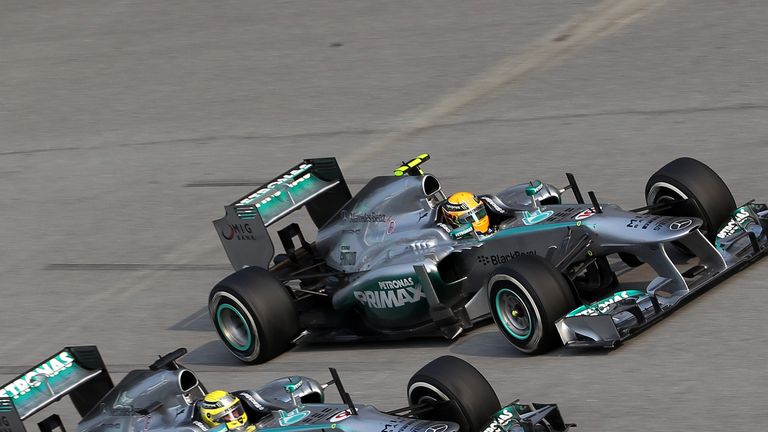 The Brackley-based outfit produced their most competitive performance since last May's Monaco GP last time out in Malaysia when Lewis Hamilton and Nico Rosberg challenged the race-winning Red Bulls in the middle of the race before the team ultimately settled for third and fourth positions when fuel saving on both cars took priority.
While Red Bull are favourites to lead the way again in Shanghai, Mercedes are likely to come under renewed pressure with Ferrari, Lotus and McLaren all optimistic of improved race showings.
However, Brawn is optimistic his Mercedes team can remain in the hunt.
"There's no reason we shouldn't be in that leading group," the Mercedes Team Principal told Sky Sports F1.
"We've got some steps we want to do with the car and the car seems to be behaving pretty well and [we have] two great drivers."
Hamilton and Rosberg have a victory apiece in the last two Chinese GPs, with the latter driver 12 months ago claiming what remains Mercedes' sole victory since returning to F1 team ownership in 2010.
Indeed, Rosberg has a particular affinity for the Shanghai circuit since joining Mercedes, having qualified inside the top four on all three previous occasions and led 78 of the last 168 racing laps there.
Ruminating as to the reason for the team's unusually strong record, Brawn suspected the fact the layout doesn't place such a strain on a car's rear tyres was a likely explanation.
"We always seem to go quite well at China and Nico in particular is very strong there," the Briton added.
"It seems to be a track that suits him and it's a track which is front-tyre limited because of the nature of the corners. It's not rear-tyre limited, and possibly over the past few years we've been a bit weak in terms of rear-tyre durability.
"I think that's better now."