Daniel Ricciardo is optimistic he's turned a corner after qualifying seventh in China
"I wanted to give it a crack and see how we went," Toro Rosso youngster says
By Mike Wise in Shanghai
Last Updated: 13/04/13 7:28pm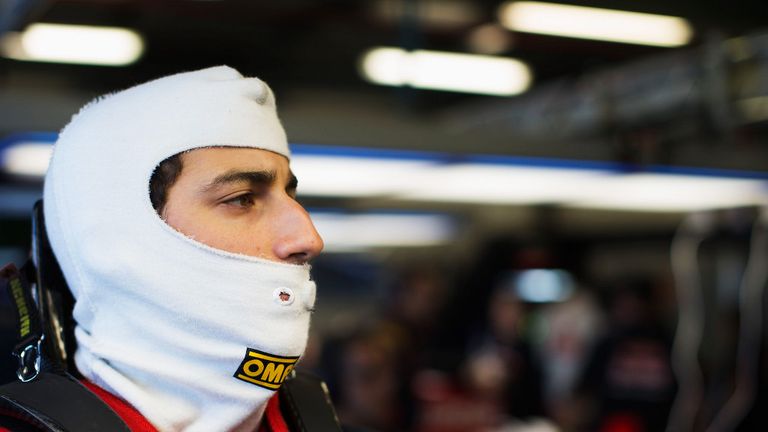 It stands to reason that a Toro Rosso driver might find it easier to show such hospitality. Sebastian Vettel used to race for them, of course, but that was in the days before three world titles and debates about how ruthless he is. If Vettel thanked everyone who attended his press conference on Thursday, he'd probably still be doing it now.
Ricciardo's audience is much sparser and yet, much like the Italian team's most successful old boy, he certainly knows how to charm them. It might be a select gathering at the moment, but that will surely change if the Australian keeps delivering the way he did in qualifying on Saturday.
"It was a good one, it was a good one," said Ricciardo, pondering the lap that put him and his team in Q3 for the first time in almost a year.
Breaking into a grin that rivalled the Shanghai International Circuit's cavernous main grandstand for size, he added: "Yeah...it was a good one!"
Indeed it was: Ricciardo's lap was the ninth fastest of the session and almost a second quicker than that managed by team-mate Jean-Eric Vergne. He now lines up seventh for Sunday's Chinese Grand Prix after two days the 23-year-old described as his most productive of the year so far.
"It all started yesterday," Ricciardo explained. "We weren't extremely fast but the way we worked made it the best Friday of the season. It was the best day of testing we've had, looking back on the winter. Everything just worked well."
In truth, Ricciardo owes his grid slot as much to the choices made by others as his own performance, impressive as it was. Vettel, Jenson Button and Nico Hulkenberg all made the strategic choice to run on the harder medium tyre in Q3 and so will start behind him.
For Ricciardo, though, the choice was simple. "For Q3 I definitely wanted to post a time. There's always talk of saving the tyres or whatever but I wanted to give it a crack and see how we went. It paid off well.
"For us, obviously, if we get a chance we're going to go for it in Q3. It's not often we get in there."
The challenge now, of course, is to turn pace into points. Might he find himself shuffled down the order come the race? "It's possible - anything's possible. I'm definitely going to target the guys around me and the guys in front. Obviously all the cars in front should be quicker, but if I can try and stay with them and follow their strategy then maybe at the end it won't be too bad for us.
"If the guys starting on mediums happen to be a lot quicker and jump us early in the race then so be it. I think today we had to go for it."
Ricciardo could be forgiven if he didn't feel quite so upbeat at the start of the week. His season to date has been blighted by exhaust failures in both Australia and Malaysia, while he described last year's Chinese Grand Prix as "our worst race".
Yet after those productive practice sessions, the Perth native is optimistic. "It was looking pretty good in terms of reliability. We have to see. In Formula 1 things happen but hopefully we've got a bit of bad luck in the first few weekends out of the way and this is where we start to get the ball rolling."
Ricciardo thought he had the ball rolling at the same stage of last year's Bahrain Grand Prix, where he qualified sixth after one of the most impressive qualifying performances of the season.
Alas, one of the worst race starts of the season was to follow, with Ricciardo way down in 16th place at the end of lap one. He made little headway thereafter, finishing a lap down and seemingly bewildered by the experience afterwards.
It seemed almost cruel to dredge the memory back up but Ricciardo insisted that something similar won't happen again.
"It's been nearly a year since then and I've had plenty of time to reflect after that," he said. "To be honest, since then I've just been hanging out to get another Q3 and to get another chance - to fix everything I didn't do that day.
"I can't wait for tomorrow and to do what I know I can."
Thanks for your time, Daniel. "Beauty. I look forward to the chat tomorrow."