Lewis Hamilton feels he is in title contention - but Mercedes have lot of work ahead
Briton vows "we're on it" as Mercedes aim to further improve pace
Last Updated: 17/04/13 6:26pm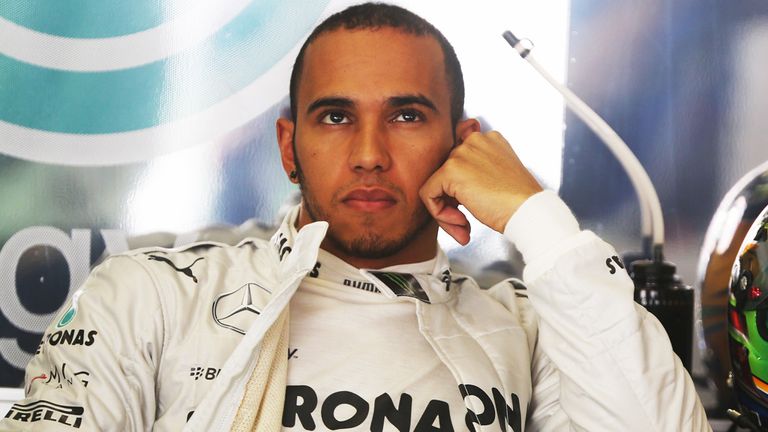 Despite having played down expectations for what he could achieve in his first year at Mercedes even before arriving at Brackley in January, Hamilton has made a surprisingly strong start to the new season.
He followed what was already an encouraging fifth-placed finish on his debut for his new team in Melbourne with consecutive third-placed results in Malaysia and China and currently sits fourth in the Drivers' Championship, just 12 points off the ultimate pace set by Sebastian Vettel.
Asked after his latest podium in Shanghai if he felt as if he was in the title fight, Hamilton conceded he was, but immediately insisted he wasn't getting ahead of himself given the strength of the opposition he faces.
"I definitely feel like it at the moment," he replied.
"But I'm not focusing on the title because look at what happened to Nico with his car (anti-roll bar failure).
"He didn't finish, which is something that could happen to me at any time - and fingers crossed it won't moving forward.
"It can happen to anyone. Fernando (Alonso) didn't finish the last race (in Malaysia), but he has otherwise scored high points and is looking very strong.
"Then there is Kimi (Raikkonen) and another fantastic performance by Lotus. They've a very reliable car, and Kimi is on it, doing the job, which is not surprising for me.
"We're hanging on by the skin of our teeth at the moment, but we're also doing the job.
"We've a lot of work to do to improve reliability and pace, but we're on it."
Hamilton's two podiums at Mercedes already represent more than his predecessor Michael Schumacher achieved in his three seasons at Brackley and come at a time when the Briton's old team, McLaren, are struggling with their MP4-28.
With many pundits already had to eat a slice humble pie after questioning the logic behind his Mercedes switch, Hamilton feels his boldness is already being vindicated.
"I have a different outlook on this year," he said. "Everyone was saying at the start it was the worst decision I could have possibly made in my life.
"But definitely, bit by bit, the more and more we impress and improve they have to stand to be corrected.
"Of course, people have an opinion, but I'm just really grateful I'm here and in the fight.
"It was such a big change for me, a big step for me. I think I made the right choice."