Heikki Kovalainen says he has no plans to race for Caterham or any other team yet
Finn insists he's been drafted in to help rookie drivers develop car
By Mike Wise in Manama
Last Updated: 18/04/13 5:39pm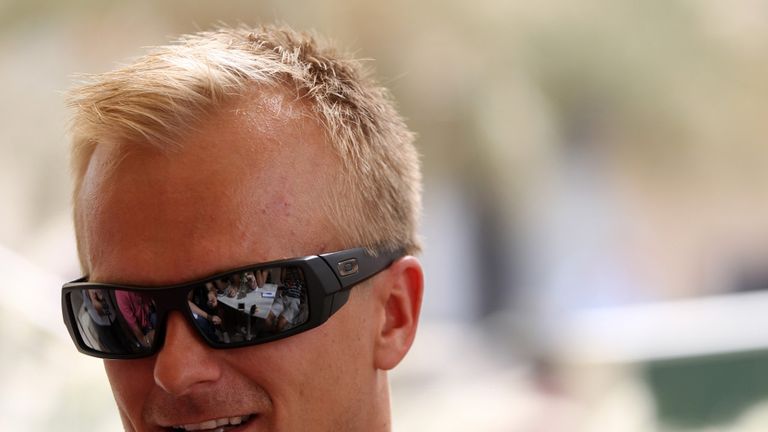 The Finn was speaking 24 hours after Caterham announced that he would take part in practice at both this weekend's Bahrain Grand Prix and next month's race in Spain.
"There's no plans to race at the moment," said Kovalainen, who only parted ways with the Leafield-based outfit at the end of last season. "The plan for me at the moment is to drive Fridays and help the team."
Kovalainen had been frustrated with Caterham's lack of progress in the three seasons he raced for them, but the decision to replace him with Charles Pic and Giedo van der Garde had more to do with the latter pair's financial backing.
However, both rookies have been thrown in the deep end with the troublesome CT03 and Caterham have failed to match rivals Marussia so far this season.
According to Kovalainen, the car lacks balance. A performance upgrade is expected ahead of the Spanish Grand Prix, where he will be able to complete what amounts to a back-to-back test.
"We had a quite well-balanced car last year although it was still lacking performance. The comments from the race drivers this year is that it's very difficult to find a balance. That will be the first thing I'm looking for," he explained.
"In Barcelona I will have a full update on the Friday, so I will get a back-to-back with this car and then the full, new package."
Although Kovalainen was a guest of Caterham owner Tony Fernandes at the recent Malaysian Grand Prix, he said the agreement had been reached before then.
"We talked about this for the first time a long time ago. At the very beginning I wasn't interested in this type of role. But when you're sitting at home for a couple of months watching other people drive the car, it makes you think 'I'd actually like to have a go'," he said.
"Just before Malaysia, I had a chat with Tony and I said 'Do you think I could do something for the team still? The idea we had earlier?' And he said 'sure'."
Van der Garde makes way this weekend, although Kovalainen denied the suggestion that, in setting faster lap times than Caterham's race drivers, he might put himself in the frame to step back up.
"I'm here to help the race drivers right now. It's different to what it was before. I'm working 100 per cent for the team and I'll try to give all I can to help the race drivers and help the team," he said.
"Naturally, if I'm pushing then hopefully that makes them even quicker. That's what you always want in a team. But they've already done a good job this year; the car is not easy to drive.
"The car is fundamentally the same as last year and other teams have made new cars; it's fallen behind. It's going to be a tough task the race drivers are facing this year."
The 31-year-old also deflected the notion that Pic and Van der Garde are both out of their depth.
"Everyone who gets to Formula 1 has a certain level of skills to do this job and the guys are quick enough to do this job, there's no question about that," he said.
"It's just that I have more experience about setting up the car, especially a fresh feel for this particular car. I think that's the main thing.
"The guys don't necessarily know how good this car could be or if it is at the maximum right now. This is where we're giving them guidance - trying different things and seeing if we can make it a more balanced car."
Not that Kovalainen doesn't want a full-time F1 return. Far from it; what he does want, though, is to race and be paid for doing so.
"Of course I want to race. Being here puts me in a better position if a race drive ever becomes available here, or even somewhere else. But right now I have no plans to race," he said.
"I made it very clear that this is my position and if it leads to not having a race drive then that's what it does. That's what happened.
"I've kept myself fit and kept in touch with people here (in the paddock). If something comes up, I'll be ready to jump in.
"In this part of my career, Formula 1 is what really interests me. I could still do a lot of good things here. I've left the door open here, kept looking and working at the same time to make sure that if something happens, I'm ready."
The golf nut, who returned home early from a visit to the Masters to drive Caterham's simulator, joked: "I thought about a pro golfer career but figured I wouldn't make enough money. So I'm back here."