Driver reaction - 2013 Bahrain GP Qualifying
The drivers have their say on Saturday's action...
By Sky Sports Online
Last Updated: 20/04/13 4:13pm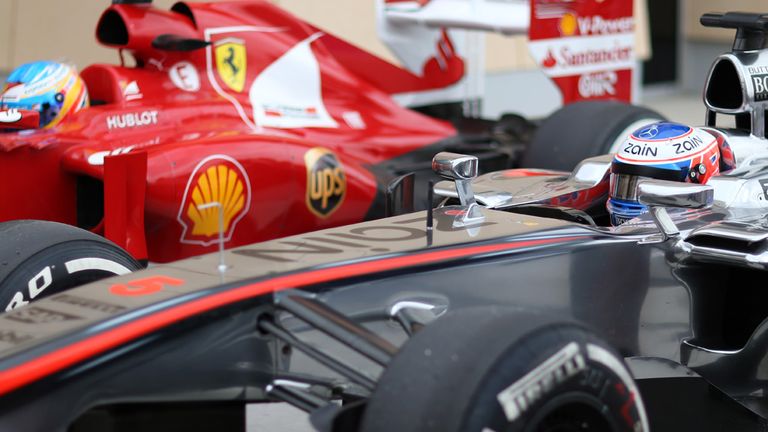 Mercedes
Nico Rosberg: "For the first time this season everything went perfectly today and that's a great feeling. Pole position feels like a kick start for me and it's a great achievement from everyone in the team. We still had some work to do after the practice sessions yesterday and the team had a busy night to turn it around. Thanks to them for the quickest car out there today. The race tomorrow is a different story and we're very aware of that. It will be difficult, especially with the rear tyres, and we know that other teams were stronger than us on the long runs on Friday. It will be a big challenge to stay ahead but starting from the front helps."
Lewis Hamilton: "It wasn't the best of days for me but big congratulations to Nico. Back to back pole positions for the team is great and Nico did a really good job out there. I couldn't quite find the pace today and with losing five places from changing the gearbox, we've got a tough challenge ahead starting from ninth place. These things happen and I'll do my best tomorrow. The best chance to gain some positions will come at the start and then we'll see how it goes. Tyre degradation will be a huge factor so it's going to be a very interesting race."
Red Bull
Sebastian Vettel: "I'm not disappointed with that. Well done to Nico, it was a strong lap and it was all his today. When I crossed the line I saw I was second on the screen and didn't know how much I was missing to pole as the lap was fine. When I got told the gap to P1, it was clear that even with a perfect lap he was unbeatable today, but nevertheless I'm very happy. We managed to save some tyres throughout qualifying and it will be about tyre degradation tomorrow, so we'll see what happens. It's good to start from the front."
Mark Webber: "I would have like to have got a bit more out of the car in that session and been a bit further up, but seventh with a penalty isn't the end of the world. We have a different tyre strategy to some of the others and it's a long grand prix, so let's see how we go. I'm proud to be starting my 200th grand prix tomorrow. When I was a youngster arriving in Formula One, I never thought I would be in the sport for so long. I have had some incredible highs and some tough lows, but that's top line sport. I have learned a huge amount during that time, about myself and life in general, and the drive is still very strong for the sport; I still enjoy it a lot. It's another number, but it would be good to get a good result to mark it."
Ferrari
Fernando Alonso: "It's really good news that once again we managed to do well in qualifying, which is our Achilles Heel! This is now the third time this year that we end up in the top three and, even if usually Sunday goes better thanks to our race pace, I am really pleased to see our potential already maximized on Saturday. The data seen from Friday's long runs means we can be optimistic about a race in which our main adversaries are represented by Vettel and the Red Bull in front and the Lotuses which might be behind us on the grid, but they will definitely be in the game. Because of the penalties for Hamilton and Webber, Felipe will start from fourth: I think it's much better that I find myself alongside my team-mate's Ferrari than Lewis' Mercedes! We won't discover which is the best strategy until tomorrow and it's impossible to make predictions. But I think the best tyre for the race will be the hard and that could work in our favour, given it's the one we have been most comfortable on all weekend."
Felipe Massa: "I am very pleased with the outcome of this qualifying, because in the end, the decision to take a risk in Q3, going in a different direction to the one we had originally planned, turned out to be the best one. On the medium compound, I didn't feel able to fight for the top places, the car had little grip and suffered a lot at the back. Even with the hard tyres, the chances of ending up further down the order was extremely high, but I still opted to stay with the tyres I felt most comfortable on. The penalties for two of the drivers ahead of me - Webber and Hamilton - mean I now move up the grid to fourth place, a point from where I can race with the leaders. Starting on the medium will definitely be an advantage, but to have a good race it will be vital to find the best strategy and ensure everything runs perfectly."
Lotus
Kimi Raikkonen: "It wasn't the easiest qualifying session after a weekend which hasn't been the easiest so far either. Yesterday it was difficult at times to find the balance with the car and I found that again today. This morning it felt good and we didn't do too bad in free practice, but we didn't quite get it right this afternoon. My lap wasn't great, but it's a long race so we'll just have to see what we can do tomorrow."
Romain Grosjean: "It's obviously disappointing to miss out on Q3 but it's just one of those things. There weren't any issues with the car, we just tried to be a little too brave by doing just one run and unfortunately it didn't pay off. On the positive side, we've found a lot of performance this weekend compared to the first three races and our pace on the prime tyres in Q1 looked very strong. We qualified in similar positions last year and came away with a double podium, so it's still all to play for."
Force India
Paul di Resta: "We knew we were in good shape to challenge for Q3 today and we looked strong throughout all the sessions. As the tracked gripped up we didn't quite have the speed we expected, but I'm still pretty happy with what we've achieved, especially as I will move up to fifth with the grid penalties. We're in a great position for tomorrow; the car is strong and our long run performance yesterday gives us every reason to be hopeful of challenging for some good points."
Adrian Sutil: "The car was quite tricky to drive today and the grip level of the track made it difficult to complete the perfect lap. My final lap in Q3 could have been better, but I'm pretty happy with the outcome, especially if I move up to sixth. The track suits us, we like the warm weather and things look promising for tomorrow. It's a good starting position to have both cars on the third row and we will be looking to move forward in the race."
McLaren
Jenson Button: "It's been a very difficult weekend so far, but 10th is a strong result for us today. The team is used to fighting at the front, so it's the little things - like getting through into Q3 - that can make a positive difference. Of course, it's going to be a tough race tomorrow, though. I'll race as quickly as I can, but I don't want people to expect too much from us. However, there are positives to be drawn from today: we out-qualified a Lotus, which was a surprise, and I'll be driving the first car starting on new tyres tomorrow. As in China, that brings a slight strategic advantage, so I'm hoping we can have another decent outing. I think we've both got a chance of scoring points - it would be great for both Checo and me to finish in the top 10 tomorrow."
Sergio Perez: "Qualifying was very difficult, and it was disappointing to miss out on getting into Q3 by just a few tenths. We didn't really have the pace to get any further up the grid, though; I think Jenson showed the maximum that was possible for us in Q2 today. Still, we're in a better position to fight for points tomorrow. I've set my car up to look after its rear tyres, so I think our race pace should be a bit more consistent. It's still going to be hard to get into the points tomorrow, but I hope we can have an okay race and make it into the top 10. But it's going to be a long, hard race."
Sauber
Nico Hulkenberg: "We always knew it was going to be difficult to get into Q3 today. However, I expected we would be starting closer to the top ten. The car felt quite good in the practice session this morning, but then the wind changed and it seemed very sensitive to that. I think, it will be a long race tomorrow, especially because we know we are lacking pace at this circuit, but we will fight to achieve the best result possible."
Esteban Gutierrez: "It's not a good feeling starting last, but we always knew that this weekend was going to be difficult. Our speed this weekend has not been great. It was important to drive a clean qualifying today, but I did my best and this is what I got. It was a bit of a disadvantage to do the race preparation in free practice three, because I didn't get enough practice on the new tyres on low fuel. However, it was important because the data will help us to prepare the strategy for the race."
Williams
Valtteri Bottas: "I had a bit of traffic in Q1 so I was quite lucky to get through given that one or two tenths can be the difference between progressing to Q2 or not. I put a good lap together in Q2, the best lap I've driven here this weekend, so I'm pleased about that. I feel I got everything out of the car today but tomorrow will be a long race in these conditions, so I will be ready to challenge right from the start."
Pastor Maldonado: "I have an extra set of tyres which is positive for tomorrow, and we are working together as a team to look at what we can do in the race. Qualifying 17th is a bit disappointing, but we are realistic with our targets at the moment. We are trying to do our best from the track and at the factory, and we are working to have a better qualifying performance soon."
Toro Rosso
Daniel Ricciardo: "This result is not too bad, even if it's unfortunate that so far, we have not found the pace we showed last week. I don't think I could have done better than this today, looking at the guys we managed to out-perform in qualifying and how we went in free practice. We were close to a McLaren and ahead of both Saubers and Williams, so I feel that is where we should be on current form. As for tomorrow, I'd love to get back in the points again and the tyres could produce some interesting surprises, which might work in our favour."
Jean-Eric Vergne:
"It was a strange session for me, as I set my fastest lap in Q1 on the Hard tyre. After that, on the Mediums that are meant to be faster, I was incapable of improving my time. The car seems to have changed a lot over the weekend and we need to find out why. At least looking at my lap time on the Hard it wasn't too bad, but there's something we don't understand about the Mediums. We can't say the car is bad, so I feel we can do better tomorrow, when there are still possibilities to do something in the race."
Caterham
Charles Pic: "I'm pretty happy with where we finished today. We'd obviously have liked to be a little higher up the grid but with the package we have here in Bahrain I think we got as much as we could today in quali, so we can be reasonably pleased. We have a couple of new parts here which have definitely helped us make some progress, and after a good FP3 we were well set for quali. Yesterday the car had quite a bit of understeer which is pretty much a direct result of putting on updates at the back of the car, but the changes we made overnight gave me a much more balanced car and the final lap time today in Q1 showed the progress we've made since last week. Now we need to carry that pace into tomorrow's race and having seen relatively good deg levels on the long runs we could have an interesting fight with a few cars ahead."
Giedo van der Garde: "For me that was a decent qualifying session and I'm happy with where we finished up, considering the fact I'm in the same car we've raced since Australia without the new parts Charles has been running here in Bahrain. Overall I'm pleased for the whole team as his laptime today is a sign of what we have to come and the amount of hard work everyone's putting in to show how we can perform. In Spain I'll have the same updates as my teammate and that'll obviously mean I'll be able to compete at the level he is, but for today I got nearly everything out of the car on that final lap and I think I can play an important role in the race tomorrow on a track that we're clearly looking OK on."
Marussia
Jules Bianchi: "After a positive start to the season, I think it has perhaps been a little frustrating for all of us that we have hit upon a circuit that is not so well-suited to our car. This happens - up and down the pitlane - but we have done a good job to stay focused and do what we can to make the best of it here. The balance problems we experienced yesterday were quite pronounced and gave us a tough start, but I think the direction we have taken to resolve them is a good one. Overall we have faith in our race pace and strategy and we will see tomorrow whether or not this was destined to be our race."
Max Chilton: "I'm much more comfortable heading into the race than today's timesheet might suggest to be honest. After a good day yesterday we had the KERS water pump problem this morning and I lost half of the Free Practice 3 session. Although that wasn't the best preparation for qualifying, with the running I did get I could see that the changes we made since yesterday are positive and we have made progress in the right direction. Things were going well in qualifying but unfortunately I locked up into Turn 11 and looking at the data I easily lost three to four tenths there. So, again, it's a question of looking beyond the timesheets at where we really stand for the race tomorrow and staying focused. We're playing the long game here in Bahrain this weekend, so if I can get the right side of Van der Garde at the start I think we can show more of the progress we have made behind the scenes."