Bernie Ecclestone ready to hand Bahrain GP five-year contract extension to 2021
Circuit also keen to hold 2014 season-opener and test session
Last Updated: 22/04/13 11:45am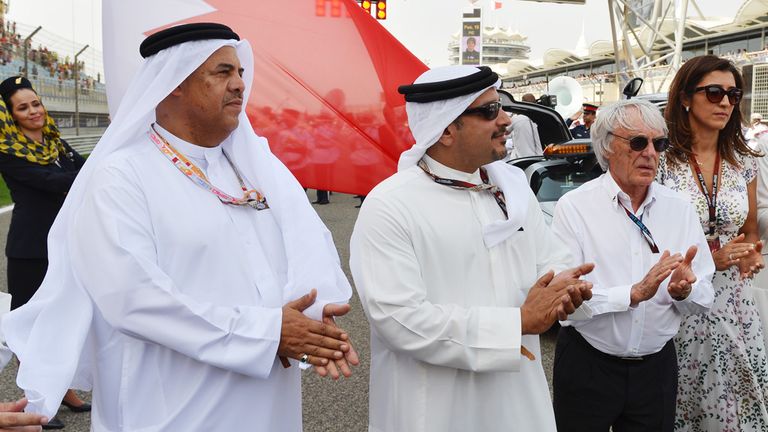 The sport's first Middle Eastern race still has three seasons to run on its existing deal but Ecclestone is ready to take the race's F1 tenure into the next decade despite the controversy which has dogged the event since the 2011 race was cancelled due to pro-democracy protests in the Gulf nation.
"I feel they do a super job and we're more than happy to give them a new contract for five years," the F1 commercial supremo declared.
"I don't see any problems."
Ecclestone's positivity towards the race - which could be held under lights next year - has been welcomed by Bahrain circuit Chairman Zayed R Alzayani who says organisers are hopeful of extending the hosting deal before 2013 is out.
"We're still contracted to 2016, but obviously we are willing to look beyond that," Alzayani said.
"We've not started negotiations yet, but we are happy to look at it. The intentions are definitely there. We're committed to the sport, we were the first race in the Middle East - we call ourselves the home of motor sport in the Middle East.
"We truly believe that in every sense of those words, so we are here for the long term, and we want to be known as the friendly race. Hopefully we can sign something this year."
Alzayani revealed during the course of this year's race that he was keen for Bahrain to regain the season-opening slot it previously held in both 2006 and 2010, a request Ecclestone has subsequently suggested he will consider.
Sakhir chiefs also are also pushing to hold one of the sport's three official winter test sessions in 2014, and although Ecclestone has voiced concern that any test could make for a processional race if the two are held in close company owing to car set-up familiarity for the teams, Alzayani insisted: "That is one of the concerns, and that's his opinion, but I don't think that would happen.
"We are hoping to get an early race and a test session next year as well so whether it's the first, second or third test, I don't know yet."
However, despite the Bahrain race being set to celebrate its first decade on the calendar next year, the race continues to pull in relatively few spectators with The Times' Kevin Eason reporting that only 28,000 people turned up for the country's showcase international event this year.
Alongside former Williams CEO Adam Parr, Eason will be a guest on this week's Sky Sports Online's F1 Midweek Report to discuss all the main talking points following the Bahrain GP and the state of play in the title race ahead of the European season.