Sebastian Vettel uses Bahrain's early lead to put fresh air between title rivals
But reigning champion insists there's no favourite for 2013 yet
By Pete Gill
Last Updated: 22/04/13 10:11am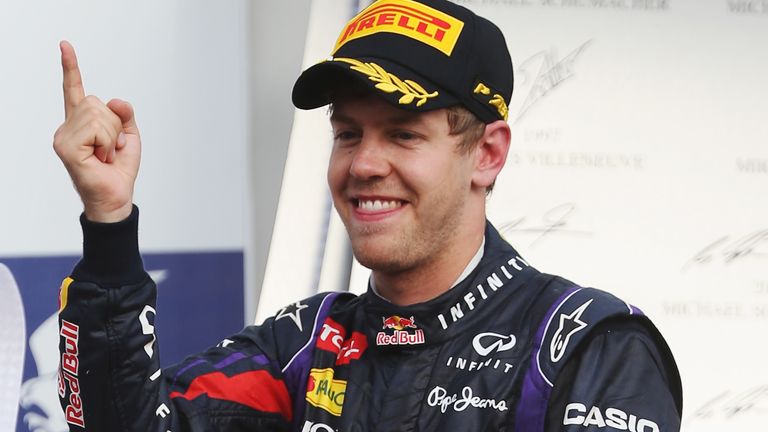 Vettel produced one of the moves of the season on the opening lap of Sunday's race to claim snatch second place back from Fernando Alonso before rounding Nico Rosberg's wilting Mercedes around turns five and six a lap later.
Critically, that early surge to the front meant the Red Bull could run in 'clean air', a luxury denied to the remaining twenty-one runners trailing in his wake and an advantage which the World Champion transformed in to a matter of dominance as he secured his 28th F1 victory.
"The most important thing was to get ahead of everybody very early on because I've seen at the last races that when you are stuck behind somebody it has an impact on tyre wear and today it was important that we made good use of the hard tyres we saved from qualifying," Vettel told the official Formula 1 website.
"On top of all our considerations I love to drive in 'free air' so I was pushing hard to get into the lead. With the speed that we had in mid-race it was a comfortable job for all of us"
But not easy?
"I was in a very comfortable situation towards the end of the race and we definitely didn't think that it would be that 'easy' - easy always in quotation marks as winning a Formula 1 race is never easy.
"I have to say that at the beginning the many wheel-to-wheel fights were great fun and then it went smoother and smoother with every lap gone by. Why isn't every day like that?!"
Vettel's rivals can hardly argue they haven't been warned. The World Champion's established modus operandi is to put in the hard yards during the opening laps of a grand prix, building a commanding lead from which he can control his pace in the second half of the race.
The subtle difference this weekend was Vettel's strategic decision not to use the hard compound during Saturday's qualifying, leaving him from three fresh sets for race day. Once safely positioned in clean air, the German was able to minimise tyre wear and cruise to the chequered flag.
"We felt a little bit happier on long runs, probably on the hard, that's why we decided to go that way and it seemed to work," the German mused. "It's difficult to say how good or bad the medium would have been because we didn't have a new set of medium tyres. I didn't see what other people did but I think that the fact that we sit here is pointing out that we did a good job today on that front.
"At the beginning, I thought that if there was a small chance to get into the lead I have to take it because then I can take care of the tyres the way I like and hopefully divert the race the way that we planned beforehand, whereas if you sit behind someone and get stuck then you struggle, you lose grip, you start to slide and the tyres start to go off and you might have a different race, but surely with the pace that we had, I think we could have had a strong race, even not being in the lead immediately but I preferred it that way for sure."
Vettel now leads the World Championship by ten points, with perennial title rival Fernando Alonso already adrift by in excess of full race victory. Yet, with fifteen races remaining, Vettel doesn't see himself as the favourite just yet.
"It is a long championship. I think if you look at the first four races Lotus is very quick, they manage the tyres pretty well in the race," he said.
"Ferrari is very quick, the cars haven't changed too much compared to last year. If you look, pure performance is very tight. On a Sunday it can be different because of the way you take care of the tyres; sometimes you're in a better shape, sometimes not.
"But I think the Ferrari is an all-round car as in they're always quick and they've been very competitive in the race. Mercedes is surely very quick over a lap but probably a little bit too aggressive with the tyres.
"Yeah, a little bit surprised by McLaren but I think they will come back at some stage this year, probably already in Barcelona and that's how it is but to point out the main rivals, I think we need to look after ourselves, make sure we score points and everything else is difficult to predict."