Red Bull insist 2013 world title battle will continue to fluctuate
Christian Horner also adamant Pirelli tyres remain "too on edge"
By James Galloway
Last Updated: 23/04/13 5:26pm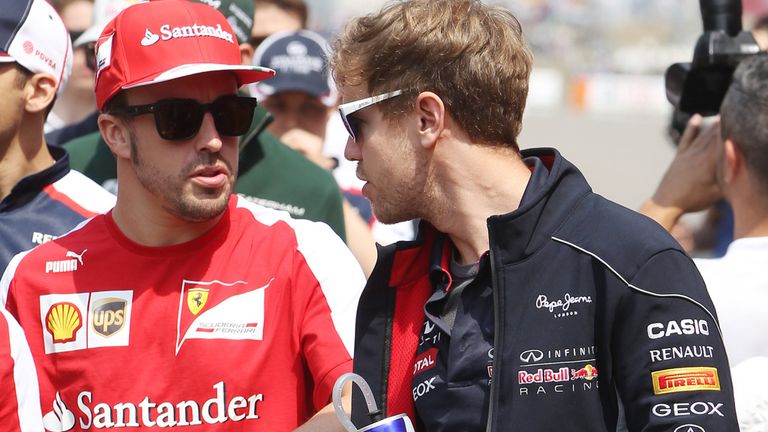 Although pre-race suggestions at Sakhir last Sunday had been that the World Champions may struggle to keep their tyres alive in the searing desert heat, Sebastian Vettel claimed a resounding victory to open up a ten-point lead at the top of the Drivers' Championship.
While the men who would have Vettel's most likely main challengers - Fernando Alonso and Kimi Raikkonen - found their pursuits for the victory stymied by a DRS failure and a poor grid position respectively, Horner nonetheless suggested afterwards that his driver would have been "untouchable".
However, despite the victory marking the reigning title winner's second in four attempts so far this season, Horner isn't taking anything for granted ahead of F1's return to Europe.
Asked to assess the state of play after the opening flyaways, the Red Bull Team Principal replied: "The Ferrari is strong. Lotus have got a good car. The Mercedes certainly over a single lap is very strong. The rest are a bit of a step behind.
"So it's close, it's tight and I'm sure it's going to move around again from circuit to circuit in Europe.
"But to be heading back to Europe having won two of the first four races, plus a second place, it has been a strong start to the campaign for us."
Indeed, despite Vettel's surprising admission after the race that he "he could really push every single lap" en-route to his victory, Horner denied Red Bull could now be sure that they were on top of the 2013 tyres.
"I think these tyres are very complex," he explained. "We got it just right today: the strategy worked and the strategy yesterday [in qualifying] worked in conserving those tyres for the race, and Sebastian had plenty in hand.
"When you're in the window, with the balance with these tyres then you can have a dominant display like we had today. But that window is very, very fine and if you're outside of it then you can be four or five stopping."
Pirelli are meeting on Tuesday to review their compounds' performance after the opening phase of the season and decide on whether they will make changes to the specifications from next month's Spanish GP.
Horner, whose Red Bull team were believed to have been one of two outfits pushing for Pirelli to revert to their 2012-spec tyres at the time of the Malaysian GP last month, continues to insist the rubber is "still too on an edge".
"Needing to four-stop in a race I think is a bit too extreme and there are other teams that look like they've got bigger issues than Red Bull with their tyres," he added.
"You need to speak to them to ask their opinion but I do feel the tyres are too on an edge and just need to come back a little bit."