2013 Spanish GP, Practice Three: Ferrari's Felipe Massa edges Lotus and Red Bulls
Raikkonen and Red Bulls also look strong, but McLaren still toil
By James Galloway in Barcelona
Last Updated: 11/05/13 12:21pm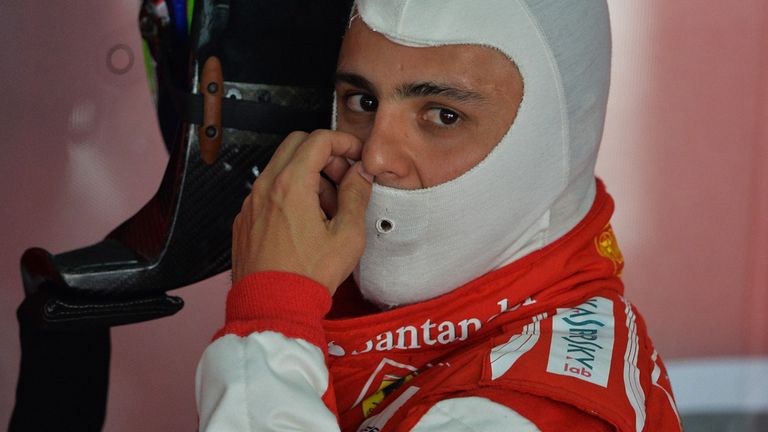 In keeping with the Friday form at the Circuit de Catalunya, Red Bull and Ferrari continued to look ominously strong over the shorter runs - but on Saturday morning they were joined at the sharp end of the timesheet by Lotus.
The Enstone team's lead runner Kimi Raikkonen had initially set the pace on medium tyres late in the session but was ultimately pipped by his old Ferrari team-mate Massa, who uncorked a 1:21.901s lap to end up a mere 0.006s ahead of the Finn.
Massa's Ferrari team-mate, and Spain's F1 darling, Fernando Alonso had earlier led the way on hard tyres after an impressively aggressive lap but slipped to sixth in the order on the mediums, over three tenths slower than the sister F138.
Sky Sports F1 commentator David Croft noted the continuing reversal of fortunes for Ferrari's less heralded driver: "As they push back Felipe Massa's car into the garage, isn't it amazing how the year has changed for this man as well? Felipe Massa this time last year: 16th on the grid in Barcelona."
However, while Ferrari might fancy their chances of claiming their first pole in the dry since Singapore 2010 come the day's later qualifying session, they are squaring up for a fierce fight with both Red Bull and Lotus if P3 is anything to go by.
Indeed, the intra-team battle at Ferrari isn't the only one that could run into qualifying after Barcelona specialist Mark Webber showed he may be in shape to challenge team-mate Sebastian Vettel again by outpacing the sister Red Bull by nearly two tenths of a second to take third.
The second Lotus of Romain Grosjean managed to split the two Red Bulls in fourth, the Frenchman showing signs he had recovered well from a problematic Friday when a cracked exhaust had scuppered his afternoon short-fuel run.
Force India's in-form pair again ran strongly with Paul di Resta seventh ahead of Adrian Sutil, the team outpacing both of their engine supplier Mercedes' cars - although Lewis Hamilton and Nico Rosberg did spend the early phases of the session concentrating on heavier-fuel race runs.
However, in what's turning out to be a dispiriting weekend, McLaren's Barcelona travails appeared to worsen as, having already reverted to their older-spec front wing for P3, Jenson Button finished 1.2s off the pace in 12th with Sergio Perez 14th after a mechanical problem on his MP4-28.
Martin Whitmarsh conceded to Sky Sports F1 from the pit wall that making Q3 would be a struggle given the MP4-28's ailing pace and David Croft admitted Button, who was disappointed to qualify only tenth in Spain last year, would be delighted to squeeze into the top-ten on this occasion.
"If he gets tenth on the grid today, he'll probably be as happy as he has been with some of his top-five qualifying. It's amazing how a year has changed," Crofty said.
Despite the expectation that their upgrades for this weekend would help close the gap to the front, McLaren continue to inhabit a very different place in the competitive order, a world away from the one that saw just 0.2s cover the top three teams in P3.
"That's what you normally have in Barcelona," said Anthony Davidson. "It's the track that everyone knows, it's where the cars are optimised - almost to perfection you'd have to say - and the drivers know it like the back of their hand.
"You're always going to be looking at small gains around this track."