2013 Spanish GP: Fernando Alonso wins from Kimi Raikkonen and Felipe Massa
Spaniard climbs from fifth on the grid to claim second home victory
By Mike Wise
Last Updated: 12/05/13 9:50pm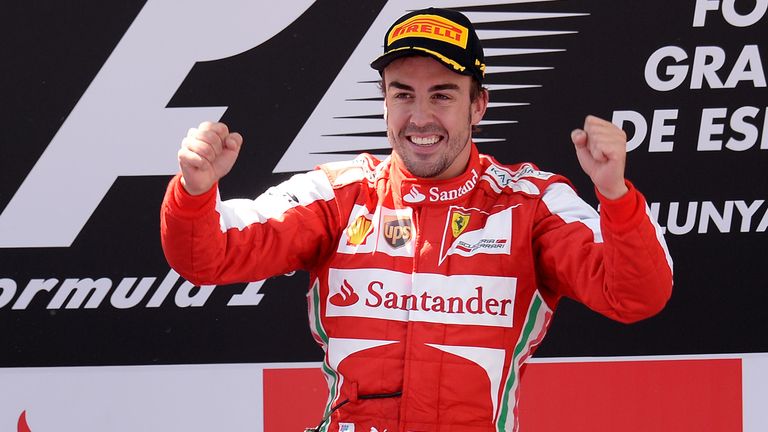 Prior to Alonso's success, a driver had never taken the chequered flag at the Circuit de Catalunya having started lower than third. The double World Champion did just that, one day after suggesting that it might - just might - be possible.
Alonso won after seeing off the challenge of Lotus's Kimi Raikkonen. He twice passed the Finn, first brilliantly on the first lap, and then again on lap 38 but in a race that, once again, was dominated by tyre wear, Raikkonen offered no resistance second time around.
No fewer than 82 pit stops were made in all, with Alonso's four-stop strategy trumping Raikkonen's three. The Spaniard's team-mate Felipe Massa also four-stopped to third place as did World Champion Sebastian Vettel, who finished fourth.
Vettel's team-mate Mark Webber was fifth but the challenge of Mercedes evaporated much as it did in Bahrain. After locking out the front row, Nico Rosberg and Lewis Hamilton faded to sixth and 12th places respectively.
Force India's Paul di Resta finished seventh while McLaren at least managed to salvage two points finishes - Jenson Button coming home eighth ahead of Sergio Perez - after a difficult weekend.
Alonso has often cited the effect his home race has on his performance. Last year, he carved his way past polesitter Pastor Maldonado into Turn One; 12 months on, he waited two more corners before producing the move that had the home crowd, estimated at 95,000, on its feet.
It was certainly one that required plenty of cojones: after Vettel had passed Hamilton for second at the first corner, Alonso let it all hang out through Turn Two and around the outside of Turn Three - the 4.655km circuit's fastest corner - to move past both the Mercedes and Raikkonen's car.
It was a move that summed up the respective fortunes of the former McLaren team-mates: as Alonso sped to his second victory of the season, Hamilton began his slump down the order.
The 2008 Champion wasn't helped by the flat-spotted tyres he picked up at the start of the race. Like Alonso, he made his first stop on lap ten but 20 laps later Hamilton found himself being passed by Maldonado's Williams - an altogether different proposition this year - for 14th place.
His displeasure was evident over the radio but Hamilton and Mercedes might not be the only ones looking back at the race with a shrug, or worse. There's no doubt that, throughout the field, the tyres did not last as long as predictions had suggested and with a perplexing array of strategies playing out during the course of 66 laps, F1 will once again be asking itself whether the desire to entertain has been overplayed.
Commentating on the race, Sky Sports F1's Martin Brundle said: "It is just a little bit too much. I like the challenge of it all. Through the history of racing cars you've always been protecting something - tyres, brakes, gearbox, whatever. But we are hearing a little bit too much about looking after the tyres."
Perhaps the sport can't win: the Spanish Grand Prix used to be notorious for a lack of action. Whatever, it's not something that will concern the winner right now; of more concern to Alonso is how he can overhaul the 17-point deficit to Vettel in the Drivers' Championship as soon as possible.
Rosberg led the first 11 laps but his problems began just as soon as he made his first stop. Rejoining ahead of Alonso, the Mercedes was soon passed around the outside into Turn One, with Vettel also getting ahead a few corners later.
Massa, who started ninth after a grid penalty, started to show his hand at the same time by jumping Raikkonen but both Ferraris soon revealed themselves also to be on four-stop races: Massa and Alonso respectively pitting for the second time on laps 20 and 22.
By half distance Alonso led Massa by 11 seconds, with Vettel 6.9s further down the road and Raikkonen in hot pursuit. The Lotus was past the Red Bull shortly afterwards - as it needed to be as the race leader was pulling away.
With Alonso and Massa both stopping again on lap 37, the former passed Raikkonen on the next lap but the different strategies - and consequent need to manage the rubber - meant that the Lotus driver simply let him past.
Raikkonen had for a time appeared capable of challenging Alonso by virtue of his strategy. He also bucked the trend among the frontrunners by sticking with the medium option tyre for the balance of the race. The switch to hards finally came on lap 46 but when Alonso came in for the prime tyre four laps later and rejoined well ahead of his rival, a home victory was all-but assured.
Alonso will also be delighted that Massa was able to take points off Vettel. Fourth and fifth places will not have been on the World Champions' agenda, although Webber did well to make up ground after falling to 11th on the opening lap.
Both Mercedes and McLaren placed their drivers on split strategies and the latter will be happier with how they panned out - but not by much. Button fell to 17th place on lap one but stopped three times on his way to eighth, ekeing out his tyres longer than Perez after starting six places behind the Mexican.
Rosberg also stopped three times, one less than Hamilton, whose mid-race frustration turned to bemusement afterwards. Mercedes had spent the weekend trying to improve their race-pace deficit but on this showing they still have plenty of work to do.
Elsewhere, Toro Rosso's Daniel Ricciardo claimed the final points-paying position, one place ahead of Sauber's Esteban Gutierrez. In fact, the Mexican rookie set the race's fastest lap - a telling statistic in the context of drivers operating well within their capabilities.