Lotus team boss Eric Boullier has played down the furore over tyre wear in Barcelona
"If our car can do it, it's because we did something to allow our car to do it," Lotus boss says
By Mike Wise and James Galloway
Last Updated: 13/05/13 2:21pm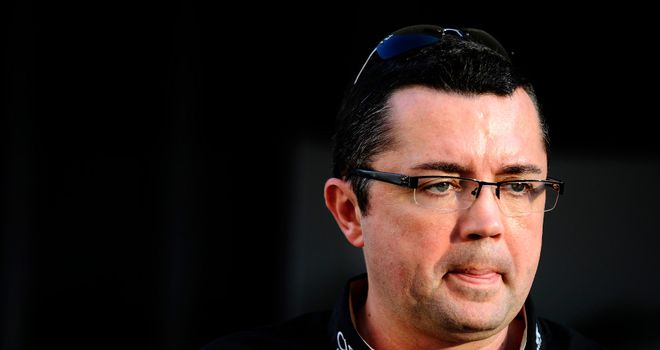 "It's the same tyres for everybody. There are some slight changes here, which were supposed to please the most complaining team," Boullier said after Sunday's race, making a veiled reference to Red Bull - who voiced their unhappiness about Pirelli's latest tyre range earlier in the season.
"(Pirelli) were asked to bring tyres lasting 20 laps and they did it."
The Italian supplier brought a revised hard tyre to Barcelona that was supposed to provide greater durability. In the event, the race featured no fewer than 82 pit stops with drivers forced to lap well within their limits in order to make the rubber last.
However, some drivers were more successful in the task than others - something Boullier was keen to stress when he pointed out that Lotus's E21 was designed with the brittle rubber in mind.
"People should get the right question. The question is not the tyres. I mean, if our car can do it, it's because we did something to allow our car to do it," he said.
Pirelli have responded to the criticism by announcing more changes in time for next month's British Grand Prix. In response, Boullier said that "in some ways, it's not fair. But we'll have to deal with it like we always do".
McLaren counterpart Martin Whitmarsh admitted that the situation can be "frustrating" sometimes but reckoned that Pirelli - who aim to induce two or three stops per race - get the balance right more often than not.
"Pirelli have responded to add to the spectacle and they don't always get it right. I think we've got to credit Pirelli, because lots of races have been enhanced by the tyre challenge and some which have probably been degraded by the tyre challenge," he said.
"For the racing drivers and those of us on the pitwall, it's a bit frustrating."
Whitmarsh, whose drivers Jenson Button and Sergio Perez finished eighth and ninth in the race, said the difference between the two on Sunday was the former World Champion's ability to manage his tyres.
"Jenson drove a brilliant race. You have to put the tyres on and the tippy-toe for the first three or four laps. But for any racing driver - particularly young chargers - to go out and do that, to almost cruise around Turn 3 which is supposed to be the most exciting corner, it's not much fun is it? It's tough," he said.
"When you put new rubber on to go racing and you've stopped before someone else, you want to go out there and put three quick laps in and get in front of the guy and jump him at the stop.
"If you do that - which you can - you'll just have terminal degradation five laps later."
Whitmarsh added: "I think (Pirelli) know we're right on the cusp of being too delicate. Some people will say it's part of the show, I don't want to criticise but I think we've just got to be a bit careful. I think there'll be some others who feel slightly more miffed about the tyres than we do.
"(Perez) had a bit of a masterclass from Jenson about how to drive these delicate tyres."