Pirelli boss Paul Hembery points to mitigating circumstances in F1 tyre row
While Pirelli will make changes, Hembery insists it isn't always easy
By James Galloway
Last Updated: 13/05/13 4:15pm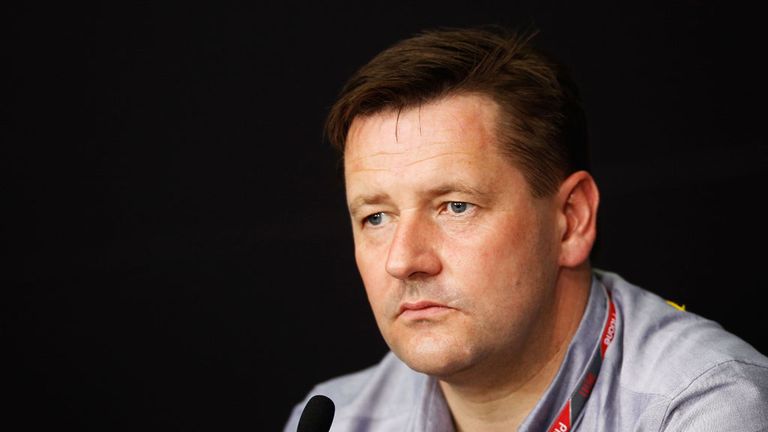 The aftermath of Sunday's opening round to the European season has been dominated by talk of tyre degradation, with complaints that had been simmering throughout the opening flyaway rounds coming to the boil after a massive 82 pitstops during the course of the Barcelona race.
Although Hembery, Pirelli's motorsport director, admitted immediately after the race that an average of four pitstops per car was indeed excessive and the Italian manufacturer would duly look to make changes to either the tyre compounds or structures in time for next month's British GP, he has attempted to calm the maelstrom of criticism over the last 24 hours by putting the case for the defence.
Speaking in a press release issued by the manufacturer amid the brewing row on Monday, Hembery argued that the outright increase in speed of the top cars this season, and characteristics of their own revised 2013 tyres, had combined to create more degradation than expected.
"The cars are certainly pushing a lot harder than in the past," he said. "The downforce levels are getting close to 2011 when cars had the blown diffuser.
"We also seeing that with our new structure of tyre, we're pushing much harder the compounds. So combine those two and we're finding that we're working the compounds much harder than in the past."
Hembery's claim that the top cars are significantly faster this season is backed up by Nico Rosberg's pole time from the Circuit de Catalunya on Saturday, the Mercedes driver's Q3 effort a massive 1.5 seconds quicker than Pastor Maldonado's respective pole lap from 2012.
Indeed, with the sport's regulations not permitting any in-season testing and Pirelli having no access to a current F1 car, Hembery added: "We don't see the cars until we get racing with them.
"We don't have any in-season testing - we don't have access to those cars for testing - and so, unfortunately, we do have to learn sometimes when we're actually at the race events."
Although calls from fans, pundits and several leading drivers and team bosses - particularly those at Red Bull - to change their tyres have become deafening inside the last 24 hours, Hembery is acutely aware that some will claim that they've only reacted following sustained lobbying from the World Champions.
"We can imagine, though, that if we make a change it will be seen that we're making tyres for Red Bull in particular," he added.
"That's been the comment made in the media - that Red Bull are pushing to make a change and if we do something that helps them then you can understand that Lotus and Ferrari won't be happy. So it's a very difficult situation we sometimes find ourselves in."