Martin Whitmarsh says decision to release Paddy Lowe is not linked to Honda deal
McLaren Team Principal says move was goodwill gesture
By Mike Wise
Last Updated: 21/05/13 3:03pm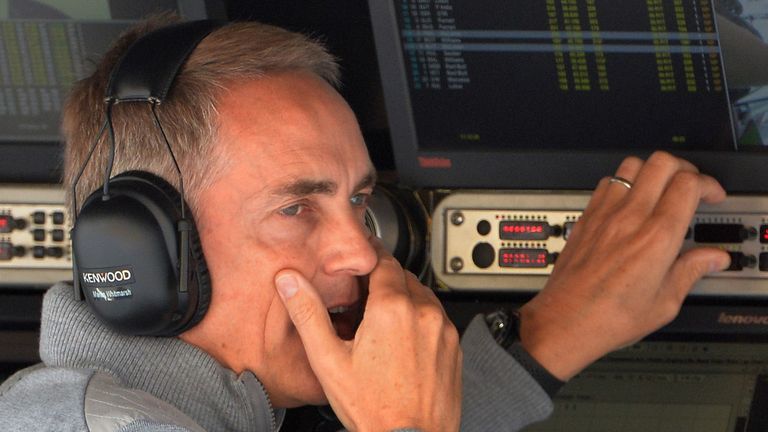 Mercedes announced on Monday that Lowe would start work for them on 3 June in the role of Executive Director (Technical). Having been placed on 'gardening leave' by McLaren in February, it had been expected that he would stay outside the sport until his contract expired later this year.
The news came just days after McLaren, who will continue to use Mercedes power when F1 switches to a new engine formula in 2014, announced a renewal of their title-winning partnership with Honda the following year.
The suggestion is that the Woking team are letting Lowe start his new job early to try and minimise any conflict stemming from the overlap of rival engine suppliers as the sport switches to 1.6-litre V6 turbos.
However, speaking in a Vodafone McLaren Mercedes phone-in on Tuesday, Whitmarsh claimed the decision was nothing more than a goodwill gesture.
"In terms of the reasons why, Paddy's been a loyal servant here and we felt it was the right thing to release him," McLaren's Team Principal said.
"It's not related to the Honda deal. The Honda and Mercedes deals had been done, so there was no pressure brought to bear.
"It was entirely our decision and we hope it creates some goodwill. It seemed like the right thing to do."
Ahead of this weekend's Monaco Grand Prix - the last race to feature Pirelli's tyres in their current specification - Whitmarsh also backed the Italian supplier's decision to tweak its rubber.
Pirelli came in for stinging criticism in the wake of the Spanish Grand Prix, which featured a welter of pit stops, and has announced it will make changes - albeit ones that are set to focus purely on safety - to its rubber in time for next month's race in Montreal.
"Ultimately we've got to put our trust in Pirelli. They're the tyre partners and experts, so I would strongly recommend that we allow Pirelli to do what we believe is necessary for safety and any other issues they see with the tyres," Whitmarsh said.
Of the criticism itself, he added: "Formula 1 has a habit of talking down the show that we put on. In the last three years, we've had some of the best racing, more overtaking, than in the 24 years I've been involved in the sport.
"If the tyres are very consistent, with no degradation and there's only one stop, it's formulaic: everyone in field stops halfway, changes his tyres and does the second half, then we complain also. So it's a very difficult balancing act.
"Inevitably, when the tyres are challenging, in terms of getting performance out of them and the level of degradation, drivers and people like myself get deeply uncomfortable. We don't like it.
"We also don't like the notion that a driver has to drive within the limitations of the tyres. There's clearly at times a fear that, instead of being a flat-out race or sprint, then it's a tyre nursing exercise.
"To an extent, looking after tyres has always been a feature of the sport and, again, it's a balance: you want a level of degradation and challenge from the tyre. But then, typically, those that are mastering it think it's okay, those that are struggling don't like it.
"I think we've got to be respectful that we the teams are always adding performance to our cars. That is always putting greater loading on the tyre, making it more difficult and Pirelli have got to run that balancing act of giving us a tyre that we can race with at the same time as contributing to the spectacle.
"Certainly over the last few years, I think you've got to acknowledge that Pirelli have contributed to the show more times than they've been to the detriment of the show."
The 2013 Monaco Grand Prix this weekend is live only on Sky Sports F1. Don't miss out, upgrade or subscribe to Sky Sports today