Sebastian Vettel & Mark Webber insist Monaco GP pole still as crucial as ever
Red Bull duo therefore aware of threat posed by Mercedes
By James Galloway in Monaco
Last Updated: 22/05/13 6:50pm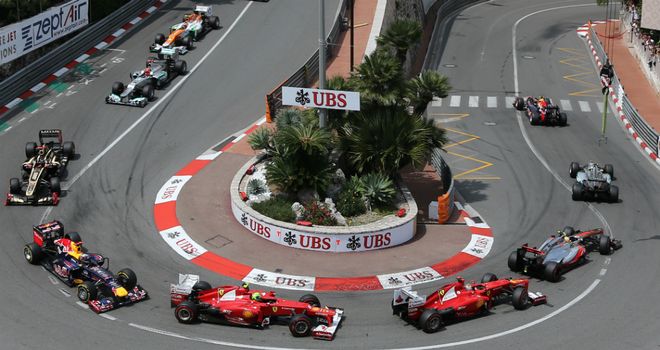 With balance of grand prix racing so far in 2013 perceived to have tipped more than ever towards tyre conservation and pit strategy, rather than flat-out racing, the statistics for the first five grand prix show that only one driver - Vettel in Malaysia - has converted pole into victory with the average grid position for a race-winning driver just third.
Mercedes have experienced the shift in emphasis to depressing effect at the last three races with the team unable to convert any of their poles into a race victory. However, the unique nature of Monaco - and the street circuit's infamously tight confines - has nonetheless led many, including Fernando Alonso, to install the Silver Arrows as this weekend's favourites.
Speaking to the press on Wednesday, Vettel acknowledged the threat posed by the Brackley team but underlined that everyone would still be looking to topple them from the head of the grid come Saturday.
"I can understand why people say that Mercedes are the favourites," the World Champion said.
"They had very impressive qualifying speed in the last couple of races and as we know Monaco is very important to qualify at the front. It's a bit difficult and unknown at this stage to know how the tyres will be, and especially how long they last. If they last well then it will be very important. If people are running in trouble then it could be that pole is probably not everything, but for sure it's not a secret that around here you need clear laps, no traffic because overtaking is quite difficult.
"I still think that everyone is shooting for pole and, as I said, the last couple races Mercedes have been very strong but I think if we can get into the groove nicely and find the rhythm - which is very important around here - then I'm sure we should have a chance. How good our chances are right now I can't say - I need to get in the car tomorrow and have a first view."
Team-mate Webber agrees that qualifying strongly remains the pre-requisite for any successful assault at Monte Carlo victory, pointing to his own win from last season as proof of how the leading driver can control the pace and direction of the long race.
"The decisive factor to win on Sunday? Definitely a good qualifying position," he stated. "It's not going to be like Shanghai or Barcelona where you can be a long way out of position in the early parts of a grand prix.
"So qualy [is vital] and the need to be able to react to the [pit]stop, or the stops. [It's] very, very important to be in a good position early in the grand prix and be proactive with the strategy. I think the guy who's leading the race will still [have control]. It's like serving in tennis - you're in control of what's going on to a large degree, like I was last year.
"I controlled the race. It was a one-stop last year and we had to get to that target [pitstop] lap. We got to that target lap, we pitted, we came back out and then we nursed the tyres until the end of the race. I saved the tyres last year for 95% of the grand prix. That was the rules last year but I doubt it will be the rules this year."
With that in mind, Webber also acknowledged Mercedes' single-lap prowess - but then insisted that Red Bull had their sights set on pole as well.
"They certainly have some Saturday form which is not a bad card to play at this venue. Again, let's see how the tyres pan out on Sunday - if they're quite calm and they, Mercedes, still have their qualy pace it could be quite nice for them," the Australian added.
"Our goal is still to outqualify them of course and aim for pole position and be in a position where we're in charge and not trying to deal with them in race."
Having won each of the last three Monaco GPs, Red Bull are aiming to become the first team since McLaren in the early 1990s - and only the third in history - to win in the Principality in four consecutive seasons.
The 2013 Monaco Grand Prix this weekend is live only on Sky Sports F1. Don't miss out, upgrade or subscribe to Sky Sports today