Romain Grosjean plays down effect of Monaco Practice crash & talks up Lotus chances
Frenchman expects to be in the mix with Alonso and the Mercedes'
By James Galloway in Monaco
Last Updated: 23/05/13 7:14pm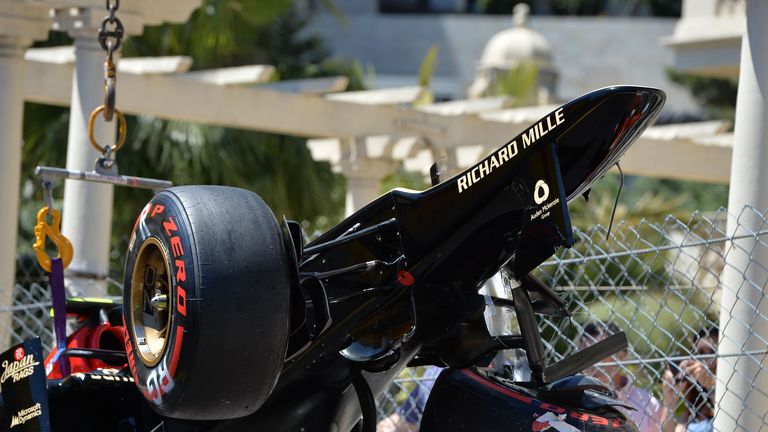 The Frenchman, despite a few scruffy moments in the weekend's opening track session, appeared to quickly pick up the speed around the tortuous streets as he finished the morning with the third-fastest time.
However, his afternoon session lasted a mere ten laps after the 27-year-old blotted his copybook when he damaged the front of his E21 against the barriers at St Devote.
But despite the apparent setback, Grosjean was nonetheless in high spirits when he spoke to reporters after the session given that, up until his crash, he had been happy with the handling of his Lotus.
"It [the crash]'s not a big deal," he insisted. "It's a bit of a shame we lose some time of practice, but the car is there, the balance is there.
"I went in and it locked when I was already into the corner so unfortunately nothing I could really do.
"The team is doing a great job, first on the set-up and also repairing the car, and the beers will be on me Sunday night!"
And while Mercedes appeared to underline their status as favourites for pole position on Saturday - and even potentially the race victory - with an impressive one-two in afternoon practice, Grosjean suggested the weekend was poised for a multi-team battle for supremacy.
Asked about Thursday pacesetter Nico Rosberg's eye-catching 1:14.759 P2 lap, the Frenchman responded: "It's not bad. I think it's going to be tight: Fernando [Alonso] is quick, both Mercedes' are and I think we are. So it's going to be a good battle."
Grosjean added that the fact his team-mate Raikkonen had shown a decent laptime improvement on the supersoft tyre - something his crash meant he personally has yet to sample - was further reason for encouragement for Lotus.
"On Kimi's car he had a good gain on the tyre which shows we have a good gain with them. I was surprised that Fernando was not quicker with the supersoft so I think we should have been there with Rosberg," he suggested.
The 2013 Monaco Grand Prix this weekend is live only on Sky Sports F1. Don't miss out, upgrade or subscribe to Sky Sports today or purchase a 24-hour day pass from Now TV