Helmut Marko warns of 'reopening of Pandora's box' if Mercedes escape Testgate sanction
Red Bull advisor still seething over rival's Barcelona tyre test
By James Galloway
Last Updated: 09/06/13 9:09pm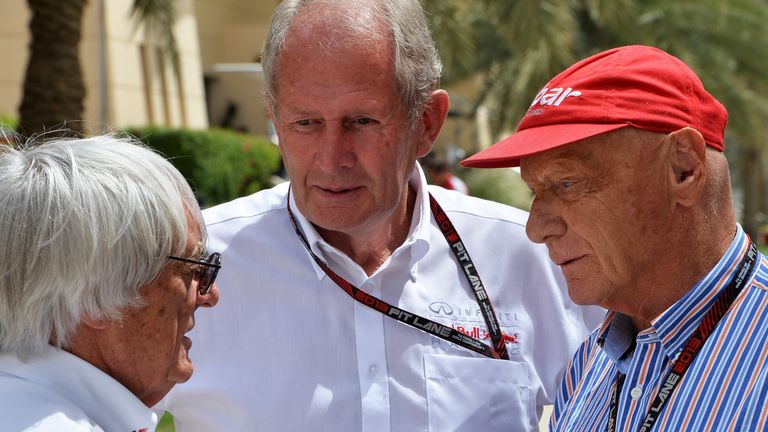 Since submitting a protest against Mercedes at the Monaco GP when details of the Brackley team's running with Pirelli at Barcelona came to light, Red Bull have remained outspoken over the event with Marko, team boss Christian Horner and lead driver Sebastian Vettel all expressing their ire with what they claim was an illegal test.
Speaking to Sky Sports' Friday night edition of The F1 Show in Montreal, Horner, whose own team have been accused in the past of pushing the boundaries of the regulations, insisted that "there's the boundaries and there's jumping off a cliff" and called for a "sporting penalty" to imposed should Mercedes be found to have contravened the regulations.
Marko, Red Bull's famously outspoken motorsport advisor, has now told the official F1 website: "This test is a clear breach of the sporting regulations - and that is why we launched a protest.
"Firstly we want clarification, and secondly - if it is really a significant breach - we want to see punishment by the FIA."
He added: "To push the limits is nothing unusual, but that was clearly too close for comfort."
The Austrian also warned of a "reopening of Pandora's box" in regards to spending in F1 if Mercedes escape sanction at the International Tribunal hearing.
"Well, first of all the sporting regulations have been broken," Marko insisted. "Then there is a test agreement among all the teams - a gentlemen's agreement that we haven't even mentioned - that also has been clearly violated.
"And if this test is waved through without consequences all the talks about cost reductions would go out of the window - it would be the reopening of Pandora's box which would be hard to ever close again. Renault would definitely like us to test their new engine, and so on and so forth..."
Marko also reiterated that Red Bull had turned down an invitation from Pirelli to complete a similar tyre test as they viewed such an event as being outside the sport's rules.
"It is correct that we were offered such a test," he added. "We decided that by committing such a breach of regulations, we - as championship leaders - would be confronted with consequences and thus did not follow that route."
Although no date has officially been set for the International Tribunal hearing by the FIA, Sky Sports F1 understands the hearing is likely to be held in Paris a week ahead of the British GP on June 20.
The Tribunal has the power to impose a range of sanctions should they rule against Mercedes from a fine, to a points deduction or exclusion from the World Championship.