Pirelli's Paul Hembery says everyone in F1 needs to do better job in wake of Testgate
Tyre chief content with ruling but renews calls for new test car
By James Galloway
Last Updated: 24/06/13 12:23pm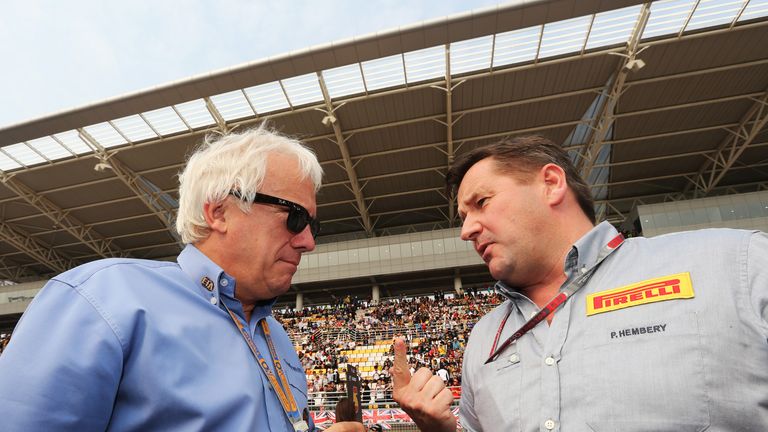 Although Pirelli, along with Mercedes, were found to have acted in breach of the International Sporting Code in participating in an in-season tyre test with a 2013 challenger at Barcelona last month the judging panel only imposed relatively minor sanctions on both after acknowledging that "neither Pirelli nor Mercedes had acted in bad faith" and the intention of the test hadn't been to give Mercedes an unfair sporting advantage.
Speaking in wake of the judgement to Sky Sports News, Hembery, Pirelli's motorsport director, expressed his satisfaction with the manner in which the first ever Tribunal hearing had been conducted and the fact the judges ruled the tyre supplier had acted in good faith throughout.
However, the Englishman stressed that the sport was still far from getting agreement on giving Pirelli regular access to a car more on par with current 2013 performance levels.
"The first thing to say is that Mr Glasgow the QC ran a very fair, independent hearing. That was very important for everybody to know because it was the first time this new independent hearing has been used," he told SSN.
"In terms of the result, it was good to hear that it was recognised that both ourselves and Mercedes acted in good faith based on information we'd received from the FIA. The costs of course were split three ways between the three parties and hopefully it means we can all start focusing back on the sport.
"Of course it doesn't take away our need to be able to test in representative conditions with representative cars. We're still running round in obsolete, almost museum pieces, trying to do our job so there's still a lot of work to be done to allow us to do what we call representative testing going forward."
The FIA itself has already vowed to strengthen how it regulates testing in light of the Tribunal's findings and Hembery agrees that there are things the whole sport can take away from the events of the past month.
"We all have to take note of what's happened and the reasons for it and try to do a better job going forward. That means all of us; the teams, ourselves as the supplier to the sport and also the FIA," he added.
"So learn some lessons but, as I say, the real issue for us is we still have to find a way of performing representative testing."
The Barcelona test has been one of a number of controversies and rows Pirelli have found themselves at the centre of this season with tyres having been the dominant paddock topic of conversation all year.
While Hembery is confident they won't now have to introduce revised compounds or constructions for this year to resolve the recent spate of delaminations following a change to their in-house production process, he says the possibiluty to complete in-season tyre testing with up-to-date cars and race drivers going forwards is imperative.
He's therefore hopeful that plans which are already affot to relax F1's testing restrictions for next year can work in Pirelli's favour.
"You've got to bear in mind that in-season we don't really like to change things because teams make technical decisions on the data they get before the year and they make design decisions based on that," Hembery explained.
"It's been one of the issues this year that some have maybe wanted us to make changes because they want to gain a performance advantage, but we believe that we'll actually remain with the current product. We had some of the tread detachment issues - we've had 13 this year in 9,500 tyres, which is too many and doesn't look good for us. So we've worked on that and we believe for Silverstone we now have a solution that retains the current product.
"But we need to have some proper testing and maybe there is light at the end of the tunnel because there is talk next year of having some in-season testing staying on after four races with all the teams and maybe if we can find a way of using that, maybe if we can get a few times to run a second car, that might well be a way that we can have some representative running.
"You need the correct cars and you need the top drivers. You need to be pushing the product to its extremes because that allows us to understand where we are. Running as we are now with a 2010 Renault, you turn up for the start of the season with cars that you're not sure what developments they've had, what jumps they've made in terms of performance.
"It's really very difficult from our point of view. So if we can get as close as we can to the performance of the current cars that will make our life a lot easier and make sure that we do a better job."