Bernie Ecclestone 'not sure what happiness is'
Details also revealed of how news spread of Mercedes' reprimand
By Pete Gill
Last Updated: 25/06/13 11:50am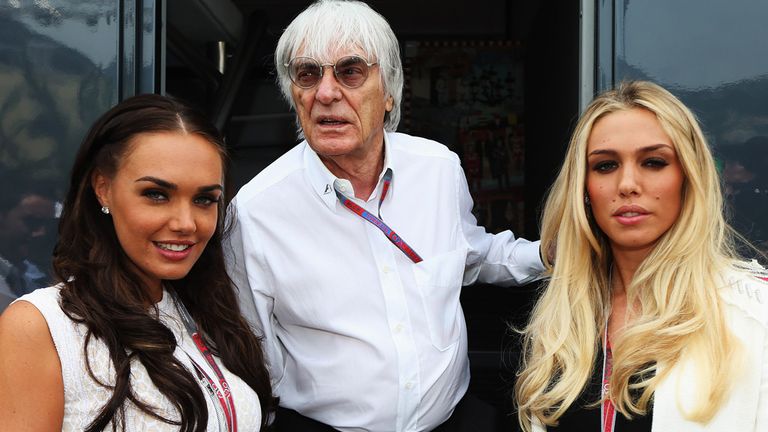 In a remarkably candid interview with The Times' Matthew Syed, the F1 ringmaster reveals that he "is not sure what happiness is", returned to work immediately after his recent marriage, remains utterly sanguine about the possibility of being sent to prison, and is unperturbed by the prospect of death - "I know I am going to die, there is no getting away from it, but I am not frightened by it. I just hope that I die of a heart attack. Preferably at my desk."
F1 purists, meanwhile, will be fascinated by a string of intriguing insights into the complexities of the working relationships at the highest echelons of the sport and Ecclestone's ubiquitous presence at the centre of the web he has so successfully weaved.
For instance, it is revealed that Ecclestone was personally informed by FIA President Jean Todt of Mercedes' reprimand from the International Tribunal an hour in advance of its announcement last week.
"That's great," Ecclestone is reported to have reassured the head of the governing body. "Congratulations on conducting a good process, Jean."
'As he hangs up, a call comes through from his office to say that Toto Wolff, the executive director of the Mercedes team is on the line. Bernie says he gave him the good news telling he had got away with a reprimand. Mr Wolff then, according to Bernie, thanks him, tells him he is shocked and promises that dinner is on him at Silverstone'.
The mere suggestion that Mercedes' hierarchy were privately 'shocked' at the apparent leniency of the Tribunal will, of course, be seized upon by critics of last Friday's verdict.
Nonetheless, it is the intimate insights into Ecclestone's working life - an aspect of his life which actually appears to be all-consuming to the detriment of all others - that provide the most compelling passages.
"I am not sure what happiness is," he says midway through the interview. "What do those feelings mean? I have experienced satisfaction when I have planned something and it has come off. But happiness? I am not sure."
While Ecclestone's dedication to his business has helped amass an estimated fortune of £3bn, it has also come at a considerable cost in his inner life.
"That is why my ex [Slavica, Ecclestone's ex-wife of 23 years] left me," he says of his 'tunnel vision'. "She was not happy because I didn't take time off."
Two striking details are also revealed about his wedding last year to third wife Fabiana Flosi. The first is that Christian Horner, the Red Bull team boss, was a witness and one of only four attendees. The second is that Ecclestone went back to work the next day. "The wedding was just a job that needed to be done," he adds.
Yet Ecclestone will have no choice but to take time off from work if he is convicted of corruption by a German court. The 82-year-old has strenuously denied the charges but says he has no fears of going to prison.
"I get sent to jail I will have to deal with it," he says. "I don't think I will like it very much, but you have to get on with things."
'An hour ago,' writes Syed, 'I would have put this down as bravado. Now I can see that he is just being himself.'
Read the feature in full on The Times' website - subscribers only