Bernie Ecclestone says agreement in place for Pirelli to conduct two tyre tests immediately
But unnamed team tell Sky Sports News no discussions yet held
By James Galloway
Last Updated: 02/07/13 10:24am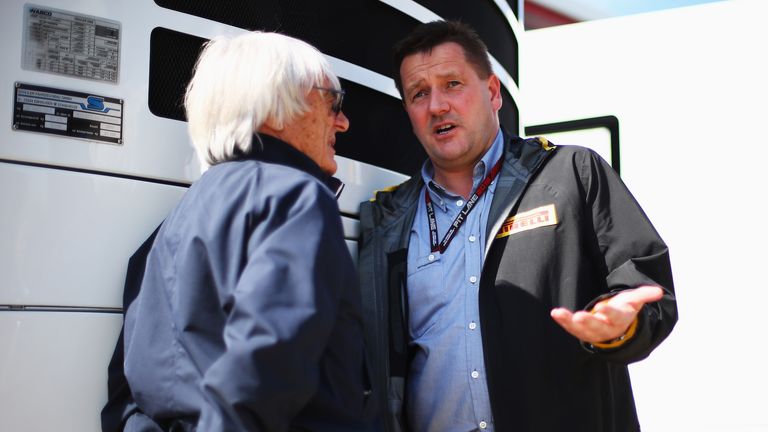 The sight of multiple cars suffering tyre blow-ups in Sunday's Silverstone event has prompted both teams and drivers up and down the pitlane to call for urgent action to be taken to avoid a repeat of the high-speed failures at this weekend's German GP.
Pirelli have already been summoned by FIA President Jean Todt to attend a pre-arranged meeting of the Sporting Committee at the Nurburgring on Wednesday, with the Italian firm coming under pressure to implement an immediate solution.
But while Ecclestone on Monday claimed that Pirelli can test with a 2013 car as of today if they like, Sky Sports News understands from one team source that no discussions have yet taken place about such tests taking place.
The teams themselves have previously failed to reach agreement on giving Pirelli regular access to a current car.
However, Ecclestone claims that an agreement was reached with Todt at Silverstone, resulting in Pirelli being presented with an opportunity to test potential solutions to their ongoing problems.
"They (Pirelli) have complained in the past when these tyres have delaminated - which is certainly nothing to do with it (what happened yesterday)," said Ecclestone on Monday.
"They've said they'd like to sort it out, but they don't have a chance to do any testing because of these bloody silly restrictions we have. But I spoke to Jean Todt over the weekend and he has said 'Let them test'.
"So he has allowed them to run two three-day tests between now and...well, when they want, to try and do something for next year, as well as this year, so that's exactly what's going to happen."
As per their contract with the FIA, and as confirmed by the recent International Tribunal hearing into Mercedes' contentious post-Spanish GP test, Pirelli are allowed to conduct tyre testing mid-season but F1's own Sporting Regulations prohibit teams from running a 2013 car in full in-season sessions.
The outcome of the Tribunal has created some uncertainty over what specification of car Pirelli can actually use going forward but Ecclestone has suggested that his fresh agreement allows them to test without restrictions.
"They can use what they like. No restrictions. None at all, so they can do what they want," Ecclestone replied.