Exclusive: Paul Hembery Q&A
Pirelli's Motorsport Director explains the changes they have made to the tyres and why he is confident there will not be a repeat of the blowouts seen at Silverstone.
By William Esler
Last Updated: 05/07/13 2:25pm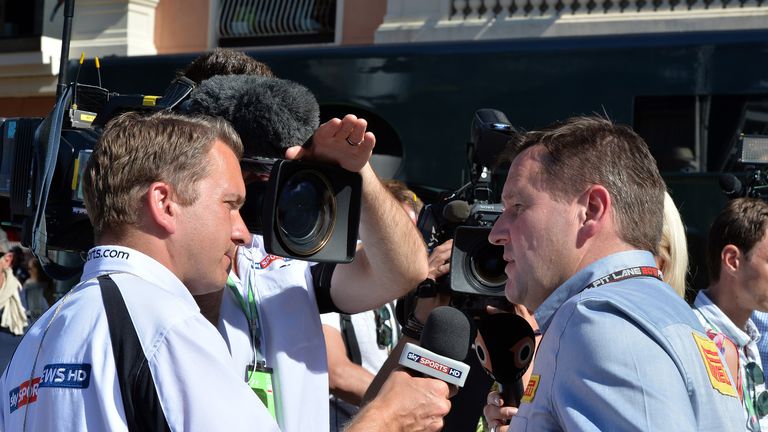 You talked about the perfect storm of events at Silverstone causing the failures, but one thing you admitted was your fault was letting the teams run with the left tyres on the right and vice versa.
PH: "All the failures that we had were that [on cars with 'reverse mounting'].
It probably sounds a bit complex to people but what we had in those tyres was a metallic belt and we only had one. When it rotates in one way it goes across the cords, but when you invert it and it rotates, the other way it compresses into what looks like a pointed edge. With the Silverstone race running two to three seconds faster than last year, that increases the loads and that is what caused the failures. But we allowed them to do it so it is our responsibility."
It has been a difficult week for you.
PH: "It was tough, but the important thing is you need to react and make changes and make sure it doesn't happen again.
So you have done that, and you brought these rear-tyres with the Kevlar belt in just 72 hours. That sounds like a massive logistical operation - something like 1000 tyres coming over from Istanbul.
PH: "A few miracles. We have a good team in Istanbul and they have been working flat-out as we were in Milan where we made sure we analysed and understood everything. Looking forward, we are going to reintroduce the 2012 tyre in Hungary - that is more looking towards Spa when we get back to the really tough circuits. That is because of this big improvement with the cars - with the engines frozen it is all about the aero and making the tyres work harder."
Have you had any complaints from teams saying it was going to benefit one more than others?
PH: "You get that sort of comment but in reality I think they all know we have to do something to stop the events like we had at Silverstone and I think there is a good understanding as that is to why we did it."
And you are confident now that it will all be sorted when we get to Budapest?
PH: "We ran for over two years with that structure of tyre but we have a moving target which is one of the problems that you probably can't see from the outside - if someone comes up with something special and starts going an awful lot quicker that puts a lot more strain on our product and we have to keep up with that."