Pirelli reveal tyres that will be made available for teams to run at Young Driver Test
Medium and hard compound versions of new-look tyres to be used
By James Galloway
Last Updated: 08/07/13 1:47pm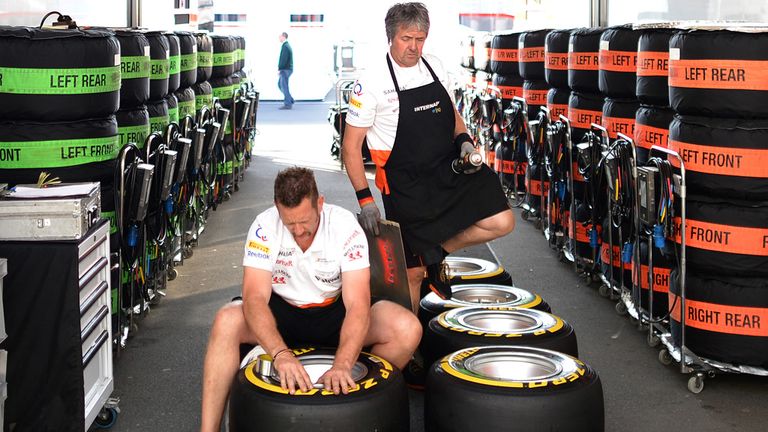 After the FIA pushed through changes to Formula 1's Sporting Regulations in wake of the multiple blowouts that marred the British GP, Pirelli have been allowed to make unilateral changes to their tyres to improve safety with the first stage of that process at the Nurburgring having seem them revert to Kevlar-belted rears.
The second phase to be rolled out for next race in Hungary will see the tyres revert to 2012 structures, with existing 2013 compounds, and teams will test these tyres for the first time at Silverstone next week.
"We're bringing along five sets tyres with the hard and medium compound, three of the hard and two of the medium, of the 2012 structure which is the tyre we're going to be using going forward this season," Hembery confirmed to Sky Sports News.
"Plus we've got a prototype compound as well, hard compound, we're taking there. So we've set out a schedule for teams to run and hopefully that's what they're going to do."
Although Pirelli are confident they are firmly on the road to resolving the tyre problems which have reared their head at various stages this season, the company still has some uncertainty over their future in the sport with a contract renewal still not signed to carry on as F1's sole tyre supplier next season.
Hembery admits the company do find themselves in an odd situation at the moment and reiterated that there is plenty to do to get ready for the impact of the sport's new engine regulations in 2014.
"We're in a bit of strange situation knowing whether we should be spending millions or not at the moment," Hembery admitted.
"But we're working in good faith at the moment and we need to start seriously getting ready for next year because the cars are dramatically different and a huge challenge for the tyres.
"Lots of torque and that means potentially lots of wheelspin. We need to get on the wet track as well because we need to understand the impact of that power delivery on a wet-handling circuit. So plenty to do."