Cameramen to stand on pit wall at Formula 1 races after German GP tyre incident
Bernie Ecclestone says change to be introduced from Hungary
Last Updated: 09/07/13 3:02pm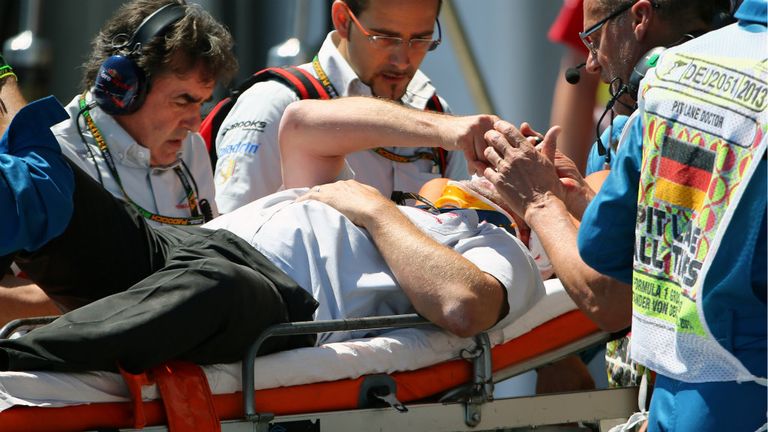 Paul Allen was hit by a bouncing wheel that came off Mark Webber's Red Bull. It bounced past several mechanics in the Ferrari, Lotus and Mercedes pits before hitting Allen.
Allen, employed by Bernie Ecclestone's Formula One Management, suffered a broken collarbone and two broken ribs. He is expected to make a full recovery.
At present, current rules allow up to a maximum of six FOM camera crews unlimited pitlane access during qualifying and the race.
In addition, six photographers are allowed to take photographs from the pit wall.
But from the next race - which takes place in Hungary in three weeks - the snappers will be joined by the television crew.
Ecclestone said: "I've been in close contact with everybody who has been dealing with the matter.
"It's a terrible thing to say, but it was just one of those things. There was a whole bunch of mechanics and the tyre could have hit any one of those guys.
"The cameraman just happened to be looking the wrong way at the wrong time. In future, all our camera crews will only be allowed to film from the pit wall."
As from next year it will be mandatory for all team personnel working on a car in a pit stop to wear head protection, paving the way to the suggestion others should follow suit.
Mercedes boss Ross Brawn said: "On the basis of what we have seen we should be thinking that all people in the pitlane are properly dressed and equipped
"Everyone in the pitlane should have a helmet on. It is certainly worth reviewing the whole thing."
Red Bull were fined £26,800 following the incident and he said: "Mechanics have to wear safety gear and helmets, and maybe it's time some of the other operational people in the pitlane have some safety equipment as well."
It is something the FIA and Ecclestone may look into.
"If the camera guys are on the pit wall, then that's normally higher than the track," added Ecclestone.