The FIA has announced that it is to limit pitlane access to team personnel and marshals
Approved media moved to pitwall following accident involving cameraman
By Mike Wise
Last Updated: 10/07/13 1:16pm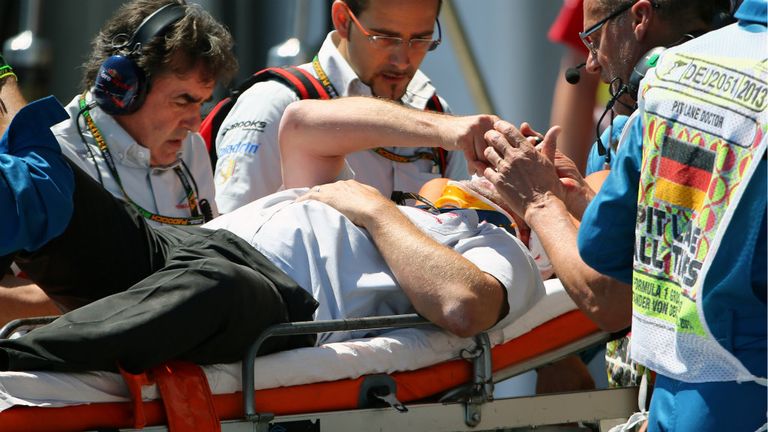 The move comes in the wake of the accident which befell a Formula One Management cameraman during Sunday's German Grand Prix and means that approved media will henceforth be confined to the pitwall.
In a statement released on Tuesday evening, the governing body also said it would use the World Motor Sport Council to immediately approve two amendments to the Sporting Regulations.
The change to Article 23.11 means that all team personnel working on a car during pit stops will require head protection.
Meanwhile, the amended Article 30.12 will reduce the pitlane speed limit during races from 100 km/h to 80 km/h. For the street circuits in Melbourne, Monaco and Singapore, the speed limit will remain 60 km/h.
Both the changes had already been approved for next season. However, the statement said that the FIA has brought them forward "on the initiative of its President, Jean Todt".
FOM cameraman Paul Allen was hospitalised after being hit by a wheel which had worked loose from Mark Webber's Red Bull following a pit stop on lap eight of the race.
Allen suffered a broken collarbone and ribs but is expected to make a full recovery. The World Champions were subsequently fined €30,000 for an unsafe pit release.
The FIA added that it "is expecting a written report from Red Bull Racing tomorrow. This will also be shared with the other teams in order to help improve pit lane safety".
Sky Sports F1 statement in response to the FIA announcement
'Following the serious incident which occurred in the pitlane during the German GP last weekend, Sky Sports F1 HD will be working to all new guidelines as specified by FOM. Safety remains a prime concern and we are sure that, whilst the new regulations will mean certain changes to pitlane protocols, we are confident that our coverage will not be affected'