2013 Hungarian Grand Prix Qualifying - Driver Reaction
The 22 drivers have their say on the action at a sweltering Hungaroring
By William Esler
Last Updated: 27/07/13 5:13pm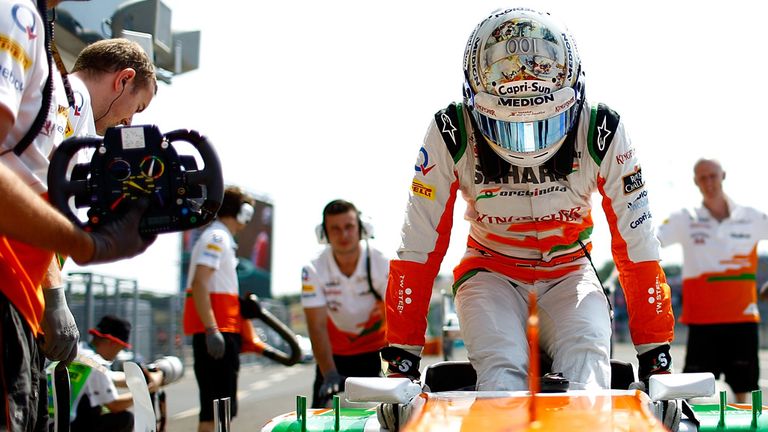 Red Bull
Sebastian Vettel: "There wasn't much missing in that session, so Lewis did a good job. I put a strong lap in and had two sets of new tyres; I was pretty happy with both laps, maybe on the second I was losing out a bit in the middle sector and perhaps I wasn't aggressive enough, but it's no help to sit here now and say we should have done this or that. At the end of the day my lap wasn't quick enough.
"Mercedes have a very strong qualifying pace. Lewis did an exceptional job today, also if you look at the gap to Nico, you have to be fair and respect that. I would have loved to have been a little bit faster and be on pole, but it still puts us in a great place for tomorrow. We have a good car and good race pace. It's a shame Mark had a problem with the gears and KERS today, so he wasn't able to challenge for the front, but still we should have a good race tomorrow and I'm quite confident."
Mark Webber: "That was a massively disappointing qualifying session. Obviously we had a lot of issues with the car and we left a lot of lap time in the garage, with items which weren't working on the car at their optimum. We had no KERS, and a basic gearbox setting that we couldn't get out of, which cost a lot of lap time.
"I was happy with how I drove, but it doesn't count in qualifying when you need everything at the absolute limit. Instead of challenging for the front row, we were challenging for the last row of Q3. We're out of position with a car that is capable of much more, but I didn't have the car today to challenge for the results I thought we could get."
Ferrari
Fernando Alonso: "This fifth place is good news after a couple of difficult weekends in Silverstone and the Nürburgring and especially after seeing things improve compared to yesterday, when our race pace left us with even more doubts. Today, we were more competitive thanks to a change of set-up and some modifications on the aero side, done more with the aim of getting consistency rather than pure performance.
"Traction and turn-in have improved and now we must look carefully at the start to try and make up a few places then and, on this front, the extra grip from being on the clean side should help.
"Here, it is hard to overtake in the race and so it's even more important to try and make up ground immediately, particularly if we want to prevent Vettel from increasing his lead. The strategy will be very open, the tyres are new for everyone and the high track temperature means we need to think of a strategy that can be modified at any moment. The podium is always our target and I feel we can fight for it, even though we know it won't be easy with such strong competition ahead of us".
Felipe Massa: "Today's qualifying was extremely complicated and the result does not live up to our expectations: both myself and Fernando pushed to the maximum without making mistakes, but we were not able to fight for the front positions and got the maximum we could. We are well aware of the fact that Saturday is still our weak point and for that reason, we must stay focused on a race that will not be easy, because the high temperatures will impact on tyre behaviour, on the car and on us drivers.
"Overtaking is almost impossible here, unless the car ahead of you makes a mistake, but I hope I have a good enough race pace to make up some places and bring home the important points that we need".
McLaren
Sergio Perez: "First of all, I want to thank all the guys on the team - they did an amazing job to get the car turned around between FP3 and Q1 this afternoon. It was quite a big shunt but we still didn't lose any track-time - that was really impressive, so thanks guys.
"At the beginning of Q1, I still felt a little bit uncomfortable with the car, which is why I only just made it through to Q2. However, my Q2 lap was quite good - we'd made a lot of changes to the car overnight - so I'm hopeful that we may have a better car for the race than we've had for some time.
"Given our pace - we knew we weren't going to qualify in the top five - we opted to run the Prime in Q3. That tyre choice ought to give us a better strategy for the race tomorrow.
"We'll be the first car starting on Primes, so I think we're in a reasonable position for tomorrow."
Jenson Button: "When we run fresh rubber, I can't get enough front-end in the car - we're maxed out - so I'm struggling. In a way, that's a positive - because it means we've introduced downforce to the rear of the car.
"And hopefully that situation will change for the race, when you can play around with things in the cockpit a little more, and there's generally less rear grip for everyone.
"I'm a little disappointed as I'd hoped for a bit more here. I think that's because it's been difficult to balance the car - but, hopefully, we'll show a little bit more pace in the race.
"I'm sure we can still have fun tomorrow."
Lotus
Kimi Raikkonen: "It hasn't been the easiest weekend for me so far. Maybe the new tyres are a bit different - especially on the front - so it's been hard to find a good setup. We're getting there little by little and the car was definitely better in qualifying than at any other point this weekend.
"Obviously P6 is not ideal, but it's better than we have seen sometimes so we'll try and see what we can do tomorrow. It's not so easy to overtake here, but we have seen in past years that if you can run with the tyres well you can make a lot of places, so let's see what we can do."
Romain Grosjean: "It's been a good weekend so far with the car consistently showing strong pace. Setting the fastest time in practice this morning was a good sign, and the car was handling really well throughout each qualifying session. Lewis set a very quick time, but we're not too far from Sebastian [Vettel] and anything could happen in the race depending on the tyres.
"I think tomorrow will be very open and a lot will depend on strategy, traffic and things like that, so if we can put everything together there's the strong possibility for a good result."
Mercedes
Lewis Hamilton: "I was really surprised when the guys told me over the radio that I was on pole today. It was a good lap but I thought Sebastian had done enough. So it's fantastic - and also to get three pole positions in a row. It's great to start from the front but, like we know, the race is where we score the points. Looking to tomorrow, this is a tough circuit to overtake on but it's also a long run down to the first corner, and both Seb and the Lotus cars will be really quick.
"We have a good car but the race will come down to how we use the tyres. We are working hard to improve in that area and we had some reasonable long runs yesterday. We'll have to see how it goes because it's going to be tough in these high temperatures. I would love to have a real race with the guys around me, a proper battle, and the goal has to be to collect as many points as we can."
Nico Rosberg: "Our speed was a bit of a surprise today as the car set-up work was focused on good race pace this weekend. But it worked quite well in the hot temperatures. It's great for the team to be starting from fourth and pole position. I hope we can have a good start even though I'm on the dirtier side of the grid.
"Qualifying did not go perfectly for me at the end, it didn't help that my brake balance adjuster got stuck, so I couldn't change it around the lap. That cost me a little, but the pole wasn't possible today. Now we look forward to tomorrow and I'm confident that we look better in the hot conditions than in the previous race."
Sauber
Nico Hulkenberg: "It was just eight hundredths of a second to P8, so even less to P10. The midfield is very tight at the moment. But I'm not disappointed, because I did a very good lap and this was pretty much the maximum I was able to get out of the car.
"I think we can be fairly happy with P12, as realistically that's where we are, and we can certainly race from there. Tomorrow I'll have to get a good start and can hopefully battle for one or two points."
Esteban Gutierrez: "Today didn't go the way we wanted it to. It has been quite challenging with the loss of track time we had this morning. This is obviously not ideal, but I thought it wasn't going to be that much of a problem, so it is quite disappointing to come into qualifying and have this kind of result. I expected to be closer to the front and to get into Q2.
"We had the pace, for sure. However, the track conditions changed massively from yesterday to today and it was very hard to adapt to that in just one lap. Tomorrow is going to be a long race. I have to get a good start and from then on try to move up the field."
Force India
Adrian Sutil: "The first part of qualifying was quite tricky and it was difficult to deliver the pace we expected. I had a good feeling with the car, but we were not especially quick and I was only P15 by the end of Q1. I did not really know where we were losing out, but the team made some adjustments and that improved things for Q2.
"My lap times were much better and for a while it looked like I was going to make the top ten, but then I got pushed down to P11 at the last moment. I'm happy with my lap and that was the limit for me today. P11 is a good place to start because it leaves us with more of a choice about the tyre strategy. The goal tomorrow is to push forward and try to score some points."
Paul Di Resta: "A tough session and I am a bit confused as to why we struggled so much on the soft tyre. Throughout all the sessions we've looked more competitive on the softs, but in Q1 they just didn't switch on. We've given ourselves a lot of work to do tomorrow, but we will go away and come back refreshed and ready to fight.
"We need to move forward so we will think hard tonight about the strategy, but at least we have plenty of new tyres available. I think the main puzzle we need to solve is what happened to our performance today so that we can bounce back tomorrow."
Williams
Pastor Maldonado: "Over the weekend we have been improving quite a lot and the car is more competitive. We didn't get it quite right this afternoon though but the car does feel better so hopefully tomorrow we can make up some positions."
Valtteri Bottas: "Q1 looked alright for us and I was happy with the car balance. I think the other teams had more in reserve than we did for Q2 though, which is why we ended in the position we did today. There are always things you could have done better and I wasn't as happy with the car balance in the Q2, as in Q1 it felt better. In the last race we were close to finishing in the points though, so that is still the goal for tomorrow."
Toro Rosso
Daniel Ricciardo: "It was good to get into Q3 again. We seem to make a habit of finding a little bit extra for qualifying, although ideally, I'd like to be on the pace right from Friday and chip away at the lap times within the top ten. We made some set-up changes overnight and they seem to have worked, although we had a bit of work to do to get to Q3 today. I think we got the most out of the car this afternoon.
"I was happy with the way I drove and I am pleased with my form at the moment. But now comes the bit of the weekend that counts and we will try to get it right, beginning with making a good start. I am not too concerned about starting on the "dirty" side of the grid and with all the various support races before the Grand Prix, I am sure it will be fine."
Jean-Eric Vergne: "I'm not really sure how I ended up several tenths slower than my team-mate in Q2, so I am keen to see what we can learn from the data. We did not have too many actual problems, apart from the fact that since Friday I appear to lack downforce on my car. Tomorrow will be very difficult in these conditions, especially for the Soft tyres and so, getting the strategy right will make all the difference.
"The car has improved since Friday, so given all the uncertainties we can face tomorrow, I am still in a reasonably optimistic frame of mind and hope to get myself into a position where I can fight for some points. My state of mind with all the paddock gossip? It has absolutely no effect on what I have to do this weekend."
Caterham
Charles Pic: "P3 was another good session for me. We made a few changes to the car overnight and those, and the track temperatures on Saturday, worked in our favour. The session went well but on my quickest lap on the softs at in the performance run there were double yellows in turn 11 which meant I had to back off, but I was still relatively happy with how we went into quali.
"In Q1 our goal was to finish ahead of Marussia and we've achieved that with both cars, actually with a bigger gap than we've seen for a while, so I'm pleased with how the session went. Our deg levels have been pretty good on the mediums and we've already seen that we can push a couple of cars ahead in race conditions, so, even though the gap to the midfield is there, I'm already looking forward to a strong race tomorrow."
Giedo van der Garde: "After having understeer dominate both P1 and P2 for me we made a lot of changes to the car overnight and it was immediately better in P3. We tried another mechanical change on the second run, looking at what we'd be doing on Sunday, but that didn't give us any improvement, so we went back to how we started the session and when we did the performance run the car was performing ok.
"In quali I wasn't really able to get a clean quick lap on either run so I don't think my final time was really the best I could have had today. Unfortunately I had traffic in sector one on the quick lap on my second run and that definitely cost me a few tenths, but despite that we finished well clear of our nearest rivals and that was the main target today.
"We've definitely put a bit more time between us and them and I've always gone well here in Hungary and we have the race pace to fight a few cars ahead tomorrow. With a clean start and good strategy I think we can have a decent Sunday."
Marussia
Jules Bianchi: "We are not where we need to be at this stage of the weekend and I think we face a tough battle in the race tomorrow at a track which is already quite challenging anyway. Even though I made a mistake in the final corner on my quick lap and lost a couple of tenths, it would not have been enough to leapfrog the Caterhams today.
"We have made some improvements during the weekend for sure, but we needed to find more from the car and we haven't been able to do that. Tomorrow will be a tough experience for the drivers and the Team, so we have to have faith in our strategy to help us find the right reward for our efforts here."
Max Chilton: "It has been quite a tough weekend for us here so far and we have had to fight to get every bit of the extra performance we have found in the car. Unfortunately it is not enough to line up ahead of the Caterhams tomorrow. What I do feel positive about today is my pace relative to my team-mate, especially as we had a mistake that lost me time on my quick lap.
"My objective has been to try to improve on my qualifying pace and it is nice to see all the hard work paying off there. Although tomorrow will be a challenging race, I'm confident that we can make up some of the ground we have lost with a good strategy and our normally improved race pace."