Drivers 'not convinced' by Pirelli's explanation of tyre failures in Friday practice
Fears sparked by punctures on Vettel and Alonso's cars
By Pete Gill
Last Updated: 24/08/13 10:56am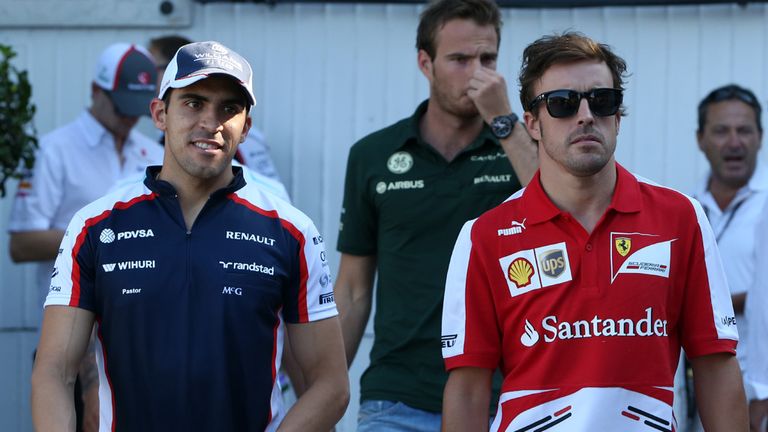 Although Pirelli have beefed up their compounds since June's British GP was marred by a series of spectacular tyre blowouts, fresh concerns about the safety of the tyres were sparked on Friday when the rubber of both Vettel and Alonso was punctured at Spa - one of the fastest circuits on the calendar - and other drivers' tyres showed signs of cuts during Practice Two.
According to Pirelli, both punctures were caused by debris on the track.
"It looks on the Red Bull as if something's been rubbing on the surface and then cut straight through the surface," Pirelli Motorsport Director Paul Hembery told Sky Sports News.
"On the Ferrari there are two quite clear holes through the top of the tread. So we've got to go and look on the track later to see what's between turns 13 and 15."
That explanation, however, has done little to allay the fears of the drivers as they prepare to tackle the Spa circuit at speeds in excess of 300kmh.
"No, the drivers are not convinced and they will be very worried about it," reported Sky Sports F1's Ted Kravitz. "I think they will wait and see what happens in Practice Three [on Saturday morning] and if there is another failure, then we could be in trouble.
"The drivers have been talking about not wanting to race and risk their lives on a fast circuit like this. I think they really need to watch it because it could turn nasty this tyre situation if there are more failures."
Practice Three begins at 10am, UK time.
In the circumstances, the forecast rain may prove to be a blessing, as any downpour would reduce speeds and the loading on the Pirelli tyres.