Belgian GP Qualifying: Lewis Hamilton on pole after crazy Qualy Three at Spa
Di Resta falls to fifth place after a late burst by Mercedes and Red Bull
By Pete Gill
Last Updated: 25/08/13 8:19am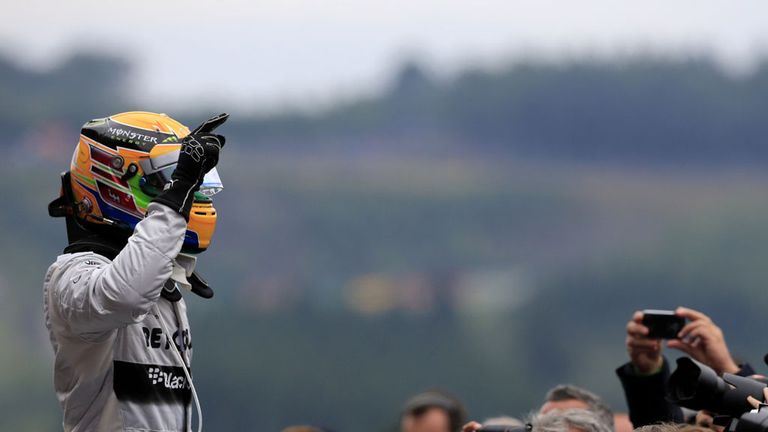 The Mercedes driver will line up ahead of World Championship leader Sebastian Vettel and the second Red Bull of Mark Webber, with Nico Rosberg fourth and Force India's Paul di Resta fifth, but such a mundane summary of events barely hints at the astonishing drama thrown up by the ever-changing conditions during a thrilling top-ten shoot-out.
For a long while it appeared as if di Resta was set to claim the most unlikely of pole positions - the first of his F1 career - after an inspired gamble at the start of a wet Qualifying Three appeared poised to pay maximum dividends for the Scot.
While the rest of the field erred by bolting out of the pitlane on slick tyres, Di Resta bided his time before sneaking out on intermediates to set a lap of 2:02.332 that proved unbeatable until the very final stages as the track finally began to dry again.
First Rosberg, then Webber, Vettel and finally Hamilton bettered Di Resta's time as the Scot looked on forlornly from the Force India garage after they pitted him just as the conditions improved.
Critically, Hamilton was the final man over the line as the session reached its remarkable conclusion, with Vettel edged out by the small but ultra-significant matter of two tenths of a second.
"I was just so surprised when I came across the line. When I started the lap, it looked on the screen that I was about seventh or eighth and I was like, 'Oh my god', especially as it was raining more," said the Mercedes driver.
"I went wide in Turn 1 and my dash told me I was three seconds down and then five seconds and six seconds. So I didn't understand what was going on in the lap. But I just kept pushing and I could see I was catching Sebastian towards the end.
"I pushed quite a lot through the middle sector - particularly as I thought I was down three seconds. I was really caning it."
Come rain or shine, the Englishman is proving the man to beat in qualifying this season, but on this occasion he was indebted to the onset of rain after struggling throughout the weekend in the dry.
Expected to be a leading contender at a circuit which ought to favour the Mercedes, Hamilton was off the pace in each of the three practice sessions and his lacklustre form continued through the opening segments of the qualifying hour. Plagued by understeer, he only squeaked through to Q3 by two hundredths of a second ahead of Nico Hulkenberg's Sauber.
"I would be guessing, but I guess maybe not," Hamilton mused when asked if he could have claimed pole in dry conditions. "I'm not necessarily sure we had the pace to be the fastest today."
But where there's a will, and a world-class talent, there is always a way.
"It's the moments like that that define the great from the merely good racing drivers in the world," declared an approving Martin Brundle.
Further afield, there was euphoria at Marussia after both of their cars reached Q2, with Max Chilton, shaking afterwards as adrenalin coursed through his veins, securing a career-high of 16th on the grid. Team-mate Jules Bianchi, an outside bet to land the second seat at Ferrari in 2014, will start 15th, while Dutchman Giedo van der Garde, effectively running at his 'home' race, also had cause to celebrate after landing 14th on the grid courtesy of his Caterham team who, like their rivals, rolled the dice and bolted on slick tyres at the end of a wet-then-dry Q1.
Jenson Button, meanwhile, was delighted with a sixth position which he felt was a fair reflection of McLaren's improved performance and pace this weekend, but there was more qualifying misery for Kimi Raikkonen and Fernando Alonso as the two title contenders were demoted to eighth and ninth respectively.
Sundays tend to be a different matter, but in 2013 Saturdays have invariably been a two-driver battle - with Hamilton once again just ahead of Vettel as the first among equals of F1's pacesetters.
PG