2013 Italian Grand Prix Qualifying - Driver reaction
The 22 drivers have their say on the action at Monza
By William Esler
Last Updated: 07/09/13 6:07pm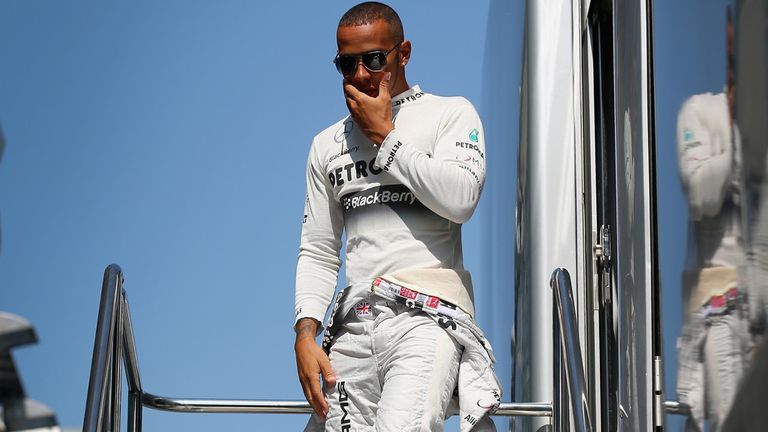 Red Bull
Sebastian Vettel: "We didn't expect to be so strong here, with both cars on the front row. It's due to hard work from everyone in the team working long hours; we've had years where we've had a good car, but not a car that's competitive in low down force trim, so in that regard we did our homework. This circuit has been a bit up and down for us, but this year it's surely been more up so far! The car feels great, but let's see what we can do tomorrow; we don't get any points from today."
Mark Webber: "After yesterday we thought we could challenge for the front row, but you never know and as we saw in Belgium and today, the grid can sometimes get a bit mixed up. But overall we stayed strong and have to focus on ourselves. The guys did a very good job; it's not an easy track to pull everything together over one lap.
"The result is the maximum for the team and it was pretty much the maximum for me today; Seb has always been very strong here and he's a tough nut to crack at this venue. I hope to have a strong race from there tomorrow."
Ferrari
Fernando Alonso: "Today went well compared to qualifying at recent races, with the car being competitive, allowing us to fight with the best. Of course, we weren't at the same level as Red Bull, who yet again here have gone well all weekend, but the race is tomorrow and we start from what is all the same a good position.
"Here at Monza the slipstreaming strategy is often used: having a car three to four seconds ahead of you allows you to gain a few tenths and for that I must thank Felipe, especially in Q3 when I came up behind Vergne's Toro Rosso and he waited for me. The radio messages have been misunderstood, as is often the case when you don't experience something first hand: the word 'genius' refers to the fact that we could have got out before Rosberg had gone by on his quick lap, but this should not raise any doubts about the impeccable job from the whole team.
"Today, we were able to run competitively in all three sessions and get closer than ever before to the rear wings of the Red Bulls: for the first time, there are not so many cars between them and us, apart from Hulkenberg who was very strong in Q3. We will have to try and pass him on the first lap so they don't get away from us".
Felipe Massa: "I am very pleased with this qualifying result because, compared to yesterday, the car has improved and this makes me confident for the race. In Q3, I managed to put together a very good lap, making the most of Webber's slipstream. It was a great help having him ahead of me by four seconds and even if maybe I lost time at Ascari, I am still satisfied with my performance. We were well aware that at a track like this, it would be very important to have both cars in the top four and that tomorrow's race will be a tough one. Even if the weather forecast is uncertain, we will be ready for anything and will try our best to get all the potential out of our car. It would be fantastic to give all the fans who are here at our home race to support us with so much affection a reason to be happy".
McLaren
Sergio Perez: "We had a positive practice session this morning, so we hoped we'd have a good qualifying session, too.
"It's pleasing for the whole team that we got both cars into Q3. However, we were around three-tenths slower than the guys just in front of us - and I'm not really sure where they found those extra tenths because I think we did the best possible job with what we had today.
"Now, though, we're only thinking about tomorrow. I'm confident we can recover some of the ground we lost to the guys in front of us today, but that'll require us to pull together a good strategy for the race.
"Our engineers are a great bunch of guys, though, so I'm confident we can do just that."
Jenson Button: "I didn't really expect more from the car this afternoon, to be honest, and we showed just what it could do, Checo and I setting very similar times to each other.
"It's a little bit of a pity, though, because, if we hadn't run at all in Q3, our options would have been a little more open for tomorrow's race. However, sitting out the final session isn't really what any of us are here to do. Anyway, it is what it is, and we'll do our best tomorrow.
"I don't know exactly where we stand in terms of race pace - it'll be interesting to find out tomorrow - but the good thing is that I'm on the clean side of the grid, which might be an advantage as it's usually a bit chaotic down into the first corner here.
"All in all, I reckon we can certainly do something from ninth on the grid. Everyone is going to be on pretty similar strategies tomorrow, I'd say, so we'll have to see if we can make our race work for us in another way.
"The weather forecast for tomorrow looks a bit changeable, too, and things could get very interesting if it rains during the race."
Lotus
Kimi Raikkonen: "We were just not fast enough today. We have been suffering a bit all weekend so far and it was the same today. It just isn't our kind of circuit and layout where we have to run small wings. The car behaved pretty okay but we just didn't have the downforce to go fast through the corners with our low drag package. Hopefully tomorrow will be a bit better but I'm not expecting any big surprises. In any case we will do the best we can."
Romain Grosjean: "Today was difficult for us as we had no grip. I was quite surprised at how it went in free practice yesterday, but today was simply a different story. The aerodynamic configuration for Monza isn't an easy one and it didn't go the way we would have liked it to go. I hope that we find grip levels for tomorrow and are able to deliver as good a race as we can."
Mercedes
Nico Rosberg: "Starting from sixth place is not where we want to be, however considering that I didn't get any running in the final practice session this morning because of an hydraulics problem, it's not too bad. I had to take our set-up from yesterday and I just didn't feel comfortable in the car throughout qualifying, particularly with a lot of understeer.
"For tomorrow, I hope the set-up will work out better as I had a good long run on Friday. There's also the chance of rain and we know that our car is very quick in the wet, so we can still hope for a good race."
Lewis Hamilton: "I just didn't get a lap together in Q2 today and it's hugely disappointing, not just for me, but also for the team and I can only apologise to them as we had a quick car today. Qualifying has always been a real strong point for me but it really didn't come together this afternoon. Q1 was fine but I didn't do a good enough job in Q2.
"I came off at Parabolica on my first run which damaged the car and it was a downward spiral from there really. We will see what we can do from here tomorrow. I'll be pushing like hell to get a decent finish but there are a lot of quick cars ahead."
Sauber
Nico Hulkenberg: "I am happy. This was a nice surprise for all of us. I didn't expect that after a very difficult Friday. Yesterday we struggled a lot with the car and the guys have done a fantastic job turning it around to give me such a competitive car today. It is a highlight for the whole team. Such a result will lift our spirits.
"During qualifying the car just got better and better and the track improved as well. We made the right decision to go for one timed lap in Q3 and then this happened. I hope the long run pace is good tomorrow. A big thank you to the whole team and everyone in Hinwil, who have been working hard and have never given up in this difficult year."
Esteban Gutierrez: "It's quite disappointing, because we had a good pace and a good rhythm in practice this morning. It was quite surprising to get a result like that in qualifying. The field is very tight and competitive, and it was quite a tricky session.
"After FP3 this morning I felt in good shape. Everything was working reasonably and now we have to analyse why we are missing more than four tenths to Nico. It's challenging, but we need to keep pushing."
Force India
Adrian Sutil: "A tough qualifying today. We made some changes overnight, but they didn't really show much improvement during final practice, which was strange. So there was not much we could do ahead of qualifying apart from change a few more things to try and help the balance.
"The car felt a bit better for qualifying, but we are still too far away from where we should be. My lap in Q2 was not too bad and P14 was the maximum today. Scoring points tomorrow is our aim and although it's a difficult task, we will do our best."
Paul Di Resta: "It's been a mixed day with the brake disc failure this morning, which cost us some track time and meant we headed into qualifying with a car set-up that was far from optimised. The guys did a fantastic job to get the car ready in time, but ultimately we didn't have the performance to do any better than P16.
"It's fair to say that we have struggled more with our one-lap pace here, so hopefully we can be more competitive in race conditions. There's also talk of changeable weather so maybe we can do something with the strategy to move forward in the race."
Williams
Pastor Maldonado: "We were penalised when we were stopped at the weighbridge during Q2 which meant we weren't able to complete the extra laps we had planned. Realistically we could have been nearer to the top ten as this more we looked better. Even during qualifying the car still felt quite good but unfortunately that was all we could do today."
Valtteri Bottas: "On my fastest laps on the option tyre in qualifying I had a good clean lap with no mistakes which I really thought would be enough to get through to Q2, but the lap time wasn't there. We need to look at the data tonight because it felt much better than what the time showed. Our race pace looks good for tomorrow and there's plenty of opportunities to overtake so I still think that we can have a good race."
Toro Rosso
Daniel Ricciardo: "It's nice to be back in Q3. Maybe at the end, a top five finish might have been on the cards. However, we missed a little something in Q3, doing a two lap run, and with hindsight, maybe a one lap run with a lighter fuel load would have been better, but I am still happy with seventh. I dropped a wheel in the gravel at the second chicane which might have cost me some time.
"To have both cars in the top ten on merit on a dry track is a very good result. A wet or dry race? I am not too fussed, because I'm sure that if it does rain we will look pretty handy, and we are not too bad in the dry either. But for the fans, let's hope for a dry race. It's great driving here, because the crowd is so passionate about motor racing, even if most of them cheer for the red cars! The atmosphere is fantastic and, as an Italian team, I hope we can come away with some good points tomorrow."
Jean-Eric Vergne: "I have to thank the team for doing a great job to give me such a competitive car for this afternoon. We were not looking so good yesterday and all their efforts last night have paid off today in FP3 and qualifying. I pushed to the limit on my final run in Q3 and just got out of shape, going off into the gravel at the Parabolica corner.
"It's a shame, but I am pleased with P10. There is a big risk of rain tomorrow which could make life interesting, but clearly starting tenth, a significant number of points must be our target and it's a realistic one."
Caterham
Charles Pic: "The team worked very hard last night going through all the data from yesterday and after my first FP3 run it was clear we'd made good progress. The car felt better balanced, particularly in the medium speed corners and it improved again throughout the session. By the time we went for the performance run we'd found a setup that was working pretty well, much closer to what we wanted to see so we went into quali feeling quite positive.
"Between FP3 and quali the track temps increased and when I went out for the first run in Q1 the car balance wasn't there anymore. It had changed from the morning and I felt like I couldn't really push. We'd opted for two runs on the mediums and my quickest lap on the first run was ok. We added a bit more front wing for the second run and I put in my quickest time on the final lap of run two, but there was definitely more to come if we'd had the same sort of balance we'd had in FP3. Despite that, the main target for the team was to finish ahead of our direct competitors and we clearly did that today."
Giedo van der Garde: "FP3 started ok for me. We still had some understeer in sector two and there was too much front locking so we corrected that for run two. The real issue was still managing the front tyre warm up which is obviously critical in maximising performance, but throughout the session we kept working on it and by the performance run we were happier with where we were..
"In quali we went for two runs on the mediums, going out early in the session for three timed laps and the car felt pretty good. There was a bit more to come in sector one and we put more front wing on for the second run and on the first flying lap I nailed it. A mid-26 was about as good as we could have hoped for so I'm really pleased with how quali went. It's another session where I'm building my experience and my confidence in the car so I'll go into the race feeling really good."
Marussia
Jules Bianchi: "Unfortunately we just ran out of time to keep working on striking a good car balance here. It is clear that I am fighting the car a little and losing time because of this, but I am more hopeful that we will be slightly better off in terms of race pace tomorrow. Quite disappointing, as this is such a fantastic circuit and one I feel is particularly special to me, but all we can do is our best tomorrow and hope that some chances come our way."
Max Chilton: "After such a positive start yesterday, I was hoping for a better result today, so it's a little disappointing and frustrating to have fallen back a bit. I do take some comfort though in the fact that much of that can be attributed to a fuelling issue, which we only discovered at the end of qualifying. 19.5kgs will have made all the difference today and it is easy to do the maths and gauge the impact that has had relative to the cars directly ahead on the grid tomorrow.
"So I will take some encouragement from that and the fact that our race pace yesterday did look slightly more promising. We will have our work cut out tomorrow for sure, given where we are now starting, but we will do everything possible to recover some ground."