Paul di Resta says he has the results to match those gained by Nico Hulkenberg recently
"When times are hard, it¿s hard to show what you can do," Force India driver reckons
By Mike Wise at Suzuka
Last Updated: 10/10/13 4:07pm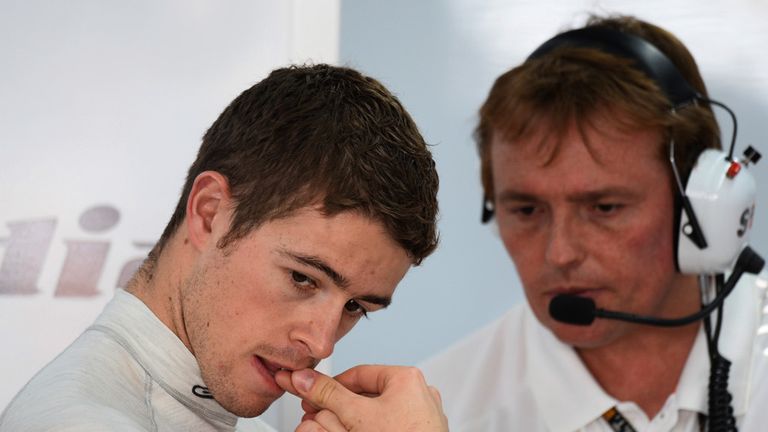 The sight of Hulkenberg fending off both Lewis Hamilton and Fernando Alonso in Korea last weekend brought plenty of plaudits for the German driver, whose upturn in fortunes seems to have come at just the right time for him.
While Hulkenberg is now flavour of the month as F1's driver market slowly resolves itself, Di Resta in contrast finds himself out of fashion after failing to score in the last six races.
Yet, as the Scot points out, he scored in seven of the first eight races, with a fourth place in Bahrain to match the finish his former team-mate claimed for Sauber last Sunday.
"It's very different isn't it? I think up to Silverstone, where I was compared to Nico in terms of points, there was obviously a big difference. Since we've changed back, he's had some good results but it's the results I was having at the beginning of the year," Di Resta said.
"It's tough to go through it but that car is very strong at the moment.
"Not too long ago, people were saying he'd made the wrong decision and I'd made the right decision to stay. But if you look at it now, peoples' opinions are maybe a bit different.
"Some things don't happen at the right time but you would hope that people are bigger and better and people would understand that when times are hard, it's hard to show what you can do.
"If you're provided with the tools, you can do it. I've been provided with the tools this year and I think I've delivered. Sometimes we've over-achieved."
The change Di Resta referred to is, of course, the tyre switch Pirelli made for safety reasons after the British Grand Prix. Force India's performances have dipped notably since then while Sauber have, in contrast, come on strong.
Yet Di Resta says the Silverstone team have been further hamstrung by their decision to concentrate on next season's car while rivals with more resources have been better able to react to the switch.
"There was a sacrifice; there was a risk - and it's bitten us slightly," he admitted.
"The unfair thing about it is that a team with little resource, a smaller budget that has to stick by it, has been sacrificed by it. The bigger teams with the bigger resources, the bigger budgets can design new parts and bring them."
Having crashed out of the last three races, Di Resta is naturally hoping for a better result this weekend as he seeks to stay with Force India for a fourth season.
And with Suzuka's layout sharing characteristics with Silverstone - where Di Resta qualified fifth before being sent to the back of the grid for a minor weight infringement - he is also curious to see where they now stand performance-wise.
"It will be a very good judgement because the last high-speed track we had, Silverstone, before the tyre change, we qualified fifth," he said.
"Where we qualify on Saturday - which we hope will be Q3 and it will be a remarkable job if we do - I suppose will give you the impression of where we are as a team at the moment."
Di Resta added: "I'd love to still be part of this team. I think they're great people and I very much feel I've done the maximum I could for them.
"Equally, they know what they've got and consistency and also the knowledge of working with the team will play a big part next year with the new rules."