Future unclear for Paul Di Resta as manager calls on Force India to resist pay driver
Paul Di Resta's manager has called on Force India to resist employing a pay driver next season.
Last Updated: 17/10/13 12:11pm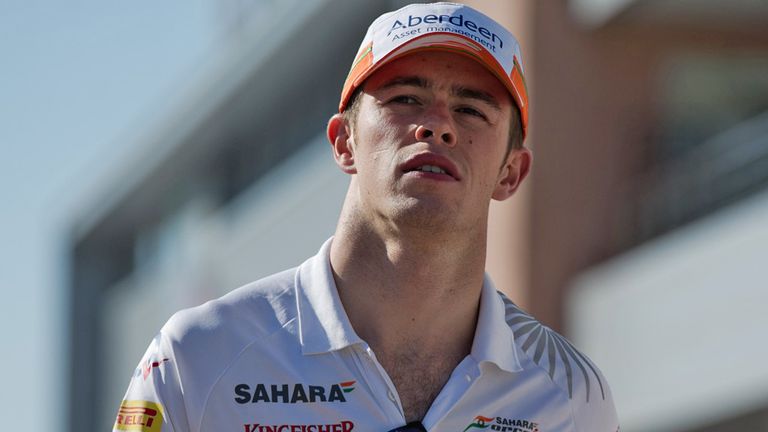 Di Resta's future with the team is uncertain after going seven races without a point and although the team have an option on his contract for next season, it is far from certain he will be retained for 2014.
And Richard Goddard, who represents the Scot, is worried they could take on a driver with a major sponsor behind him.
"It's difficult to know what will happen next year," he said. "There are a lot of drivers in the sport with money, and there are a lot of teams that need money.
"That is probably the biggest issue, that it is not just outright talent that gets you a seat in the car any more.
"But Force India have always been very fair in that they have tended to put outright talent in the car, and they haven't looked to a driver to bring in income, which is great.
"That's because they are well funded by a couple of individuals and corporations who are able to do that, and hopefully they will carry on doing that.
"Some other teams are looking for drivers to bring in income, and unfortunately Paul doesn't have a government-backed scheme or a rich billionaire standing behind him."
Di Resta scored points in seven of the first eight races of the season, but his current form doesn't help his case, although Force India have greatly suffered since new tyres were introduced in the wake of the blowout crisis that unfolded during the British Grand Prix.
"It's difficult to determine because this last half of the season he (Di Resta) has been adversely affected by the tyres," added Goddard.
"He hasn't produced the results he would want to produce, but overall it is the team under-delivering on what it should have delivered.
"The team is probably fairly disappointed at where it is because it started the season so well."