Fleet Street is full of praise for Sebastian Vettel - but there's plenty for Red Bull too
The broadsheets have their say on F1's youngest four-time Champion
By Mike Wise
Last Updated: 28/10/13 1:32pm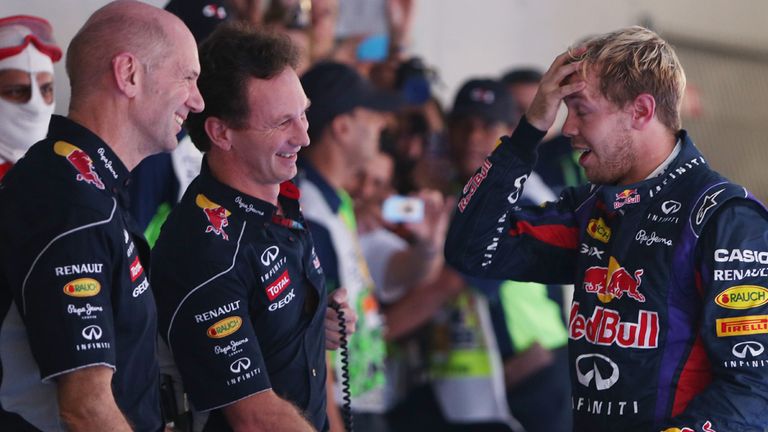 Praise was duly heaped on the 26-year-old German, who became the youngest four-time title winner in with yet another victory - his sixth in a row and tenth in total this season - at the Buddh International Circuit.
Credit where it's due, though, with more than a token acknowledgement of the part played by Red Bull themselves - in particular the dominant lineage of cars overseen by design guru Adrian Newey.
Writing in The Times, Kevin Eason remarked that the errors which punctuated the early days of Vettel's ascent now seem a thing of the past. 'You would have needed a search party to scour through the smog of here to find an error in Vettel's drive to glory,' he wrote. 'It is all seamless now, a perfect combination of man and Adrian Newey-designed machine.
'Vettel's tribute to Newey's genius was an elaborate series of bows in front of his car until the pair came came face to face. Vettel flung himself into Newey's arms and then Horner, the tears starting to flow.'
The Guardian, meanwhile, hailed Vettel's achievement as 'the stuff of legend' with Paul Weaver also reckoning the thoughtful answers he gave in the World Champion's press conference were instructive.
'Pulling at his cap - pulling, too, at the child-sized bottle of champagne he was chaperoning - he spoke with a lucidity that reflected a keen intelligence. It is this which separates him from his rivals as much as his driving.'
Writing in the Daily Telegraph, Tom Cary was keen to point out the teamwork aspect - particularly how far Vettel's team, who also claimed their fourth straight constructors' title at the weekend, have come in the last nine years.
'Red Bull's brains trust deserve a huge amount of credit for the way they have raised the team from the ashes of Jaguar to the pinnacle of the sport in such a short space of time and then proceeded to stay there,' he wrote before suggesting that rivals should beware of yet more success.
'Worryingly for Red Bull's rivals, Newey has long since switched his focus to next year's regulations, to the blank sheet of paper offered up by the switch to V6 turbos allied to powerful energy recovery systems.
'The rest can only hope that the 54-year-old stops flirting with a move to the America's Cup and actually makes good on his threat to quit the sport in the not-too-distant future. At the moment the combination of Newey and Vettel is proving to be invincible.'
It's difficult to argue with that sentiment but what about the subject of Vettel's popularity, or otherwise? The Independent's David Tremayne makes the case for the defence and points out that while F1's youthful record-breaker might be omnipotent on the track, he still has life lessons to learn.
'What about his penchant for answering questions in an interesting fashion?' he asks. 'Others make token efforts. Not him. He'll consider the question, no matter how asinine. And he thinks deeply. He can also be pretty self-effacing.
'Stealing the Malaysia GP this year from team-mate Mark Webber was where an intelligent guy made a big misstep. First he was contrite. Later he tried to tough it out. He should just have put his hand up and declared: "I'm a racer and I'm here to win. If you want somebody who's going to obey team orders, I'm not your man."
'The ghost of "multi 21", the order he ignored, haunts him. Most likely it's why he gets booed.'
The argument about Vettel's worthiness as a four-time Champion is also refuted. 'An easy mistake is to assume that he's only winning because he has the best car. But if that's so, why hasn't Webber, no mean driver, won a race this year?
'All of the big champions found their way into the best car; it's part of the art of racing.'