Sergio Perez supports double points plan
Mexican driver believes proposal will add extra excitement to F1
By Pete Gill
Last Updated: 12/12/13 5:46pm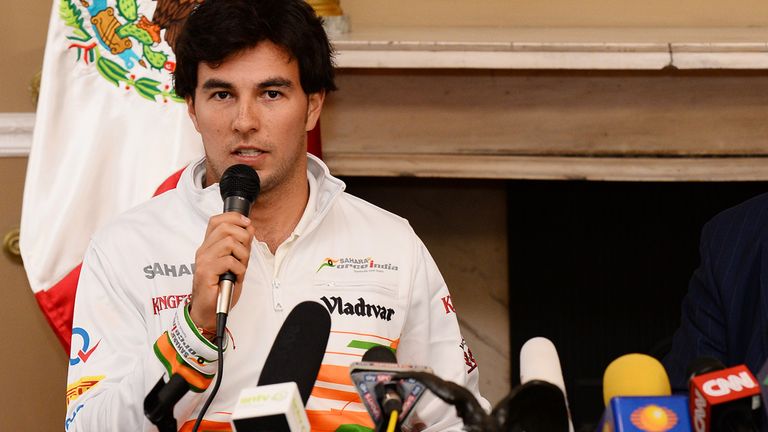 In an unprecedented move, the governing body have elected to double the points on offer in the season finale next November at Abu Dhabi.
Although the proposal has been widely condemned, with purists branding it a gimmick and World Champion Sebastian Vettel slamming the idea as "absurd", newly-announced Force India driver Perez says he welcomes the dramatic revision to F1's points-scoring system.
"I'm in favour, I think it will make things really exciting," the Mexican told Sky Sports News.
"It can go against you, it can go for you. Let's see how things go this year but I expect to have a lot of excitement in the final race. It will be a positive to have double points and will put a lot of interest at the end of the championship, both in the Constructors' Championship as well as the Drivers' Championship."
First and foremost, however, Perez is simply relieved just to be on the grid for 2014 after his unexpected ousting from McLaren after only one year with the team.
Signed by Force India on a 'multi-year' contract, Perez will partner Nico Hulkenberg in 2014 after a roller-coaster fourteen months in which he was hailed as a future World Champion by McLaren upon being signed as Lewis Hamilton's successor only for the team to jettison him a year later in favour of Kevin Magnussen.
"I'm very thankful for the opportunity they gave me but unfortunately it didn't work out for both parties," remarked a respectful Perez. "Unfortunately I joined them at the wrong time but I don't have any anger towards them.
"I'm now joining a very young and hungry team and I'll definitely have one of the best team-mates on the grid. It's been a difficult couple of weeks since the season ended trying to sort out my future, and it hasn't been easy, but we did a good job on finding the best possible outcome."
With Force India pulling out of the Bahrain tyre test, Perez's first run in a Force India car is set to take place at the end of January in the first test of 2014 at Jerez.