F1 legend Michael Schumacher spends second night in coma after skiing accident
No change in former F1 World Champion's condition reported overnight
By Sky Sports Online
Last Updated: 31/12/13 3:33pm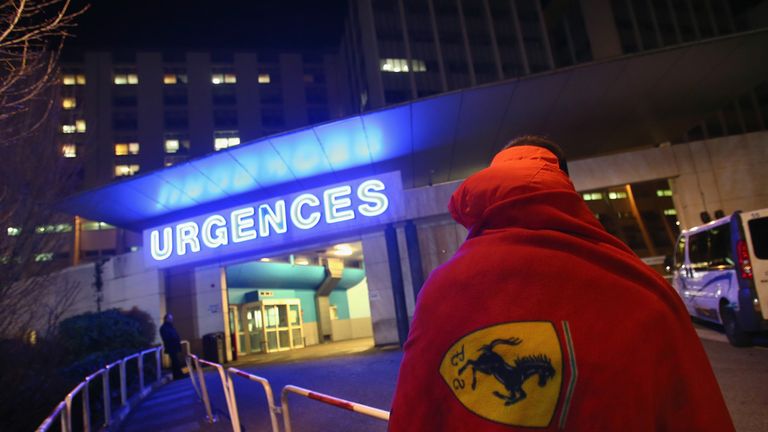 Schumacher, 44, is in a critical condition in intensive care at the University Hospital of Grenoble, having undergone brain surgery after hitting his head on a rock in a crash at the resort of Meribel in the French Alps.
Doctors treating the seven-time F1 champion said on Monday that they could not tell whether he would recover after revealing he had suffered bleeding and swelling on the brain, in addition to "a great number of lesions".
Speaking at a press conference, doctors added that it was too early to speculate on his prognosis and they were taking his fight for survival "hour by hour", although they did reveal he would definitely not have survived had he not been wearing a helmet.
A report in Germany's Bild newspaper on Monday night claimed that, such was the force of the impact, Schumacher's helmet had been cracked in the accident.
Chief anaesthesiologist professor Jean-Francois Payen said: "Taking into consideration the very violent shock, his helmet did protect him to a certain extent, of course.
"Somebody who would have this kind of accident without a helmet, certainly he would not have got to here."
The former racing driver, who contested 308 grands prix between 1991 and 2012, has received treatment to reduce the pressure on the brain, with doctors describing his condition as "extremely serious".
Professor Payen added: "His condition is critical as far as cerebral care. All the recommended treatments have been introduced."
As of Monday night, Schumacher had only been operated on once and a second operation was not thought necessary.
Schumacher, whose wife Corinna was at his bedside along with the couple's two children, was with his 14-year-old son and had been skiing off piste when the accident occurred around 11am on Sunday.
A medical evacuation helicopter arrived in less than 15 minutes to take him to hospital.
The doctors said Schumacher was initially "agitated" and his neurological state then deteriorated when he arrived at hospital in Moutiers. He was then quickly airlifted to the Grenoble hospital.
Messages of support have flooded in for Schumacher.
Four-time reigning F1 champion and compatriot Sebastian Vettel said he was "shocked" while Schumacher's former Ferrari team-mate Felipe Massa, Lewis Hamilton and Jenson Button were among a host of current drivers to tweet messages of support.
Ferrari and Mercedes released statements of support for their former driver, while German Chancellor Angela Merkel said she shared the shock of millions of their countrymen.
Schumacher, who initially ended his F1 career at the end of 2006, retired for a second time in 2012 after a three-season comeback with Mercedes.
Schumacher, who also raced for Jordan, Benetton and Ferrari, won the last of his world titles in 2004.
He won two with Benetton in 1994 and 1995 before moving to Ferrari and winning five in a row from 2000. The German has 91 career wins.