Family of Michael Schumacher rubbish reports 'he is out of danger'
Michael's helmet camera is handed over to investigators
By Sky Sports Online
Last Updated: 06/01/14 8:11am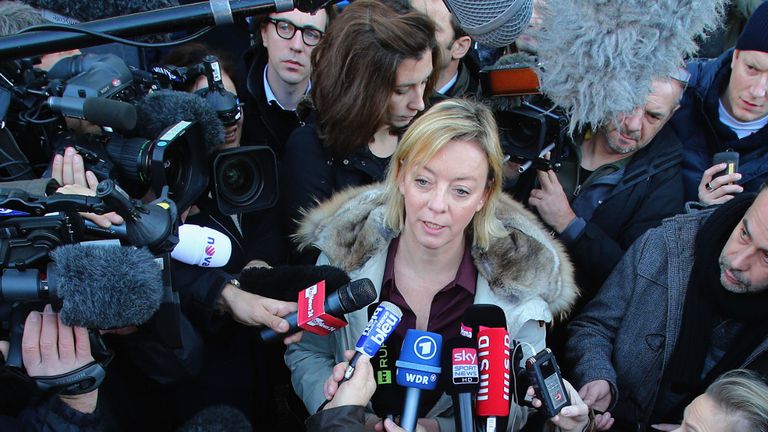 The German has been in an induced coma in Grenoble University Hospital since suffering critical head injuries in a skiing accident in the French Alps on Sunday.
A friend of the 45-year-old's offered a ray of hope of Friday when claiming he had been told by a surgeon that there was no longer a threat to his life.
Speaking outside the hospital former F1 driver Philippe Strieff told reporters: "I'm not a doctor, I'm repeating what Gerard Saillant (surgeon and friend of the Schumacher family) told me.
"He said it is a serious condition but his life is not in danger anymore, thankfully. He is such a healthy man. He's 45, he's young and has always been very fit. He is in top shape physically so there are no reasons why he would not make it."
But the claim drew a furious reaction from Schumacher's management team who insist only official statements released on their behalf should be given credence.
In a statement on Saturday morning, his agent Sabine Kehm said: "Michael's condition remains critical but stable.
"We would like to clearly stress that any information regarding Michael's health not coming from the doctors treating him or from his management must be treated as invalid and pure speculation.
"The family cares only for Michael's health."
On reports that a camera helmet worn by Schumacher was being investigated by authorities to help determine the cause of his accident, the statement added: "Michael's helmet camera was voluntarily given to the investigating authorities by the family.
"That this should have been done against the wishes of the family is untrue. We ask you to respect the continued privacy of the family.
"In consultation with the doctor's treating Michael, it is not expected that there will be any press conference before Monday."