Previewing the 2014 season: Don't miss F1 Wednesday on Sky Sports News
Brundle, Kravitz, Herbert and Davidson preview F1's big reset; Compilation programme to be shown on Sky Sports F1 at 9pm
By Sky Sports Online
Last Updated: 15/01/14 11:34am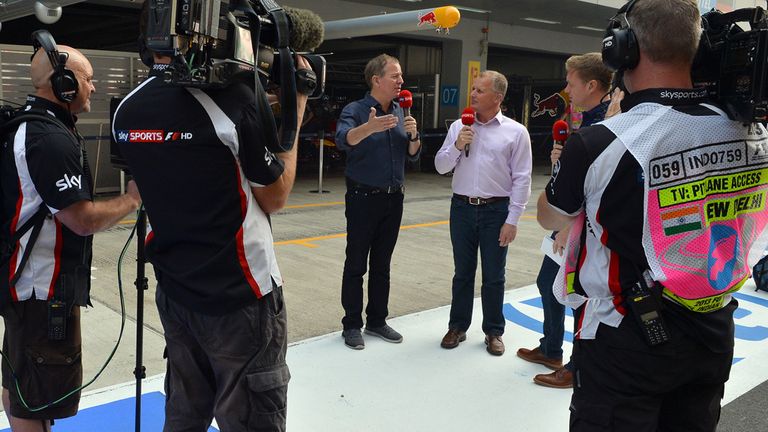 With just two weeks to go until the first test of the sport's new engine era, four of Sky Sports F1's finest - Martin Brundle, Ted Kravitz, Johnny Herbert and Anthony Davidson - will be gracing the SSN studio today to talk about the issues and hot topics that are set to make F1 2014 such a memorable, and unpredictable, year.
First up a little after 10am is Ted Kravitz who will run the rule over the big regulation changes that accompany the new season, from the introduction of 1.6-litre V6s to what impact the change to lower noses will have on car aesthetics, and assess what impact they are likely to have on the championship. Ted will also be talking about the revisions to the sporting regulations - including those controversial double points.
Then a little later, from 12.20pm, three-times grand prix winner Johnny Herbert will be on hand to look about the intriguing talking points thrown up by 2014's driver line-ups. Will an Alonso and Raikkonen pairing work at Ferrari? How will Hamilton and Rosberg fare in year two together at Mercedes? Johnny will be answering those questions and more.
Next it's the turn of Anthony Davidson who from 2.20pm will preview the years ahead for F1's younger drivers, including the challenges faced by Kevin Magnussen in his first season at the top level with McLaren and Daniel Ricciardo as the Australian begins the daunting challenge of taking on World Champion Sebastian Vettel at Red Bull.
Then to top it all off just after 4pm the Voice of F1 himself, Martin Brundle, will be in the studio to look ahead to the championship battle over the 19-race season itself and ponder the big question: just can anyone dethrone Vettel and Red Bull? He'll also look ahead to the testing season and the challenges faced by the grid to get up to speed with their all-new cars.
So if you've been missing your fix of F1 chat over recent months then certainly don't stray far from Sky Sports News today!
However, for those of you stuck at work and who won't be able to tune in to Sky Sports News during the day, a compilation programme of the four interviews will be shown on Sky Sports F1 on Wednesday at 9pm and will also be available on Sky Go.
F1 day on Sky Sports News: the line-up
10.20am - Ted Kravitz.
12.20pm - Johnny Herbert.
2.20pm - Anthony Davidson.
4.20pm - Martin Brundle.
And don't worry if you miss any of the interviews today on SSN as a compilation show of the chats featuring Ted, Johnny, Anthony and Martin will be shown on Sky F1 tonight at 9pm