Exclusive John Watson Q&A: Former driver on what Ron Dennis' return means at McLaren
Ex-driver worked with 66-year-old during his time with Woking team
By William Esler
Last Updated: 17/01/14 12:01pm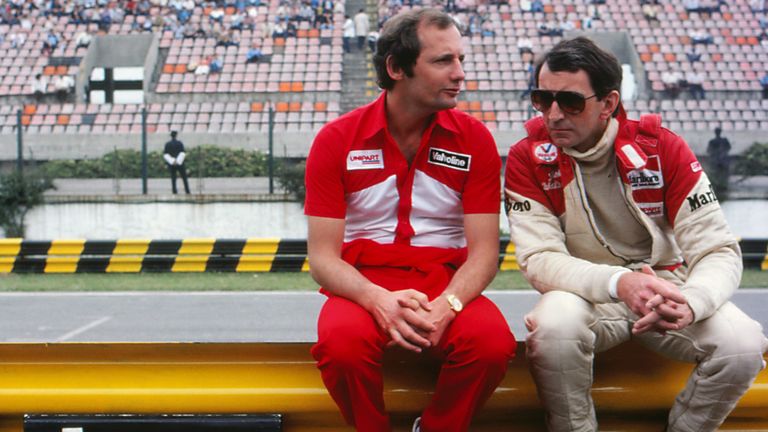 You worked with Ron Dennis during your time at McLaren, what difference do you think his return as CEO will have?
John Watson: "Well first of all I think it is a shock to everybody that Ron has masterminded this return, to not specifically being the Formula 1 Team Principal in the way he would have been previously, but he is now in the role within the group of companies of which the F1 is a part. He is now in charge, that is his responsibility. So in effect Martin Whitmarsh who was the Team Principal will no longer be the Formula 1 team boss - Ron Dennis is now that person.
"If I think back to when Ron came into F1 at the beginning of 1981 and his dreams, his aspirations, his ambitions of what he wanted this team to become and scroll forward to 2014, it is difficult to imagine what he can do in the short-term to elevate the level of performance of the McLaren team, which certainly in 2013 was its worst season in terms of results since back in 1980 - which is an awful thought, but those are the facts.
"I think what Ron will try to do is reintroduce his principal philosophy of how a Formula 1 team is constructed and run, and a part of that may well involve changes in personnel. Certainly I would imagine changes within every level of the company from the very bottom to the very top and that would also include engineers, technicians, drivers, everybody. So it has got the potential to be a massive change in direction now that Ron has got control of the Formula 1 team.
"Looking further forward, remember Honda is going to become the official engine partner of McLaren from 2015 thereafter - and I think the fact that Ron Dennis has now been put back into this very important position within the Formula 1 team structure is not coincidental.
Do you think that McLaren lacked the authoritative figure that Ron Dennis was - some of the newspapers have speculated that perhaps Martin Whitmarsh's management style wasn't intense enough compared with what the team were used to?
JW: "Individual management styles are individual styles and Martin brought a slightly different, maybe more relaxed style and attitude to McLaren. But that doesn't mean that you are not going to successful - many races were won in the period that Martin was Team Principal and in 2012 they were right at the very point of winning the World Championship with Lewis Hamilton, but through unreliability they lost that opportunity and it was because of that unreliability and other elements as well that saw Lewis then choose to leave McLaren at the end of 2012.
"So I think those two issues in particular would have rankled with Ron Dennis very deeply indeed. Remember that Ron was the person who brought Lewis Hamilton into the McLaren family when he was only a 12-year-old boy and fostered his talent all the way through to 2008 when he won a World Championship and to see that talent go to a competitor is not what Ron would like to have seen happen.
"And of course losing a potential World Championship in 2012 was a serious loss also, not least of all because in a team like McLaren, where they are looking for commercial partnerships, they work on a long-term basis - their partnerships are all existing partnerships over many, many years, or certainly if they come in as a new partner they are coming in on a three, but probably a minimum five-year term - and that is the kind of relationship that the company likes to build with these sponsors, or partners as McLaren calls them.
"So when you fail to have success in 2012, compounded by what happened in 2013 when they didn't win a single grand prix, or even get a single podium, something needed to be done and the remedial cure appears to be from the holding board of the group of companies of which Ron is a member, Ron has been given a mandate by that board to take control of the Formula 1 team."
What do you think it means for the future of Martin Whitmarsh?
JW: "Martin has a lot of talents as an individual, he is an exceptionally clever man, he has a different style to Ron and in fact this is not the first time that there has been an attempt to oust Martin from his position - one occurred about three years ago. But in relationship to whether he might stay or go, that is an issue for Martin and the company to determine.
"Because Ron Dennis is saying he is not planning on becoming the Team Principal, he is effectively above that within the company - he is the boss, but is not going to be de facto day-to-day Team Principal - it is possible that Martin Whitmarsh could continue in that role, but it probably would be unlikely. I think Martin may choose either to find another position within the group of companies or maybe think of taking a leave of absence or moving elsewhere. But that will be an issue that will be discussed by the parties involved and Martin in particular."
Could you see Ross Brawn coming back to F1 to take over?
JW: "In terms of bringing someone in in the short-term, as far as I am aware Ross Brawn wouldn't be available because of whatever the terms are of his break between Mercedes and himself.
"Ross is effectively on holiday and I know he has a lot of fishing booked for the next number of months, so I don't think he is looking to jump back into the mainstream of Formula 1 in the short-term, but what happens beyond that is unknown.
"On a personal level, whilst the future package of McLaren and Honda is a very attractive one, if you think back to the heady days of McLaren in '98, '99 and then Ferrari winning 2000 through to 2004, there was a lot of not good feeling between the two teams and particularly at the top of the teams. So whether that can be put behind them and the two parties can come together and work as one, it would be an interesting scenario to see. Probably in my view it would be unlikely."