Pirelli says that Friday's running at Jerez will be set aside to test its wet tyres
4.428km track will therefore be 'artificially watered'
By Mike Wise
Last Updated: 04/02/14 9:16am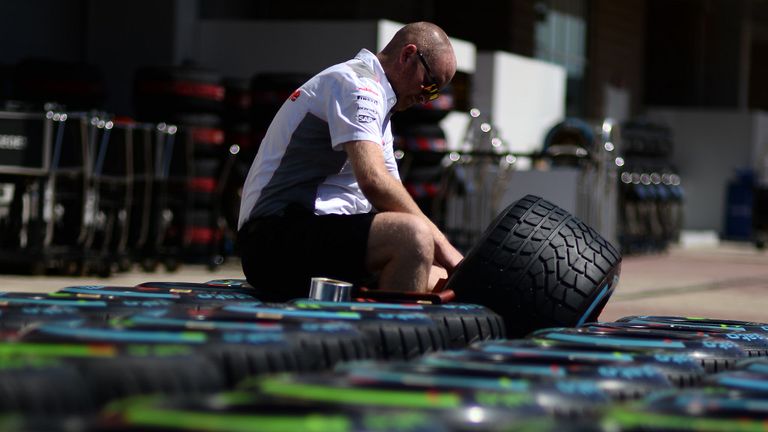 The 4.428km track will therefore be 'artificially watered' so teams can run the Italian manufacturer's intermediate and full wet tyres, which have new compounds and treads in 2014.
Should the weather in southern Spain take a turn for worse earlier in the week, however, then that day could instead be allocated as the dedicated wet-weather test day - which has been mandated under FIA rules this season.
"The new regulations stipulate that one of the pre-season test days will be dedicated to wet weather testing of our new Cinturato intermediate and wet tyres," Pirelli Motorsport Director Paul Hembery confirmed.
"This is scheduled for the final day at Jerez, in order to give the teams experience of a wide range of conditions as soon as possible as they refine their 2014 cars."
Pirelli have also given details of the tyre allocation available to teams this week as they undertake their first tentative laps with radically redesigned cars.
Besides the usual four slick tyres - supersoft, soft, medium and hard - the company is also bringing a special one-off 'winter' compound to Jerez, in order to minimise the effect of potentially low ambient temperatures on track time.
According to Pirelli, 'This is a hard compound that has been optimised to work well even in low temperatures, reducing the risk of graining (which is a common characteristic of cold weather running)'.
With teams allowed a total of 135 sets of tyres for testing this year, 25 sets have been set aside for Jerez. Twelve 'base' slick compounds - 'winter', hard and medium - have been selected by Pirelli in collaboration with the teams to reflect the characteristics of the Jerez track, which has a fairly rough surface and doesn't favour tyres from the softer end of the range.
Three sets of intermediates and full wets are also included in the total, while teams will also be given the choice of a further seven sets.
All the 2014 slick tyres have a new construction and new compounds, with slightly increased weight, as Pirelli responds to the new demands created by F1's switch to 1.6-litre V6 turbo power units, which include far more powerful energy recovery systems.
The Sky Sports F1 Online team will be providing live commentary of all three winter tests, starting in Jerez on Tuesday January 28, with live updates from trackside also on Sky Sports News.