Adrian Sutil has blamed his crash on the amount of torque from the new engines
German says he spun whilst changing from third to fourth
By William Esler
Last Updated: 31/01/14 12:12pm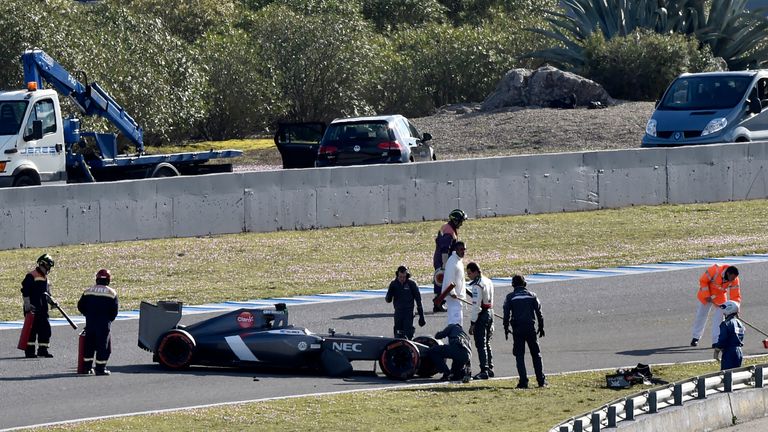 The Sauber driver wiped the front end off his C33 when he spun into the barriers, forcing the team to sit out the final hour of the session.
"Towards the end of the session we did a few installation laps," the German said.
"On the last one the tyres lost a lot of temperature, it caught me by surprise when I accelerated out of the corner, shifting up from third to fourth on a straight line, and suddenly the car snapped and I went off."
Prior to that Sutil had completed 34 laps on his debut for the Swiss team, finishing the session as the slowest of the drivers to set a time.
"It was nice to be back in a car, as well as in a different team for the first time," he added.
"It was a pleasure, and the team has done a fantastic job to get the C33 ready. It is very different to drive, as it has much more torque and sounds different. It's very quiet, but the power is definitely there. It's early on, so the systems are not always working exactly as they should. But we did a few decent runs.
"Our biggest issue was the brake-by-wire system, so we still need to work on that. Also to get a feeling for the tyres is quite tricky. The hard tyre is very hard, so it is going to be a big challenge to make them work."
Having repaired the car over night, Sutil returned to action at a wet Jerez on Friday.
The Sky Sports F1 Online team will be providing live commentary of all three winter tests, with live updates from trackside also on Sky Sports News.