F1 drivers on a steep learning curve following dawning of the sport's new age
Field grappling with new cars and a new way of driving for 2014
By Pete Gill
Last Updated: 05/02/14 2:51pm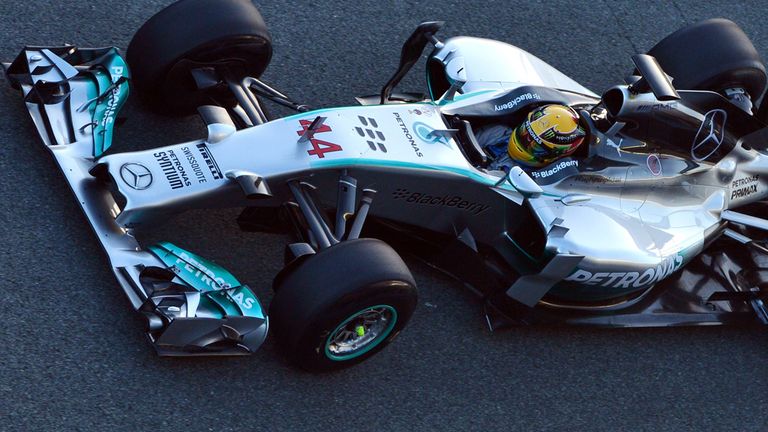 F1's new era of turbo engines and environmentally-friendly energy recovery systems broke cover last week in southern Spain as the field - minus the absent Lotus and almost entirely devoid of Red Bull, with the World Champions limited to just 21 laps - tested their new chargers over four deeply intriguing and occasionally chaotic days in Jerez.
While the view from afar has tended to focus on the weird and wonderful array of front-wing 'noses' developed for the new season, and the reduced sound of the V6 power units drew mixed reviews from the smattering of spectators at trackside, those behind the wheel were focused primarily on mastering the clutch of new gadgets at their disposal and adapting to cars with more torque and less downforce than they had grown accustomed to.
Such has been the seismic change produced that while his Mercedes' team-mate Nico Rosberg likened the button-laden steering wheel on his W05 to a smartphone, Lewis Hamilton revealed the increase in torque meant that "in the past [where] we would use first or second gear through corners, we are now using fourth or fifth."
In such a finely-tuned sport, such a dramatic shift amounts to a revolution - and, best of all, it shows.
Although the cars have yet to be run in anger, with the test in Jerez effectively a measure of lap totals rather than lap times, trackside observers at Jerez unanimously noted that the cars were noticeably looser and twitchier on corner exit. The ragged edge is now both plainly apparent and also liable to catch out the unwary, with a bemused Adrian Sutil, hired by Sauber in part because of his experience, readily admitting that the unexpected extra torque from his C33 was the cause of his heavy shunt into the barriers on Day Three.
"We don't have the blown diffuser anymore and so that is a huge amount of downforce lost and so when we get on the power the rear is much, much weaker than we've experienced in recent years and so you have a lot more wheelspin," explained Hamilton.
Never, it seems, has track time been so educational. "Every lap we do, we discover new things," concluded Fernando Alonso after completing 173 laps in Ferrari's hitherto-impressive F14 T.
"We've all got a lot to learn but it's exciting," reflected McLaren's Jenson Button after missing the whole of Day One. "There's a lot we can adjust, a lot we can play with. The brake system is very complicated. It's tricky but enjoyable to drive."
But not necessarily fast, with the quickest time of the week - a 1:23.276 by Button's precocious young team-mate Kevin Magnussen on Day Three - five seconds slower than the best set at Jerez twelve months ago.
"It doesn't matter how fast you go, as long as you're on the limit," countered Alonso. "Physically, it is easier than Formula 1 has been - there are less G-Forces, less speed around corners. But do I feel more or less emotion driving these cars? I feel the same. The car is still fun to drive."
And more challenging. "Everything is different. It's so complex and far, far beyond what we've had before," mused Hamilton. "As a driver, we have more switches on the steering-wheel than we have ever had before, so it's a big challenge. This is going to be a seriously challenging year for every team."
At long last, F1's brave new world has dawned to an uncertain but exciting future.
Total laps completed by each team at Jerez
Mercedes - 309.
Ferrari - 251.
McLaren - 245.
Williams - 175.
Sauber - 163.
Force India - 146.
Caterham - 76.
Toro Rosso - 54.
Marussia - 30.
Red Bull - 21.
Laps completed by each engine manufacturer
Mercedes - 875.
Ferrari - 444.
Renault - 151.
Fastest laps (top five):
1. Kevin Magnussen, McLaren, 1:23.276, New Medium tyres, Day Three; Felipe Massa, Williams, Used Hard tyres 1:23.700, Day Three; Lewis Hamilton, Mercedes, 1:23.952, New Medium tyres, Day Three; Jenson Button, McLaren, 1:24.165, New Medium tyres (Day Two), Kimi Raikkonen, Ferrari, 1:24.812, Used Medium tyres (Day Two).
Most laps completed by a driver (top five)
1. Nico Rosberg, Mercedes, 188 laps; 2. Fernando Alonso, Ferrari, 173 laps; 3. Kevin Magnussen, McLaren, 162 laps; 4. Felipe Massa, Williams, 133 laps; 5. Lewis Hamilton, Mercedes 121 laps.
Fewest laps completed by a driver (bottom five)
1. Max Chilton, Marussia, 5 laps; 2. Daniil Kvyat, Toro Rosso, 9 laps; 3. Daniel Ricciardo, Red Bull, 10 laps; 4. Robin Frijns, Caterham, 10 laps; 5. Sebastian Vettel, Red Bull, 11 laps.
The Sky Sports F1 Online team will be providing live commentary of all three winter tests with live updates from trackside also on Sky Sports News. The next test, in Bahrain, begins on Wednesday February 19.