Adrian Sutil warns that brake-by-wire system now used in F1 could prove tricky
Sauber driver blames new system for Bahrain spin
By Mike Wise
Last Updated: 20/02/14 10:03am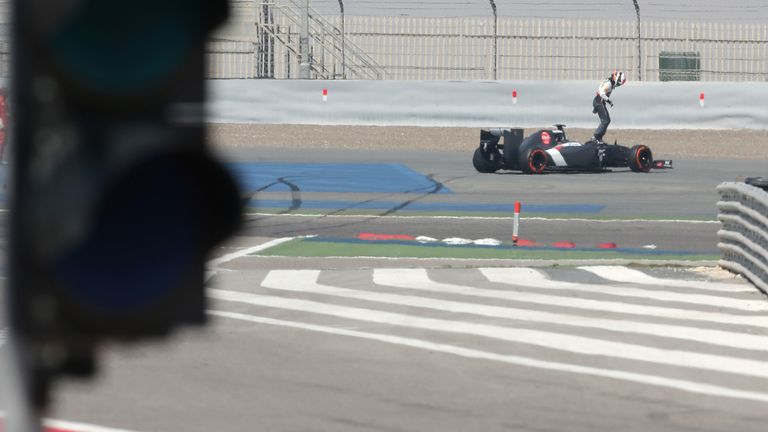 The systems, which control the rear brakes of cars using electronics rather than hydraulics, have been introduced because of the far greater emphasis 2014's technical overhaul has placed on energy recovery.
With engine braking therefore playing a much bigger part in charging the new hybrid power units, teams have decided to take control of the additional braking capability out of the drivers' hands.
Previously, when the much less powerful KERS system was used, drivers could vary the brake bias themselves if, for example, a problem developed.
Sutil blamed his off on Day One of the current test in Bahrain on brake-by-wire and told Sky Sports F1 that it could prove difficult to perfect.
"It's tricky because you can't really change much when you're driving. You have to rely more and more on the engineers and shaping all the maps right - it's a challenge," he said.
"It will be a key to know how the system works and to really use it in the right way and at the right time. When it's dry, when it's wet - we need all kinds of maps, with hard tyres, with soft tyres. We need to learn more about it."
Even so, the German is confident that drivers and teams will get a better understanding of the system in the days and weeks to come.
"For me, for every driver, it's a new system we've never had. Back in the day it was always manual and it was a bit easier for us. We knew what was going on; now we have to rely on the engineers a bit more, but we'll find a way to get it sorted," he added.
"Every day we're making progress and that's most important."
The Sky Sports F1 Online team will be providing live commentary of all three winter tests, with live updates from trackside also on Sky Sports News.