Red Bull facing an uphill task as they battle to find a quick fix for the RB10
Sebastian Vettel admits "it is not easy to find a solution" as the World Champs seemingly pay a price for their relentless 2013 domination
By Pete Gill
Last Updated: 20/02/14 5:13pm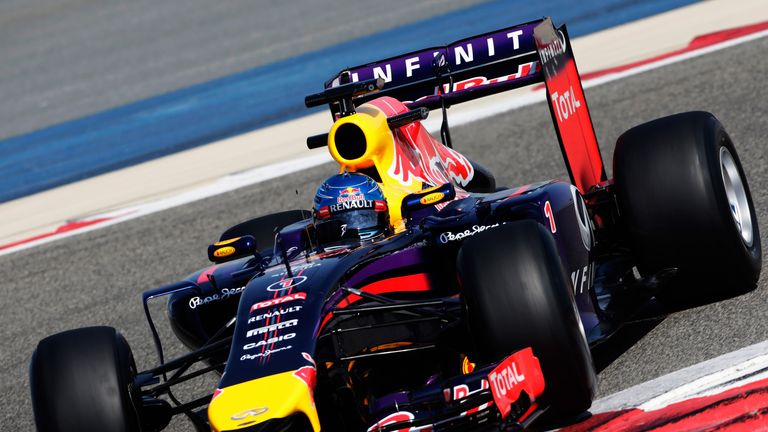 After the team completed a meagre 21 laps at Jerez, almost 300 fewer than mileage-setters Mercedes, Vettel managed only a further 14 on Day One at Bahrain before the car broke down yet again.
Having been waylaid by a myriad of problems - including an incorrectly fitted engine part, overheating at the aggressively-packaged rear of the car, and a series of malfunctions with the ERS unit provided by engine suppliers Renault - at Jerez, a fresh problem proved Vettel's undoing on Wednesday, when a brake failure triggered another ignominious shutdown at the side of the track.
A new batch of parts were delivered to the Bahrain circuit overnight as the team sought to patch up their ailing charger and, after staying in the garage for the first hour of Thursday's session, Vettel was able to complete 58 laps before the chequered flag fell - doubling Red Bull's tally for the winter.
"To be honest I think the last two days have been very useful," he admitted.
"We did a lot more laps today than yesterday and I hope that Daniel is able to do more laps tomorrow as there is a lot of stuff to do every day - programming and stuff so everything communicates to each other properly.
"In terms of the car we still have some stuff to sort out so it is very busy on both the Red Bull and Renault side. But it is good that we got some running and some more information and now we have some more homework."
But the team's nightmare start to F1's new V6 era has already seen Mercedes displace the reigning champions as the favourites to win the 2014 Constructors' Championship. Red Bull are behind - and they know it.
"Obviously we're not happy with where we are now," Vettel acknowledged on Wednesday evening. "It's not easy to find a solution to the problems we have found. We fixed the problems from Jerez where we had problems with the temperature, but very often you fix one problem and another pops up.
"We know what is going on but it is not easy to fix."
While the advent of F1's brave new world of energy recovery systems and turbo power was always likely to prove problematic, the scale of Red Bull's difficulties, after four successive years of near-impeccable reliability and success, has inevitably prompted scrutiny of the team's decision not to follow the lead of Ferrari and Mercedes in switching focus to 2014 before the end of the 2013 campaign.
While Horner's description of the RB10 as the "most complicated car in the history of Formula 1" grabbed the headlines, it was perhaps more telling that the Red Bull boss also observed the car had been built "in the shortest possible time" and its design had required "about 40 percent more drawings" than its predecessor.
No wonder, then, that even the team themselves now appear to believe they ought to have switched attention to the RB10 earlier than they did.
"Limited running was always going to be the case," rued Chief Technical Officer Adrian Newey at Jerez. "We've had a compressed schedule because we were in the championship fight last year and with hindsight perhaps we could have afforded to switch off in the second half of the year and stop devel-oping car a bit sooner. But we weren't to know - we kept pushing and have had less time to work on this year's car."
And time is now running out on Red Bull ahead of the new season, with Thursday marking the halfway stage of winter testing. "We didn't expect to have this many problems," admitted Vettel ahead of completing the fourth of his six allotted days in the car this winter before the sport moves on to Melbourne for the opening race of the year on March 16.
For the first time since early 2009, the World Champions are a world away from where they want to be.
Red Bull's winter testing woes uncovered
• Although the specifics of Red Bull's opening day ailment at Jerez remain shrouded in secrecy, it's understood that the team's inactivity was primarily the result of an engine part being fitted erroneously. In his media briefing at lunchtime that day, Vettel referred to a "stupid mistake", while Horner later reflected: "These new cars are so complicated and complex that such a situation can happen. Errors are part of the human nature."
• All of the four Renault-powered teams - including Lotus despite their late appearance this winter but particularly Toro Rosso and Red Bull - on the 2014 grid have lost out on valuable track time this winter due to what their suppliers termed "hardware and software issues on our side". Those issues have primarily centred on the installation of its ERS battery - which is reputedly particularly tight in the Red Bull, which perhaps explains why Caterham and their relatively-prosaic CT05 completed the most laps of any Renault team at Jerez.
• As tends to be the case with Adrian Newey-designed cars, the RB10 features ultra-tight and aggressive packaging at its rear. While this Newey trademark has inspired countless championships, the aggression of this year's design appears to have backfired - almost literally, with the RB10 suffering from acute overheating even on short runs in the winter cool of southern Spain.
"What stopped us at Jerez, on our side as opposed to Renault's side, was a problem where the bodywork local to the exhaust was catching fire," Newey told Autosport. "Hands up on our side, that was a Red Bull problem. It was, you could argue, a result of aggressive packaging but we felt that we needed to take a few risks to try to get a good package that would minimize the aerodynamic damage of this very large cooling requirement. The Renault seems to have a particularly large cooling requirement."
• And now it seems that the teething problems which all teams have faced this winter have beset Red Bull. Wednesday's shutdown appears to have been entirely unrelated to the team's previous problems, with a brake fault locking the rear tyres which in turn caused the car to overheat.
The Sky Sports F1 Online team will be providing live commentary of all three winter tests, with live updates from trackside also on Sky Sports News.