Jenson Button optimistic about McLaren's prospects but suspects Mercedes are ahead
Newly-engaged Jenson second only to Lewis Hamilton and Mercedes in the timesheets for Day Three of the first Bahrain test
By James Galloway at Bahrain
Last Updated: 23/02/14 9:06am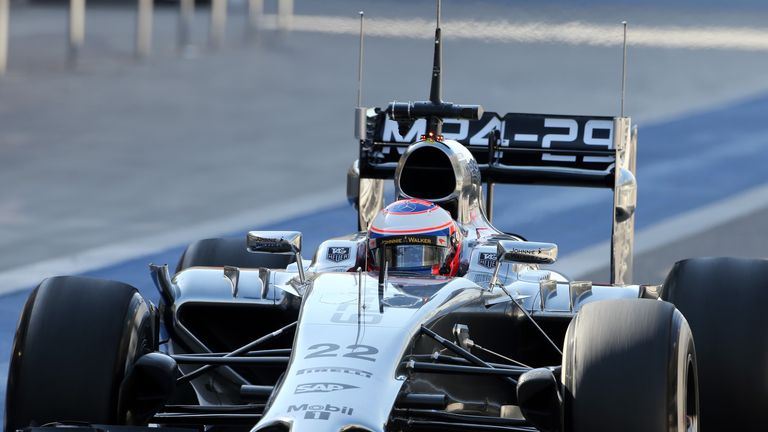 Although the form of the Woking-based squad so far in pre-season testing hasn't attracted quite the same amount of attention as the works Mercedes-powered outfit, the MP4-29 has once more shown both promising pace and reliability levels at the first Bahrain test.
With Kevin Magnussen having already set the overall pace on Day Two, albeit on supersoft tyres, Button's first appearance of the week on Friday saw the 2009 World Champion top a century of laps and finish second to only Mercedes' Lewis Hamilton on the timesheets.
Impressively, the afternoon running also saw Button complete a full race distance - which equates to 57 laps around the 5.412km desert venue - during which he reported "no major issues" with the car.
And that progress has left the former World Champion feeling optimistic that McLaren, despite having plenty of work still to do over the final five days of testing, are in good shape for the challenge that awaits in Melbourne.
"I have a good feeling about the first race," Button told Sky Sports News.
"There's a lot of work to do for everyone before the first race and you can see by the difference in lap times from the quickest car and slowest car, it's massive.
"I'm sure we're not all running the same spec and the same tyres in the same conditions, but still there's a massive gap. I'm sure it will be closer by the first race and I feel that we will be ready for the first race. But there's a lot of work for us to do in the limited time we have."
Button, however, dropped more than once strong hint that he felt rivals Mercedes were ahead of the game, particularly when it came to clawing back the downforce lost by F1's new regulations.
Asked how difference the 2014 car felt to last year's troubled MP4-28, Button replied: "It's a great base, it really is. You can't really compare it to last year. The car goes in a straight line on the straights, it doesn't bounce up and down, you can see where you're going when you get to the corner - so it's a big difference!
"We're still lacking a lot of downforce, I think every team is, but compared to the car that was quicker than us today I think it's an area where we are weak at the moment. But the basic aim for us was to get a good car mechanically and a basic aerodynamic car and hopefully build on that through the season, but as much as we can for the first race.
"Yes, we're in a reasonable position. You'd like to be faster, I think every team except for the Mercedes team would be. When you look at other teams' test days and what they're up to you'd say that we're in reasonable shape."
Indeed, after enduring their worst season for 30 years last year when the team failed to finish on the podium all year, Button said morale was high again at Woking and the team had their "buzz back".
"We know we're not the quickest right now; we know we're not slow either and the great thing is we can put a lot of laps," he said in a separate interview with written media. "And it's not coming in to the pits, doing a lot to the car and going back. We can go out and do a race distance.
"That is promising and I think that shows how tough last year was for us, and the winter. The guys have done a fantastic job and I remember coming back to the factory after the first test and speaking to them and saying 'guys, I know I'm supposed to stand here and say this is just the start, you've got to work even harder' but I first wanted to say how grateful I was. They've done such a good job of developing this car and obviously now we've got a lot of confidence to move forward.
"It's those guys who have made it go round and round. The night shift, the day shift, the guys back at the factory. The guys are so pumped for this year after such a bad year last year. These guys don't just have a job with McLaren, they're here to race and they'd do anything to win grands prix. It's great to see the buzz is back in McLaren."
Fastest laps of Bahrain Test One
1. Nico Rosberg, Mercedes, 1:33.283, Day Four.
2. Lewis Hamilton, Mercedes, 1:34.263, Day Three.
3. Kevin Magnussen, McLaren, 1:34.910, Day Two.
4. Jenson Button, McLaren, 1:34.957, Day Four.
5. Nico Hulkenberg, Force India, 1:36.445, Day Two.
6. Fernando Alonso, Ferrari, 1:36.516, Day Two.
7. Kimi Raikkonen, Ferrari, 1:36.718, Day Four.
8. Felipe Massa, Williams, 1:37.066, Day Three.
9. Esteban Gutierrez, Sauber, 1:37.180, Day Three
10. Valtteri Bottas, Williams, 1:37.328, Day Two.
The third and final pre-season test starts on Thursday morning in Bahrain. The Sky Sports F1 Online team will be providing live commentary from dawn until dusk on all four days, with live updates from trackside also on Sky Sports News.