Lotus's Nick Chester thinks they can be the top Renault-powered team early in 2014
Techical Director encouraged after positive end to Bahrain test
By James Galloway in Bahrain and Mike Wise
Last Updated: 24/02/14 9:18am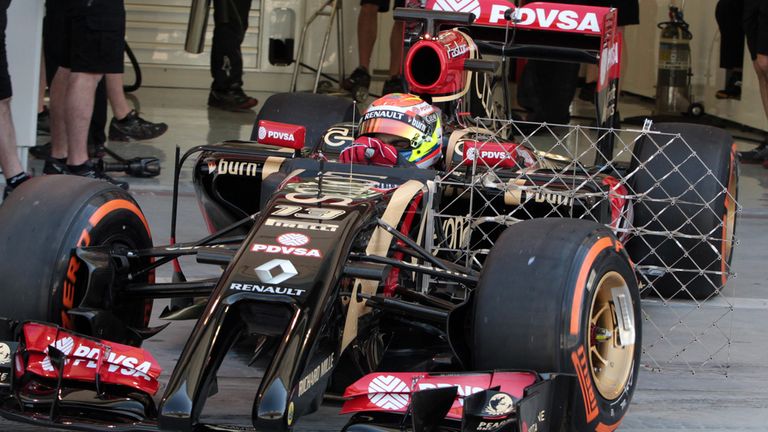 Having missed the first test at Jerez, Lotus are playing catch-up but ended the week on a positive note as Pastor Maldonado completed 59 laps on his way to setting the fifth fastest time overall.
With Red Bull still struggling with the reliability of their car, Chester thinks the Enstone team can be ahead of the World Champions, Toro Rosso and Caterham in Melbourne, assuming they continue to make progress when the teams reconvene at the Bahrain International Circuit next week.
"I think we could be the lead Renault team. We certainly haven't gone badly this week compared to the other Renault teams and I know they're having a few problems," Chester said.
"All we can do really at the moment is just focus on ourselves and do the best job we can. Because even if we're the best Renault-engined team, we've still got to push on and catch the other guys."
With four days of testing to come, Mercedes-powered cars are clearly ahead in terms of reliability, with the works team also showing convincing pace after performing qualifying runs.
Lotus don't have that luxury but even though Maldonado was more than five seconds slower than Nico Rosberg on Saturday, Chester is also confident Lotus can close the gap.
"We weren't running qualy sims for a start. He was on softer tyres with lower fuel, and we also know we haven't really done any set-up work yet with the car," he explained.
"It is going to be tough by Melbourne, but they've effectively had a couple of very good tests now; they've got themselves to a good level. We've still got a lot of progression.
"I don't imagine they're going to make so much more improvement before Melbourne; we've got a lot to make."
Renault's power unit might be lagging behind those of both Mercedes and Ferrari but ahead of the FIA's homologation deadline next week, Chester denied there were particular concerns for Lotus because their problems have been limited to areas - the V6 turbo hybrid's software and its operation - he thinks they can fix.
"I don't think so, because mechanically they're pretty close. I think where we have more work to do is on the mapping and software side," he added.
"A lot of it is still operational software. We only really ran the engine at full power for the first time today, so there's a lot in how we operate it and how we look after the energy management. That'll get better quite quickly.
"[It's] encouraging, because I feel we've made a step forward. It's the first time really we've run it at full power - that was a step forward for us."
Total laps in Bahrain test:
Williams - 323.
Mercedes - 315.
McLaren - 296.
Ferrari - 286.
Caterham - 249.
Sauber - 240.
Force India - 213.
Toro Rosso - 139.
Red Bull - 116.
Lotus - 111.
Marussia - 29.
The third and final pre-season test starts on Thursday morning in Bahrain. The Sky Sports F1 Online team will be providing live commentary from dawn until dusk on all four days, with live updates from trackside also on Sky Sports News.