Exclusive Christian Horner Q&A: Red Bull boss discusses their difficult pre-season
Team Principal quizzed on cooling issues, talk of a B-spec car and if Sebastian Vettel really threw a hissy fit
By William Esler
Last Updated: 01/03/14 12:24pm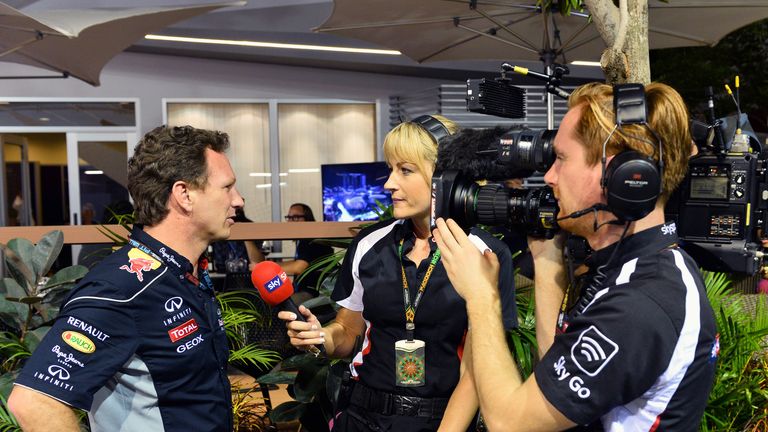 Rachel Brookes: What are the plans for today and tomorrow?
Christian Horner: "Well obviously it is the final chance we have to try the reliability of some components before Melbourne, so it is an important two days not just for us, but for all the teams."
RB: Daniel got in a longer run - the longest run you have done so far - are you near a race simulation before the end of the week?
CH: "We only have two days left, Daniel had a much more positive day, he did long runs, short runs and that was a step forward which allowed us for the first time to look at performance. So there is still plenty to do and we are still definitely on the back foot, but we are pushing hard to catch up."
RB: How far behind do you think you are?
CH: "This is the tenth day of testing and we are about ten days behind I reckon."
RB: Obviously it is frustrating for everyone and there was a report yesterday that Vettel had a hissy fit - what actually happened or has anything been said?
CH: "It is complete and utter rubbish - I don't know where that came from about Sebastian. He is fine, he understands that there are issues and he is trying to help the team where he can. There has not been one raised voice, one bit of discontent, he has just got his head down and he has a huge amount of trust in the team."
RB: There seems to be a view in the paddock that if you finish in Melbourne, you will finish in the points - is that a view you share right now?
CH: "Yes. I think reliability all the teams are seeing is an issue and I think that it is going to be a big challenge in Melbourne. But you can see that some teams are better prepared than others, but it is a long season."
RB: Do you think there has been a bit of a trade off in performance this year on your car between cooling and performance?
CH: "Not really. I mean cooling is an issue and you have to understand where those cooling issues are. We had some cooling issues in the first test which we resolved coming into last week and then we have been working hard with Renault to get on top of other issues."
RB: Where would you like to be leaving here tomorrow night?
CH: "I think as long as we can get through a sensible programme today and tomorrow then at least we can take quite a bit of information to Melbourne. We still have another two weeks before Melbourne, for sure we will be bringing more parts to Melbourne, it would just be great if we could have another couple of days like we had yesterday."
RB: There has been some talk of a B-spec car appearing at the start of the European season - is that wide of the mark?
CH: "I don't know where all this speculation comes from. We will have an updated car as we have every year and that will come with developments at each grand prix - not just for the European season, but each grand prix throughout the year. There is no silver bullet in this game and it is a matter of engineering solutions to engineering problems."