Jon Lancaster topped the final day of GP2 pre-season testing in Bahrain
Rossi second as Caterham continue to show good pace
By William Esler
Last Updated: 21/03/14 2:23pm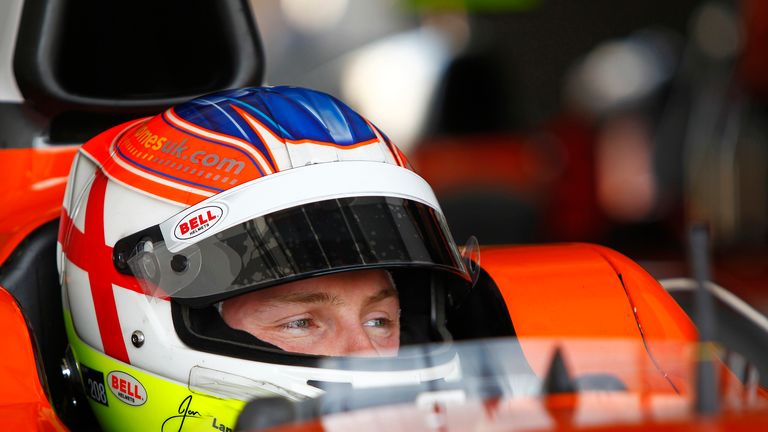 The Englishman's best lap of 1:39.647 provided a timely reminder of his talents as he is yet to secure a seat on the 2014 grid, despite taking two victories in the series last year.
The teams used the morning session to fine-tune their set ups ahead of the opening races at the venue in 15 days' time and Alexander Rossi moved up to second in the closing stages, getting to within 0.05s of Lancaster, to reiterate the pace Caterham have shown throughout the test.
GP2's tenth season looks like being one of its most competitive however, and just one second covered the top 18 drivers in the session.
The afternoon saw the teams focus on race simulations and pitstop practice and the times reflected that with Daniel Abt's pacesetting 1:41.061 around 1.5 seconds slower than the morning pace.
Well thats that! ended testing on top, great race run,learnt a lot about what i need to do around here.Just hope i get to actually race now!

— Jon Lancaster (@JonLracing) March 21, 2014
With testing concluded, focus now turns to qualifying for the opening race of the season and you can see that session live from Bahrain on Friday April 4 at 5:55pm on Sky Sports F1.
Morning session:
1. Jon Lancaster MP Motorsport 1:39.647 Laps 15
2. Alexander Rossi EQ8 Caterham Racing 1:39.693 Laps 16
3. Felipe Nasr Carlin 1:39.829 Laps 22
4. Stoffel Vandoorne ART Grand Prix 1:39.920 Laps 26
5. Daniel Abt Hilmer Motorsport 1:39.931 Laps 26
6. Jolyon Palmer DAMS 1:40.003 Laps 30
7. Julian Leal Carlin 1:40.031 Laps 15
8. Raffaele Marciello Racing Engineering 1:40.157 Laps 25
9. Mitch Evans Russian Time 1:40.233 Laps 17
10. Rio Haryanto EQ8 Caterham Racing 1:40.377 Laps 21
11. Stéphane Richelmi DAMS 1:40.397 Laps 33
12. Facu Regalia Hilmer Motorsport 1:40.446 Laps 28
13. Simon Trummer Rapax 1:40.474 35
14. Nathanaël Berthon Venezuela GP Lazarus 1:40.511 Laps 17
15. Stefano Coletti Racing Engineering 1:40.529 Laps 18
16. Rene Binder Arden International 1:40.550 Laps 18
17. Kimiya Sato Campos Racing 1:40.659 Laps 15
18. Daniiel De Jong MP Motorsport 1:40.668 Laps 17
19. Adrian Quaife-Hobbs Rapax 1:40.743 Laps 27
20. André Negrao Arden International 1:40.956 Laps 25
21. Takuya Izawa ART Grand Prix 1:41.019 Laps 18
22. Arthur Pic Campos Racing 1:41.054 Laps 16
23. Artem Markelov Russian Time 1:41.131 Laps 22
24. Johnny Cecotto Trident 1:41.722 Laps 20
25. Conor Daly Venezuela GP Lazarus 1:41.766 Laps 25
26. Axcil Jefferies Trident 1:43.522 Laps 20
Afternoon session:
1. Daniel Abt Hilmer Motorsport 1:41.061 Laps 20
2. Mitch Evans Russian Time 1:41.272 Laps 36
3. Johnny Cecotto Trident 1:41.290 Laps 30
4. Adrian Quaife-Hobbs Rapax 1:41.518 Laps 22
5. Jolyon Palmer DAMS 1:41.522 Laps 29
6. Simon Trummer Rapax 1:41.584 Laps 31
. Facu Regalia Hilmer Motorsport 1:42.191 Laps 20
8. Stéphane Richelmi DAMS 1:42.662 Laps 37
9. Axcil Jefferies Trident 1:42.670 Laps 24
10. Artem Markelov Russian Time 1:42.944 Laps 44
11. Felipe Nasr Carlin 1:43.498 Laps 39
12. Rene Binder Arden International 1:43.598 Laps 38
13. Conor Daly Venezuela GP Lazarus 1:43.639 Laps 40
14. Jon Lancaster MP Motorsport 1:43.650 Laps 40
15. Arthur Pic Campos Racing 1:43.651 Laps 39
16. Stoffel Vandoorne ART Grand Prix 1:44.549 Laps 48
17. Takuya Izawa ART Grand Prix 1:44.642 Laps 52
18. Julian Leal Carlin 1:45.300 Laps 51
19. Raffaele Marciello Racing Engineering 1:45.395 Laps 39
20. Kimiya Sato Campos Racing 1:45.395 Laps 42
21. Stefano Coletti Racing Engineering 1:45.516 Laps 32
22. Alexander Rossi EQ8 Caterham Racing 1:45.565 Laps 51
23. Nathanaël Berthon Venezuela GP Lazarus 1:45.596 Laps 30
24. Daniiel De Jong MP Motorsport 1:46.018 Laps 34
25. Rio Haryanto EQ8 Caterham Racing 1:46.477 Laps 42
26. André Negrao Arden International 1:46.492 Laps 33