Jenson Button believes closing the gap to Mercedes will be easier due to new regs
Briton feels there is still lots of room for aerodynamic development
By William Esler
Last Updated: 27/03/14 2:34pm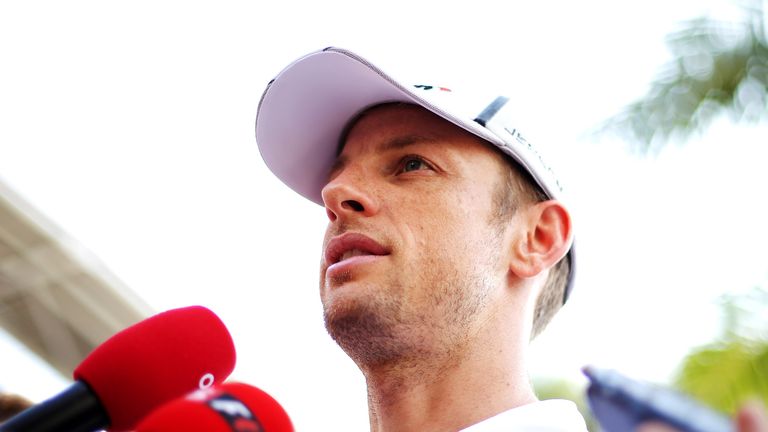 Having looked like the dominant team during pre-season testing, Mercedes duly took pole position in Australia courtesy of Lewis Hamilton before adding victory a day later as Nico Rosberg secured a comfortable win.
Engines were always predicted to be the decisive factor in F1 this season, but as McLaren also use the Mercedes powerplant, Button feels the gap to the pacesetters could be easier to close as teams will not have fully developed their aerodynamic packages.
"It is always tough, but I think this year is easier than most with the big regulation changes," the McLaren driver said.
"I think aerodynamically there is a lot to gain still with efficiency and downforce - the direction we have gone with this car is to have a basic car that feels right and balanced and then to build on downforce and that is exactly what we have done.
"Out of the box the car was what we expected, a little bit low on downforce, but as long as we keep developing the car as we plan to we should be able to catch Mercedes."
However, Button does not expect to close the gap this weekend and thinks third is the best McLaren can hope for unless the Silver Arrows hit unreliability problems again.
"Outright pace we are not there yet - the Mercedes is still a big chunk in front of everyone, which is very impressive as everyone else seems to pretty close," he added. "We have a few little things here in terms of upgrades which will hopefully bring us closer to Mercedes, but it is not going to be enough in terms of pace.
"The only thing you can hope for here are reliability issues as it is superhot and it is a tough circuit on the car. You can say that we are fighting for a podium and then you never know what is going to happen to the Mercedes - they might have unreliability problems then we can a better result than that.
"With the upgrades that we have we really have to be fighting for a podium. I think the Williams is a good car and I don't think they got the best out of themselves at the last race and I'm sure that the Ferrari will be a bit more competitive - there were times during the race they looked good and times they didn't so I don't know if it is a fuel saving issue that they have.
"It will be easy for the two Mercedes guys in terms of how competitive they are to the rest - and you always have a lot of in-house fighting when it is just the two of you fighting for wins which is good for us - but everyone else is fighting for third, I think there is a big gaggle of cars that are very close on lap times and race pace and if they have reliability they will be fighting for third so strategy will be key."
The 2009 World Champion feels that the high-speed nature of the Sepang International Circuit could hinder McLaren, but hopes the parts they bring to the MP4-29 this weekend will help them pick up time in the slower corners.
"It is always difficult to really put a number on it, you've got to drive to really get an understanding of the aerodynamics and the upgrades so we will be doing that and comparisons to see if the upgrades give us what we hope for. It should really help us with the balance of the car, more than just sticking on downforce it should actually help us achieve what we want with this car as we found ourselves a little bit limited in Melbourne," he revealed.
"This is a high-speed circuit compared to Melbourne and that is an area where we are not at our strongest. So that will hurt us a bit, but in low-speed corners I think we are going to be stronger this race which is good and a lot of the lap time is made up in slow speed corners as you are in the corner for longer and I think our efficiency should be a little bit better as well. So I am pretty positive about the direction we have taken the car and hopefully we can keep bringing parts to every race as that is the only way we are going to catch Mercedes."