The thought of playing catch-up in Malaysia GP holds no fears for Lewis Hamilton
Merc star relishing 'the chase' of catching team-mate Nico Rosberg
By Mike Wise at Sepang
Last Updated: 28/03/14 1:53am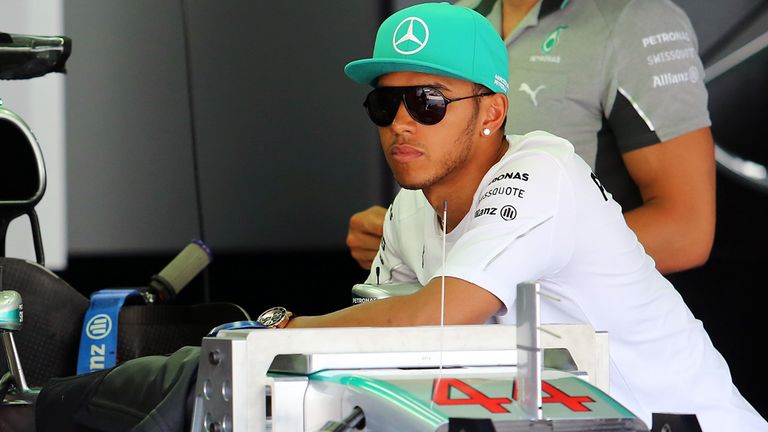 Still the favourite for this year's world title in spite of his early exit in Melbourne, Hamilton is eager to take as big a bite out of Rosberg's 25-point advantage as he possibly can at Sepang this weekend.
"It's good they haven't counted me out yet, considering we have 18 races left! So that's a good thing. But I don't think they usually change things after just one race," the 2008 World Champion said.
"There was a huge deficit in previous years when you lost a few places in the race - when you lost three, four, five points you were worried. When you lose 25 points, that's a serious deficit to catch up; as you can see, from just one race - one DNF - you can gain quite a large amount.
"I hope for our team, we don't have any more DNFs throughout the rest of the year and I'll just work as hard as I can to catch it back up."
Hamilton had denied feeling downcast in the immediate aftermath of his lap two exit at the Australian GP two weeks ago and his 'glass half full attitude' came close to spilling over into fighting talk when pressed on the matter on Thursday.
"It depends how you look at it," he replied. "Me, I quite like the chase so I reckon they've done me a favour."
A big fan of the 5.543km track like most drivers, Hamilton has never won in Malaysia before but has high expectations given the clear advantage Mercedes enjoyed in the season-opener.
"I've had some good results here but obviously I've not won here, so that's the challenge every time I come; the goal is to win," he said. "But this is perhaps the year I have the best chance to do so."
Yet with his Australian GP chances scuppered by a broken cylinder before the race had even started, Hamilton is all too aware of the challenge the tropical heat will pose to the Silver Arrow's new hybrid technology.
"Reliability is going to be put to the real test this weekend for everyone," he said. "Because it's so hot the engine's going to be on the absolute limit. I really don't know how big the advantage is going to be but I'm sure people have made some improvements this weekend.
"Everyone's stepping up and everyone's pushing but I feel confident in what the team have done up till now, and in these last two weeks as well we've learnt from the last race."
The 29-year-old added: "I'm told that we're going to start with the engine that we had from the last race. But I did do some laps without it running fully so whether or not I do the race weekend on that engine I don't know. But we should be strong this weekend."
After Red Bull sprung what had seemed a surprise prior to Daniel Ricciardo's disqualification from second place in Melbourne, Hamilton also stressed that Mercedes needed to make the most of their current advantage.
"Absolutely, everyone else is pushing massively hard to catch us up," he said. "We definitely do not sit back and relax; we've got to keep pushing and keep trying to develop the car as we do every year and I'm pretty sure that's what we'll do. But I'm sure Renault and Ferrari will pick up their pace throughout the year and we've got to make sure we capitalise as much as we can."