Lewis Hamilton says Mercedes must up their pace after Red Bull take Sepang step
Malaysia GP winner wary of recovering World Champions - but relishing the chance to fight Sebastian Vettel
By Mike Wise
Last Updated: 31/03/14 11:39am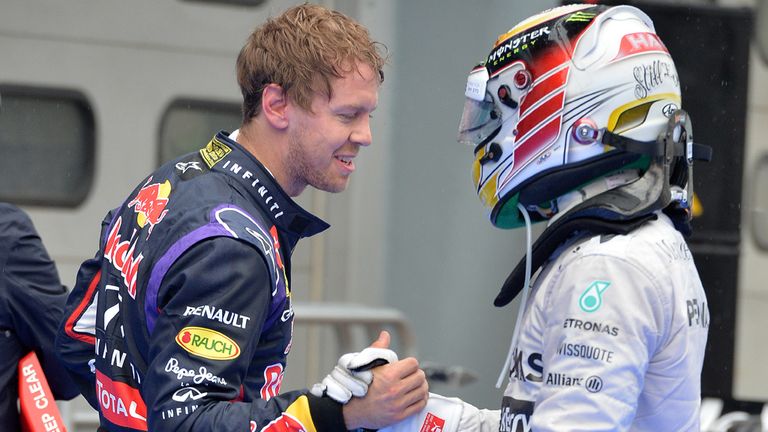 Two weeks after Hamilton suffered early retirement in the Australian GP, he led home team-mate Nico Rosberg by a commanding 17 seconds at Sepang.
The German has the consolation of an early 18-point lead over Hamilton in the Drivers' Championship but when the latter was asked about the long game in the paddock on Sunday night, his attentions were firmly fixed on Red Bull and Sebastian Vettel.
Vettel joined Hamilton in early retirement two weeks ago but finished third in Malaysia as Red Bull took another step in placing their pre-season testing woes firmly behind them.
Speaking after the race, the defending World Champion said he thinks his team are catching the Silver Arrows - and Hamilton clearly agrees.
"I think it's far too early to rule out anyone else; Sebastian was massively quick today," he said. "He was applying pressure to Nico and looking at their pace, their car is just as quick as ours through all the corners; it's just a little bit slower down the straights.
"I have no doubts at all that Renault are going to fix that and when they do, you're going to see a big race between us and the Bulls. They still have a fantastic car. I've looked at the GPS; they had the same speed as us through all the corners."
With Fernando Alonso finishing fourth, Hamilton added: "Also Ferrari were not too far off as well, so I think it's going to hot up at some point during the year."
Even so, Hamilton is clearly relishing the chance to go head-to-head with four-times champion Vettel, having grown frustrated by the advantage handed to the German by Red Bull's superior performance in recent seasons.
"Yeah, definitely. That's what Formula 1 is all about, us racing like that," he said before adding: "I want to keep pushing my team to continue to develop and improve the car. There's plenty of places we can improve on and I'm sure everyone else is doing the same thing.
"But this car feels fantastic this weekend; we feel like I got every bit I needed from it."
Rosberg complained of tyre degradation during the race, which began with track temperatures nudging 52 degrees Celsius.
Both drivers had tyre concerns following Friday practice but Hamilton suggested the margin of victory was down to him having done his homework better.
"I don't think surprised is the word I would use. In terms of a qualifying lap, I felt like I had the edge; on long-run pace, in P2 he went a lap longer but we were generally of similar pace. So I was expecting that in this race," he said.
"But from that running, I learnt a lot. It's one thing learning it, but being able to apply it - and it doesn't always work. Today it worked and that's why I was pulling away."