Felipe Massa and Valtteri Bottas ready to put Malaysia team orders row behind them
Team said sorry after mixed messages sent out during closing stages
By Mike Wise in Manama
Last Updated: 04/04/14 6:42am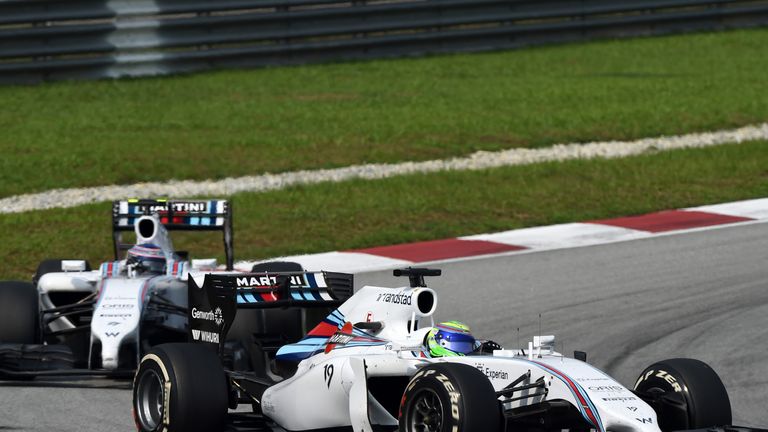 Using almost exactly the same, infamous words Rob Smedley uttered at Hockenheim in 2010 - when Ferrari decided to boost Fernando Alonso's title chances by ushering him past the Brazilian and into the lead of the German GP - Williams asked Massa to let Bottas by during the closing laps at Sepang.
This time, however, Massa made sure the Finn stayed put, even though Bottas reckoned he could have caught and passed Jenson Button for sixth.
Speaking on Thursday, Massa maintained that his team-mate would not have been able to catch Button's McLaren, adding that it was wrong for Williams to issue such an order so soon in the season and with both cars racing to the same strategy.
The team subsequently asked Bottas to hold station during the closing moments of the race, with the pair finishing seventh and eighth.
"Everything was discussed about last weekend, so everything should be fine and I believe what happened at the last race won't happen again," he said.
"[Race] two is not correct or the right moment for this type of thing to happen; it was not in the last race.
"What happened at the last race was a mistake."
Having sacrificed his own aspirations so many times before at Ferrari, Massa is all-too-aware of the dilemma posed by team orders, which were banned in 2002 before the FIA - on both occasions reacting to controversies caused by the Scuderia - relaxed its stance four seasons ago.
"I'm a very professional driver, I always was, and I will carry on being very professional and doing the best for my team but doing the correct thing as well and doing the best for myself as well," the Brazilian said.
"We know that we need to do the best for the team all the time but definitely I race for myself as well.
"Team orders is part of our sport. It needs to be part of our sport when it's necessary. And I think everyone here is intelligent enough to understand when it's necessary and when it's not necessary.
"I've done it many times. I've done very important team orders, also to help Kimi [Raikkonen] to win the championship [in 2007]. So I'm totally open to being inside of the team and I am inside of the team.
"But what happened last weekend, I didn't expect it and it was not correct - and the team knows that."
Massa thought it was "funny" that Williams had used the same words but said the team had said sorry.
"When I do something that is my mistake, I'm the first one to say sorry and the team was the first one to say sorry," added Massa, who denied asking for 'number one' status when he joined Williams late last year.
"I didn't ask to be number one. I know what I am able to do and the team knows 100 per cent what I'm able to do as well."
For his part, Bottas insisted that team orders had been discussed beforehand but not in detail.
After Sunday, he said there were now "clear rules" for the future but said team confidentiality meant he couldn't reveal what they are.
"It always depends on the situation," he said. "But hopefully we will be allowed to race a bit more."
Bottas also suggested a compromise. "Maybe it could have been done in a little bit different way, or better explained the situation - that I could have a go on Button and if I can't do it then he would get his position back or something like that," he said.
"I think that would be fair. If I say I think I can go through and then I can't then I think it's quite a fair thing to do.
"It's a difficult one for the team, but it's how it is. If you get a chance, you need to do it quick.
"You don't have much tyres left if you are really close to someone for two laps, you start to overheat them a bit. So you're very limited for time.
"If you're catching someone, you need the momentum to get through; if you get stuck behind then it's game over."
The 24-year-old added that he was able to trust the team in making the right decision because "they have all the data available and they're focusing on getting maximum points for the two cars on track.
"In the end, you are employed by the team and you work for the team. So, for me, it's really clear what to do."