Bahrain Test, Day Two: Lewis Hamilton fastest to maintain Mercedes' 100% record
Cheered on by Nicole Scherzinger, World Championship fave leads field on second and final day of first of four in-season tests this year
By Pete Gill
Last Updated: 11/04/14 10:14am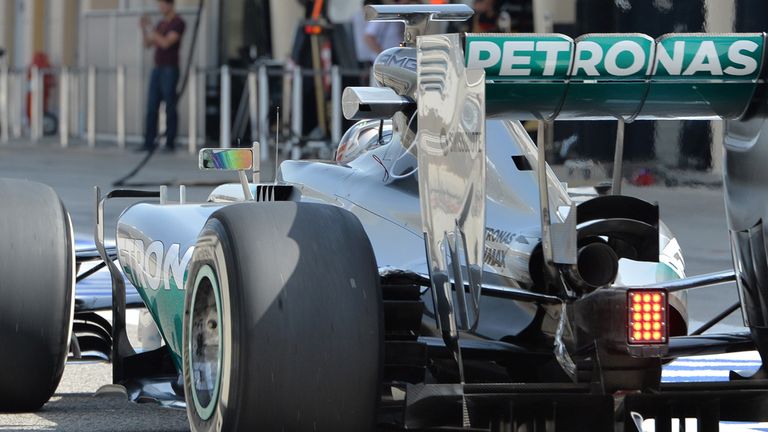 With girlfriend Nicole Scherzinger in attendance and watching on from trackside, Hamilton wrapped up the test by ensuring that Mercedes headed the timesheet on both days of the event - the first of four in-season tests this year - at the Sakhir circuit.
Hamilton's best-of-day lap of 1:34.136 - almost exactly one second slower than the pole-securing lap registered by Hamilton's team-mate Nico Rosberg on Saturday - completed a remarkable seven days for the team after they also topped the charts in one-two formation in very session at last week's Bahrain GP.
'That lap from Lewis Hamilton was set on a development tyre,' Mercedes tweeted in the wake of Hamilton's early pacesetting effort. 'A range of tests for @pirellisport are what's on the agenda for today!'
In total, Hamilton put down 120 laps in the W05.
As part of the agreed format for the reintroduced in-season tests, both Mercedes and Williams devoted their running to testing new types of Pirelli tyres, with the manufacturer reporting both teams tested 'four new compounds and three new structures.'
"It's been a long day, running lap after lap to analyse the tyres but driving a Formula One car is never boring," said Hamilton afterwards. "Of course, the nature of a tyre test means we haven't learnt anything in particular in terms of improving the car but it's useful for Pirelli and therefore useful to us in the long term.
"They just gave me different sets and I told them how each felt. The plan was just to get in as many laps as we could. The times mean nothing as everyone had their own programmes to run."
On Tuesday, Rosberg had completed 121 laps in the process of setting a fastest time of 1:35.697.
Ferrari endured a day of frustration with damage to Fernando Alonso's F14 T limiting the Spaniard to just 12 laps.
'On the job list for today was a series of set-up tests, carried out based on data from yesterday,' the team reported. 'Unfortunately, testing had to be called to a halt when the chassis was found to be damaged. After the necessary checks were made, the team decided to bring the test to a premature end as a precautionary measure.'
Jean-Eric Vergne was second fastest for Toro Rosso, with his best lap set on the supersoft compound, while McLaren's Kevin Magnussen set the third fastest time of the day in the MP4-29 despite a suspension failure pitching car and driver into the gravel trap just before lunch.
Giedo van der Garde, appointed the team's reserve driver in the wake of his ousting over the winter from Caterham, completed 77 laps for Sauber and took seventh in the timesheets.
"I am satisfied with where we are right now," said the Dutchman. "We found something interesting during the long runs in the end."
Lotus, once again, were early departees from the fray after the E22, driven by Romain Grosjean, broke down with less than twenty laps on the board.
Bahrain Test, Day Two timesheet:
1. Lewis Hamilton, Mercedes, 1:34.136, Experimental tyres, 120 laps.
2. Jean-Eric Vergne, Toro Rosso, 1:35.557, Supersoft tyres, 64 laps.
3. Kevin Magnussen, McLaren, 1:36.203, Soft tyres, 26 laps.
4. Sergio Perez, Force India, 1:36.586, Soft tyres, 63 laps.
5. Daniel Ricciardo, Red Bull, 1:37.310, Soft tyres, 68 laps.
6. Jules Bianchi, Marussia, 1:37.316, Supersoft tyres, 93 laps.
7. Giedo Van Der Garde, Sauber, 1:37.623, Soft tyres, 77 laps.
8. Fernando Alonso, Ferrari, 1:37.912, Medium tyres, 12 laps.
9. Marcus Ericsson, Caterham, Soft tyres, 1:39.263, 66 laps.
10. Felipe Nasr, Williams, 1:39.879, Experimental tyres, 64 laps.
11. Romain Grosjean, Lotus, 1:43.732, Soft tyres, 17 laps.